It was a tough choice. Chinese familiarity at the venerable
Lung King Heen
or French flair at
Caprice
- both excellent restaurants in their own right (Lung King Heen with 3 Michelin stars and Caprice with 2; down from 3 when Chef Vincent Thierry left). And Chinese food prevailed.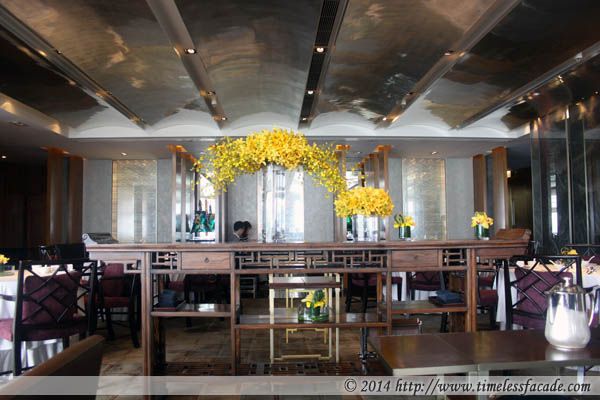 Interior
And so there we were, all 6 of us, nestled comfortably around a table smack in the middle of the dining area (there were no window seats available even though I had inquired more than a month in advance), reeling off our orders enthusiastically.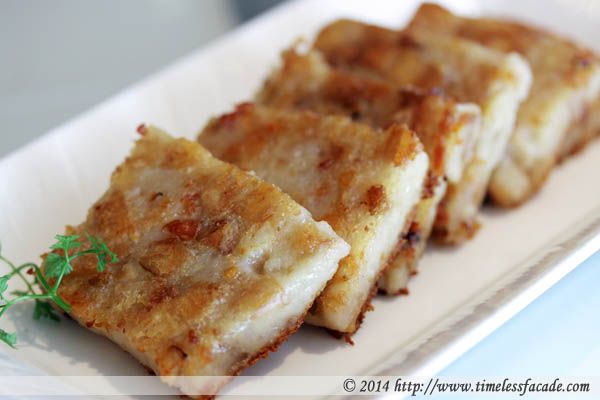 Taro Pudding
Pan fried till crisp on the outside and smooth on the inside with a strong yam taste and a slightly spicy finish. Not great in my humble opinion but definitely decent.


Steamed Lobster & Scallop Dumpling
A huge chunk of lobster meat topped with a slice of scallop and huge prawn, all wrapped up in a greenish, mildly chewy translucent skin. What's not to like?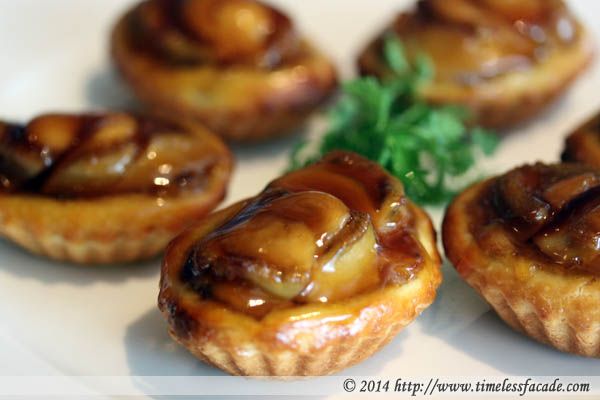 Baked Whole Abalone Puff
With 2 small pieces of abalone and minced chicken served up in a buttery puff with that lovely oven baked aftertaste, this was deliciously decadent!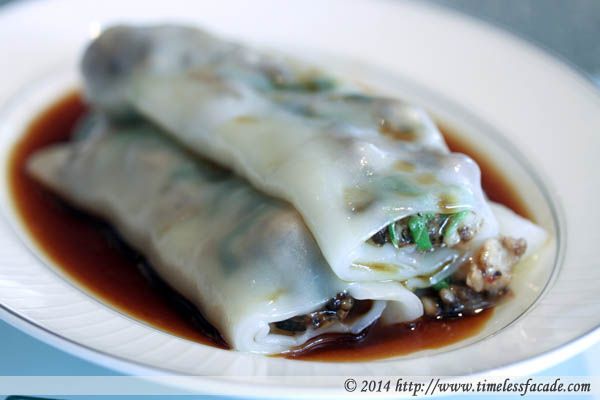 Steamed Rice Rolls with Lobster
Silky smooth, semi translucent rice rolls filled with lobster and drizzled with mildly salty soya sauce; Pretty decent save for the fact that I could only make out the texture of the lobster, not so much the taste or sweetness. But still a notch better than alot of the cheong funs (肠粉) that I have eaten at many restaurants.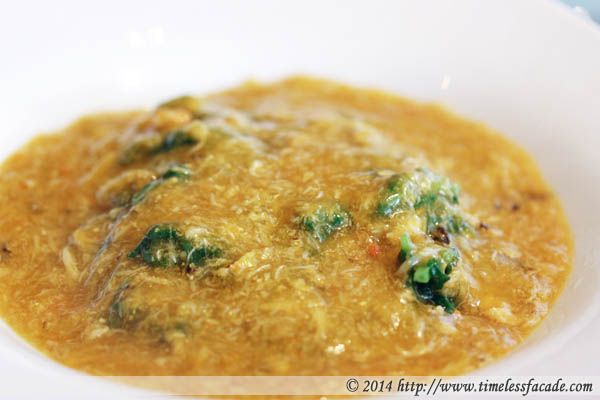 Stir Fried Pea Sprouts with Hairy Crab
This marked the second time I was having vegetables with hairy crab gravy, with the first occasion being at
Ding Tai Fung (鼎泰豐) Shanghai just over a year back
. And it was decent, with the hairy grab gravy rich with shreds of hairy crab without coming across as overwhelming. Personally would have preferred the pea sprouts with superior broth (上汤) though.
Lung King Heen Roast Chicken
LKH's signature roast chicken and rightly so. Succulent and tender meat coupled with unbelievably crisp and thin skin. Nothing short of excellent.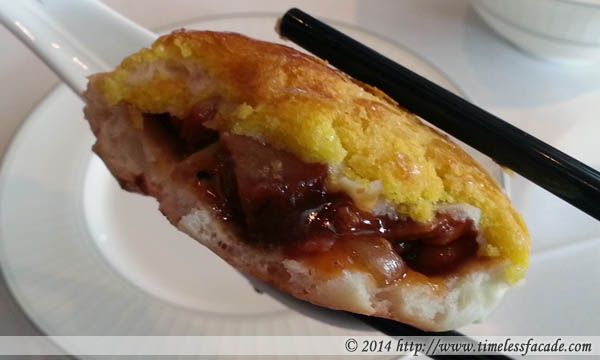 Baked BBQ Pork Buns with Pine Nuts
Probably the best 叉燒菠蘿包 I've eaten so far and even better than the much raved about rendition from
Tim Ho Wan
(All 6 of us ascertained this by visiting Tim Ho Wan less than an hour before our lunch reservation at LKH). Sweet crusty top with semi sweet, gooey BBQ pork chunks and pine nuts. So good that we were contemplating ordering another round but decided against the idea due to our bursting bellies.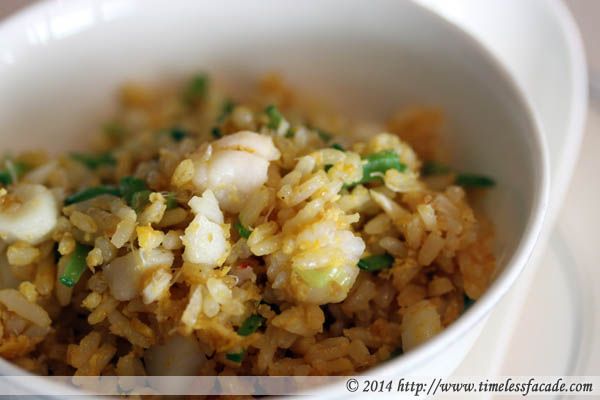 Lung King Heen Lobster Fried Rice
Another signature dish of LKH, the absolutely delicious lobster fried rice. Brimming with pieces of lobster, the glistening rice was evenly coated with egg and fried to perfection, carrying a noticeable wok hei. Eating fried rice will never be the same again.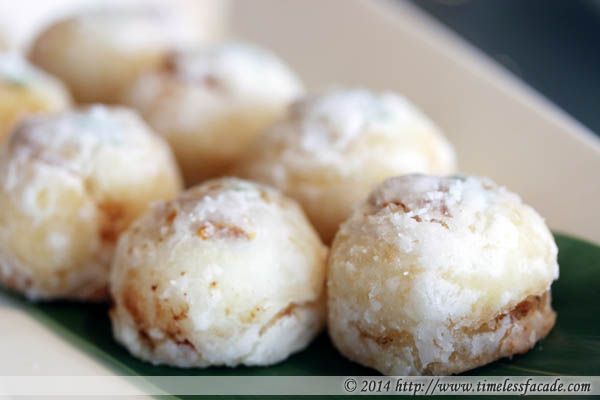 Crispy Scallop with Fresh Pear
This was quite interesting really. The sweetness of the pear formed an uneasy alliance with the slight fishiness of the scallop and prawn whilst the crust was coated with milk powder and dipped in lemon sauce. Can't say that the combination worked out very well actually although it was still very palatable. Guess I'll probably skip such "adventurous" dishes on my next visit.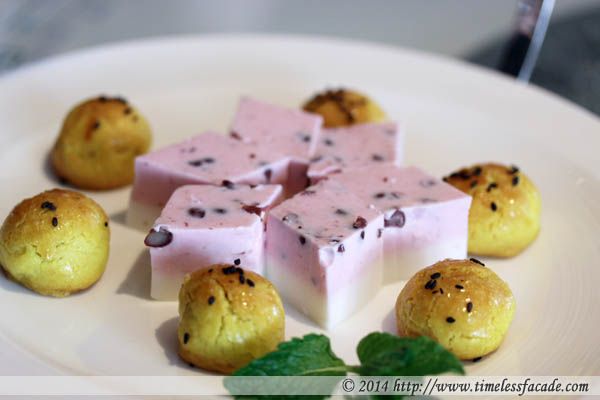 Complimentary Dessert
I honestly don't quite remember much about the complimentary desserts except that they provided a nice sweet ending to our extremely filling meal.


Bill
While there were a couple of pedestrian dishes like the taro pudding and crispy scallop with pear, the majority were very good. And that came at a price of course; HKD 2877 or about SGD 475 for 6 pax. Service was noticeably better this time round and I'm already looking forward to my return trip in the next few days!


Ambience:7.5/10
Service:7.5/10
Food:8/10 (9/10 for the BBQ pork buns)
Value for money:7/10

Overall:7.5/10

Address: 4th Floor, Four Seasons Hotel Hong Kong

Contact: (852) 3196-8880

Opening Hours:

Lunch
Sundays and public holidays
11:30 am – 3:00 pm

Monday to Saturday
12:00 noon – 2:30 pm

Dinner
Daily 6:00 pm – 10:30 pm

Website: http://www.fourseasons.com/hongkong/dining/lung_king_heen