It was meant to be a catch up dinner and although my last experience at Cherry Garden was
forgettable
(due to the less than ideal quality and quantity of food), I decided to give the restaurant yet another chance.
Interior
I was still very much taken by the classic oriental decor with the dark wooden beams, red lanterns and pavilion like dining corners. Definitely a great place for a quiet and romantic date (that's if your date is into oriental fixtures).
Peking Duck
The 4 of us started off with a side order of half a peking duck; Carved table side with both skin and flesh intact and wrapped in a relatively thin and toasted crepe.Although not exactly the "traditional" way to enjoy peking duck (which usually places emphasis on the skin), I enjoyed it quite a bit thought the skin could have been a little more crisp. Great start!
Cherry Garden's Hot & Cold Sampler
We swopped the braised beef in the hot sampler in favour of roasted pork due to religious constraints on the part of my dining partners. Though crackling crisp to a fault, the roasted pork was a tad too salty and porky for my liking. The other hot sampler was a scallop with salted egg yolk which I personally found to be average due to the sweetness of the scallop being overwhelmed by the egg yolk. I like salted egg yolk but I do think its a waste of such a huge scallop.
Drunken Chicken in hua diao and rose dew chinese wine made up the cold sampler and as much as I don't fancy chilled chicken soaked in wine, this was pretty decent. Lightly chilled for a more crunchy texture, the chicken spotted a light alcohol aftertaste which went down pretty smoothly.

Superior Broth with Shrimps, Scallops, Crabmeat, Conpoy, Maitake Mushrooms & Vegetables
Flavourful yet light with a variety of fresh ingredients, the soup was good to the last drop!
Braised Twelve Head Whole Abalone & Sea Cucumber with Premium Oyster Sauce
The twelve head abalone was good for 2 mouthfuls; Chewy and not overcooked. Served up with a piece of sea cucumber on a bed of vegetables. Nicely flavoured from the oyster sauce.


Wasabi-aioli Prawn with Salad of Duck Julienne & Jellyfish
Sporting a thin coat of flour smeared in wasabi, the prawns were deliciously crunchy without the wasabi taste coming on too strongly. The accompanying salad of duck and jellyfish was pretty nice as well; Firm slivers of duck coupled with the crunchiness of jellyfish.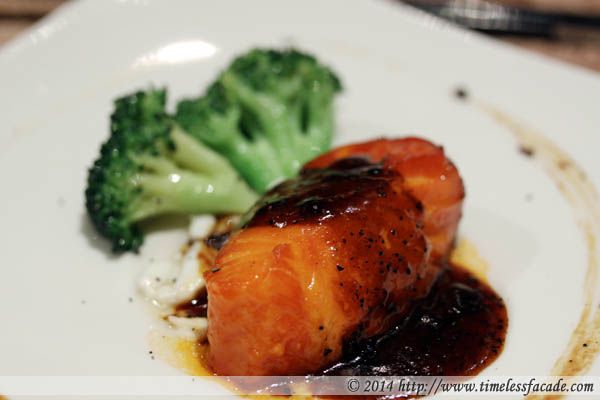 Oven Baked Honey Marinated Cod Fillet with Black Pepper
First looks, the cod looked uncannily like a piece of salmon due to the reddish exterior. But it was cod alright, boasting a velvety and naturally sweet flesh accentuated only by the honey marinate and the mildly peppery and aromatic black pepper sauce.
Steamed Marinated Chicken & Wild Rice Dumpling
A smallish rectangular block of mildly sweet, semi sticky rice with a moist layer of chicken wedged between, topped with roe and served in a rich and rather thick, savoury gravy. Tasted very similar to delicious glutinous rice sans the oil. One word. Excellent.


Homemade Organic Black Bean Pudding with Japanese Sesame Ice Cream
In typical Cherry Garden style, our dessert came served atop a container of dry ice submerged in water to give off that mystical, smokey effect. Theatrics aside, the black bean pudding was nicely quivery and immersed in what looked and tasted like a pandan infused broth. Adding to the texture were tiny chocolate balls, which gave it a nice crunch whilst the sesame ice cream added a chilly yet distinctive sesame perspective. Definitely ended the meal on a high (and sweet) note.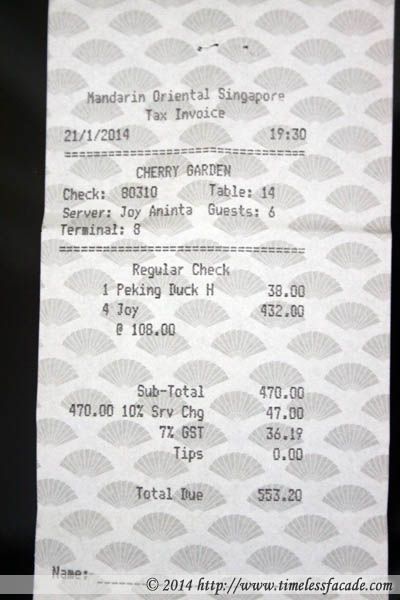 Bill
4 set dinners and half a duck for 4 hungry diners. The total cost? A cool $553. Sure, that hardly qualifies as cheap in any sense but the food quality has improved significantly since my last visit and is on par with some of the best Chinese restaurants in Singapore in my humble opinion. Service was quite accommodating as well and all in all, it was a great dinner. Looking forward to a return visit soon!


Final Verdict:

Ambience: 9/10
Service: 8/10
Food: 8/10
Value for money: 7/10

Overall: 8/10

Address: The Oriental Singapore, 5 Raffles Avenue

Contact: 6885 3500

Opening Hours:

Lunch:

12pm-2:30pm

Brunch:

11am-1pm (1st seating)

130pm-330pm (2nd seating)

Dinner:

6:30pm-10:30pm

Website: http://www.mandarinoriental.com/singapore/fine-dining/cherry-garden/