We were craving for something different on a lazy Sunday morning and made the trek far east to Changi Village for brunch at Chock Full Of Beans or CFOB for short.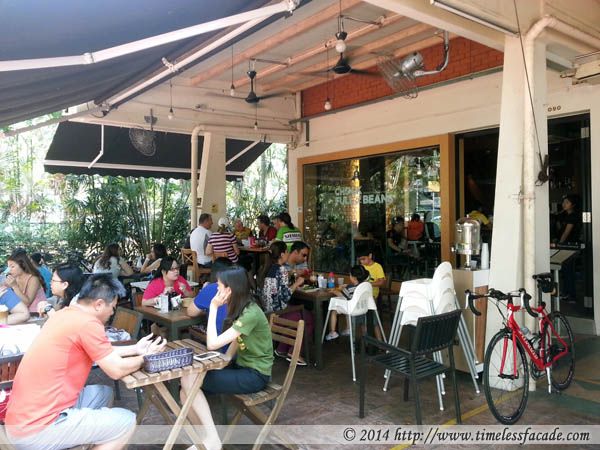 The Place
As the name suggests, CFOB specializes in coffee; a drink which I seldom partake in and have absolutely zero knowledge on save for the fleeting knowledge that it exists. Tucked away in a corner shophouse along Changi Village Road, the place is packed on a late Sunday morning and you can choose to wait in line for a table or leave your contact number (the preferred option).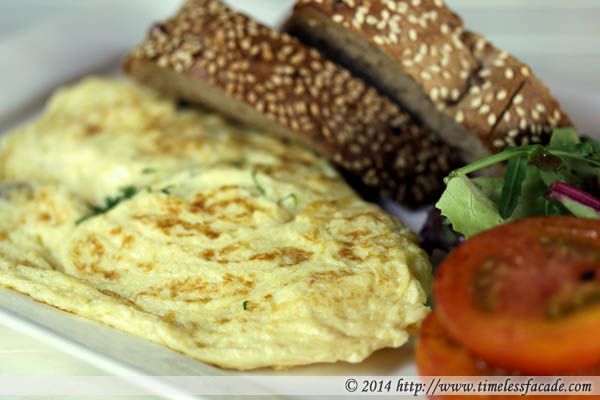 Omelette With 3 Fillings
We chose salmon, cheese and mushrooms for the fillings and the omelette came served with 2 thick slices of homemade toast and a toss of greens. Ingredients were a little sparse and the egg wasn't creamy enough but at such a price point ($12), I really can't complain.


Eggs Benedict
The Eggs Benedict sported a generous serving of ham but minimally runny yolks on a slice of hard toast and topped with a rather liquid hollandaise sauce. Average.
Buttermilk Waffles With Caramelized Bananas
Burnt at the bottom and a tad too stodgy, the buttermilk waffles were rather bland and came with whipped cream instead of the usual maple syrup. Topped with sweet bananas that could do with a little more grilling for extra caramelization. Average.


Iced Hazelnut Latte
As mentioned earlier, I know nothing about coffee but I did like the hazelnut latte, which was pretty soothing with a hazelnut tinge. But the main draw is definitely the cute 3D art, which is never quite the same even on the same day (ie. blue ribbon vs red ribbon). And at $6.50 a pop, it was worth the money and the wait, considering the effort and skills required.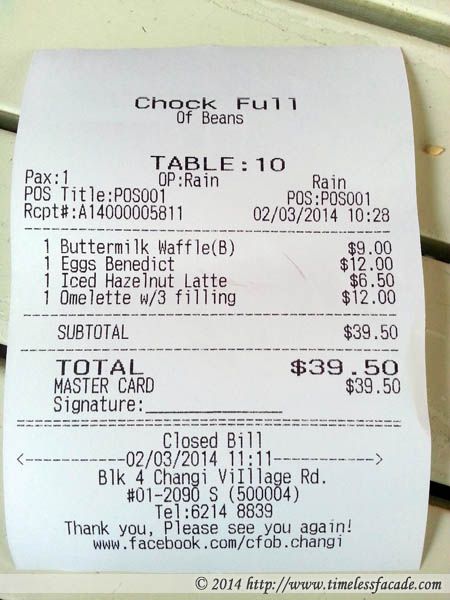 Bill
Brunch set the both of us back by almost 40 bucks, which was relatively reasonable considering the quantity of food (quality was average) and of course the beautiful latte art. I understand that GST has since been incorporated so prices would have gone up a little but I'll probably be back just for the coffee and maybe to try the desserts.


Final Verdict:
Ambience: 6.5/10 (typical cafe with lots of al fresco sitting)
Service: 6.5/10
Food: 6/10
Value for money: 7/10

Overall: 6.5/10

Address: Blk 4 Changi village road #01-2090

Contact: 6214 8839

Opening Hours:

Tue - Fri: 11:00 am - 10:00 pm

Sat - Sun: 9:00 am - 10:00 pm

Website: https://www.facebook.com/cfob.changi