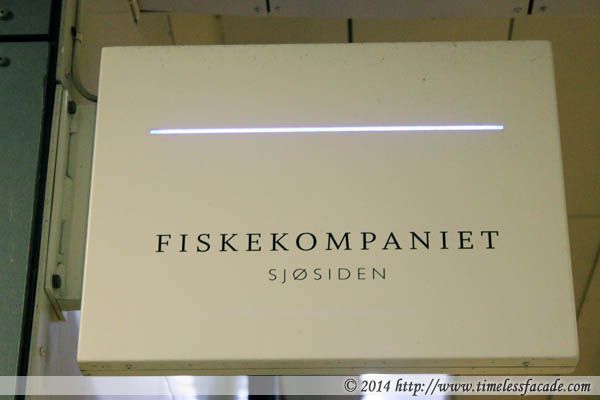 Since we were in Oslo, we made plans to take a short flight to Tromsø to catch the famed northern lights. And just a 2 minute walk away from our wonderful hotel (
Clarion Hotel With
) was a seafood restaurant, Fiskekompaniet, that came highly recommended.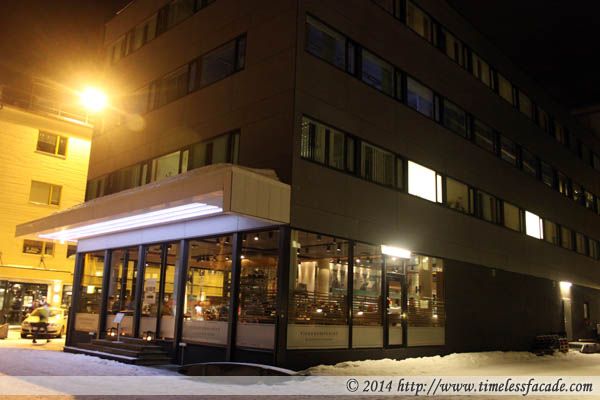 The Place
It was nearing Christmas and the snow laden pathway presented a beautiful sheet of white, with gentle snowflakes caressing our down filled jackets as the lights of the Arctic Cathedral shimmered across the lake in the darkness. And it was only 530pm.
The interior of the restaurant is decidedly modern, with full length windows offering a view of the neighbouring harbour and the boats docked nearby. Pretty cosy environment in my humble opinion.
The Menu
The menu is kept simple and consists only of seafood, a singular meat dish and a couple of desserts.
Complimentary Bread
The complimentary bread basket came with a few slices of baguette and Christmas stollen, in celebration of the yuletide season. Palatable but no great shakes.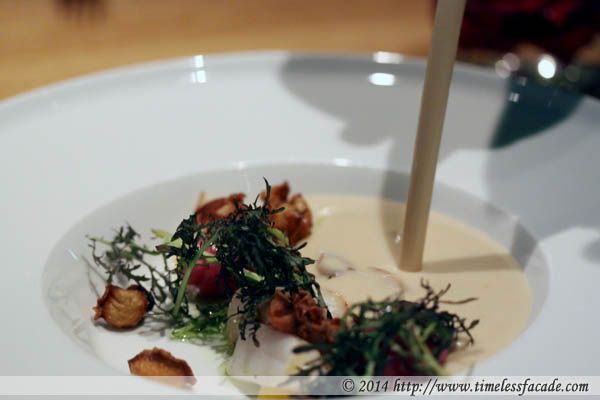 Scallops
The parsley root soup with grilled scallops was quite good; Creamy without coming across as nauseating whilst the scallops had a nice grilled taste but did seem a wee bit too soft. Strips of crisp tapioca provided a nice crunch to break the monotony of the soup.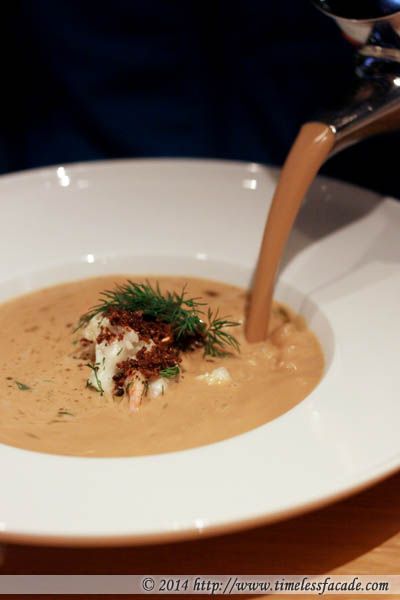 Lobster Cream Soup
First impression was that the soup was a little runny but surprisingly the robust crustacean flavours were left intact. What was interesting was the pickled cauliflower, which provided a nice counterpoint to the saltiness of the soup with its mildly sweet, vinegarish tones. Adding to that was a nice crunch from the rye bread crumbs. Delicious!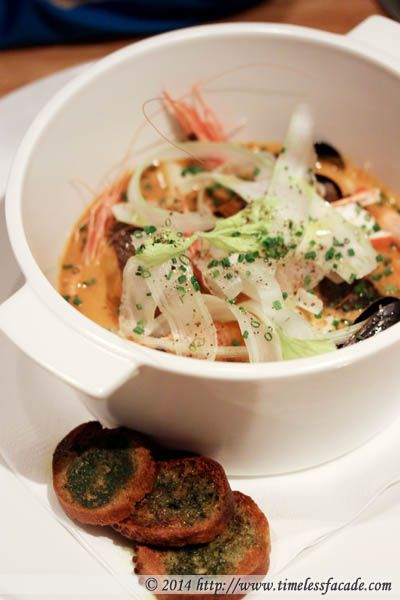 Seafood Casserole
Extremely fresh and tasty Norwegian king crab, lobster, mussels, shrimp and halibut all in one bowl. The gravy was reminiscent of the lobster cream soup, just a tad milder with a tomato undertone. Talk about a scrumptious meal.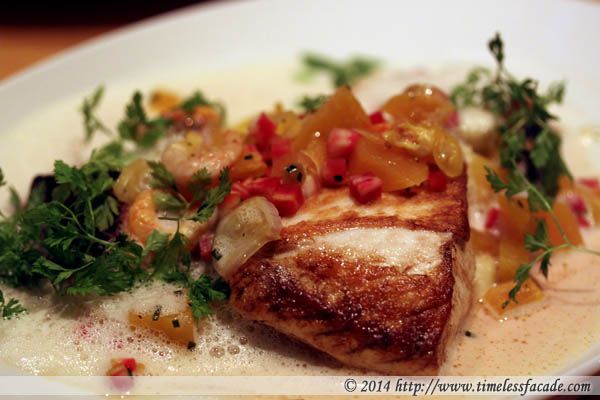 Halibut
The pan fried halibut was nothing short of excellent in my humble opinion. Flaky, smooth flesh coupled with a nicely salted, crisp exterior and served up in a delicious white wine sauce with a hint of lemon to help cut through the salt. Did I mention that the fish was very fresh as well? Although I'm not a exactly a fish person, I would gladly have seconds and maybe even thirds!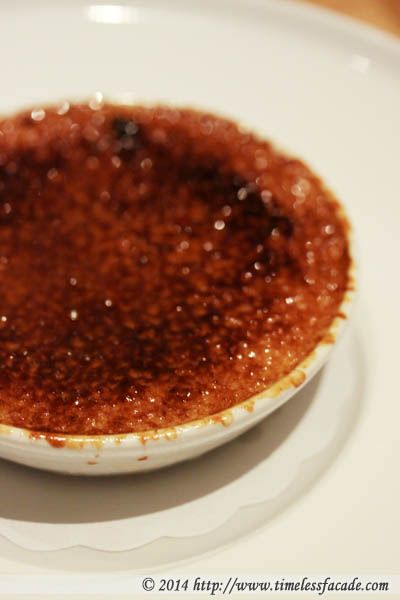 Crème Brûlée
I wasn't a great fan of the vanilla bean creme brulee, which came across as a little runny with the torched sugar layer a tad too thick. Can't fault the portion size though.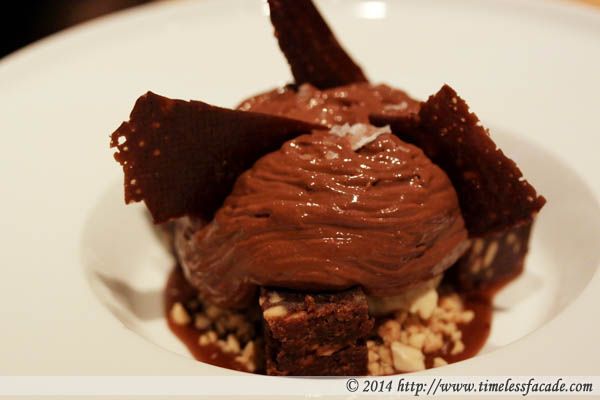 Snickers
Now this was a rather interesting dessert. It was essentially brownie chunks with milk chocolate mousse, crushed peanuts, toffee sauce, coffee ice cream and sea salt (Is that the actual recipe for Snickers?). The overall concoction was akin to a smooth and not too rich Snickers bar with a nice salty sensation towards the end. A sinfully wonderful end to our dinner.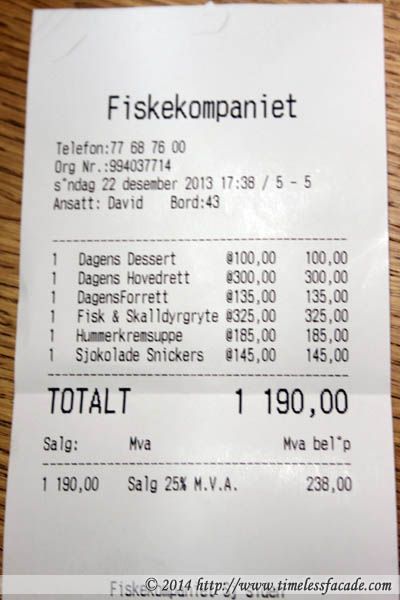 Bill
Food quality in general was great (with the exception of the creme brulee) and dinner for the both of us clocked in at NOK 1190 (~ SGD 250), which is considered very reasonable by Norwegian standards. Service was excellent and very sincere (our waiter at least) and it was so impressive that we decided to leave a rather significant tip (even though tipping isn't practiced in Norway). If there's one restaurant that I'll be going back in Norway (specifically Tromsø), it's definitely Fiskekompaniet.


Final Verdict:
Ambience: 8/10 (great view of the quiet harbour and it helps that it's snowing)
Service: 9/10
Food: 8/10
Value for money: 8/10

Overall: 8.25/10

Address: Killengrens gate, 9007 Tromsø

Contact: +47 489 90 425

Opening Hours: Weekdays 4pm-11pm

Website: http://fiskekompani.no/?lang=en