It was between Tsui Hang and Lei Garden for dinner but since Lei Garden's Mongkok branch was a shorter walk from our hotel, we settled for it. That's not to say Lei Garden was a choice of convenience; It does have a Michelin star after all.


Interior
Located amongst a row of shophouses along Sai Yee Street and just across the road from the Water Supplies Department, Lei Garden hides a decidedly modern and comfortable interior behind a monotonous and inconspicuous facade. The place is seemingly popular so reservations are recommended unless you don't mind waiting or dining early/late.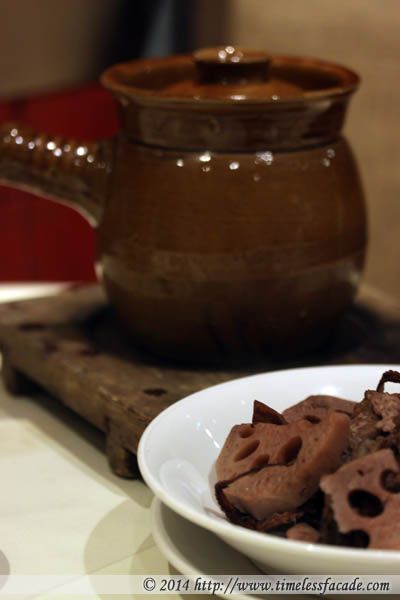 Double Boiled Soup (老火汤)
One of the signatures of Lei Garden - their double boiled soups. Soup of the day was lotus root with pork and octopus and it was excellent. Naturally sweet yet light on the palate with tons of ingredients; Good for at least 4 bowls and a great way to start off!


Crispy Roasted Pork
I counted 12 small cubes of absolutely delicious roasted pork; Crackling crisp skin sans an overly greasy or porky aftertaste, coupled with a nice tinge of saltiness.
Seasonal Vegetables with Conpoy
Bountiful assorted vegetables and bean curd simmered in a lightly milky broth and topped with crispy conpoy. Reminded me of having steamboat with all the flavours slowly permeating the soup. Definitely not your usual vegetable dish and a delicious one at that!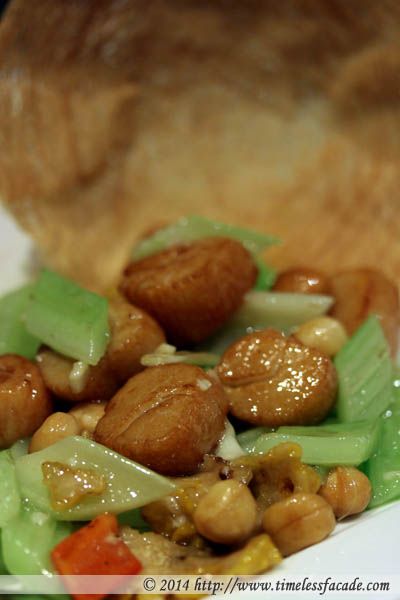 Stir Fried Scallops with Yellow Fungus, Macadamia & Celery
Huge, beautifully cooked scallops with a firm center, nicely stir fried with crunchy macadamia, yellow fungus, celery and drenched with a light, mildly salty gravy. The lingering wok hei sealed the deal.


Crispy Rice with Lobster
Our obligatory carbohydrate dish and an enormous one at that. 1 order chalked up 4 full rice bowl servings. And by the time we got to this, it was literally man vs food (one of my favourite tv programs by the way). But it was too good to not try and find space and we literally stuffed ourselves, one spoonful at a time. Generous lobster pieces mixed in with nicely deep fried crispy rice and simmered in a rich and flavourful broth; Like eating awesome porridge but with a satisfying crunch in every bite.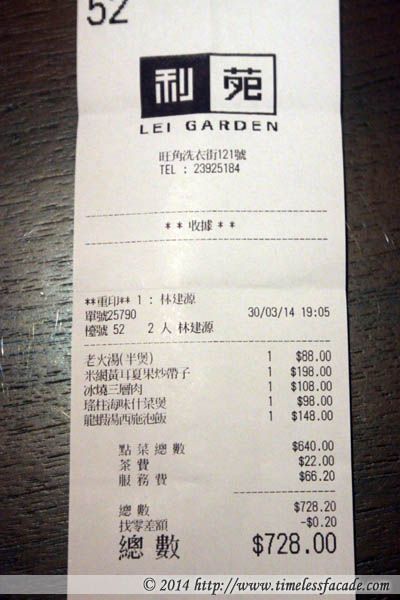 Bill
We had an extremely filling dinner and literally rolled out of the restaurant. The damage? A mere HKD 728 (~ SGD 120), which was very reasonable considering the quality and quantity of food. Service was pretty decent as well and I'll definitely be back, with more stomach space of course.


Final Verdict:
Ambience: 7/10
Service: 7/10
Food: 8/10
Value for money: 8/10

Overall: 7.5/10

Address: 121 Sai Yee Street, Mongkok, Hong Kong

Contact: (852) 2392 5184

Opening Hours:

Lunch: 11:30 a.m. - 3:00 p.m.
Dinner: 6:00 p.m. - 11:30 p.m.

Website: http://www.leigarden.hk/eng/index.asp