And we were back at Lung King Heen, barely 4 months after our
last visit
. But it was just the 2 of us this time round and owing to a very late reservation, only a table in the inner sanctum was available and gratefully accepted of course.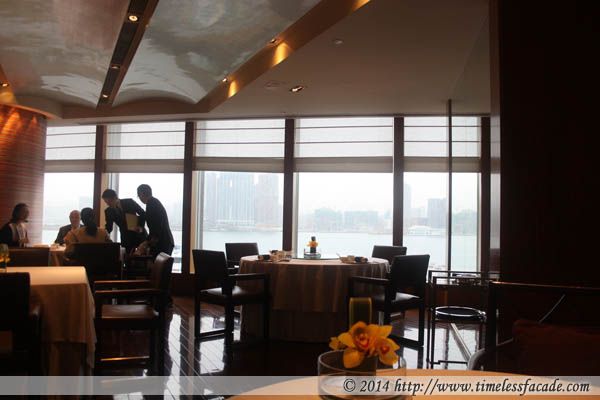 Interior
Okay we still managed to catch a view of the harbour but the lighting was just weird.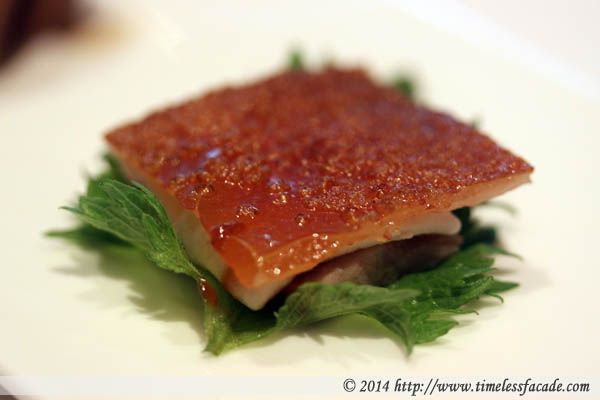 Chef's Signature Appetiser Selection (3 Varieties)
We had the BBQ Suckling Pig, BBQ Pork with Honey and Roasted Goose with Plum Sauce. The BBQ pork was excellent; Thickly sliced with a perfect meat to fat ratio without the texture coming across as too soft or dry. On the other hand, the roast goose was a little bit of a dampener. Less than crispy skin coupled with rather gamy taste made for a comparatively lacklustre offering as opposed to that of Yat Lok.
The suckling pig rounded appetisers up on a high note, sporting a crackling crisp skin served with a thin layer of sweet mantou and hoisin sauce.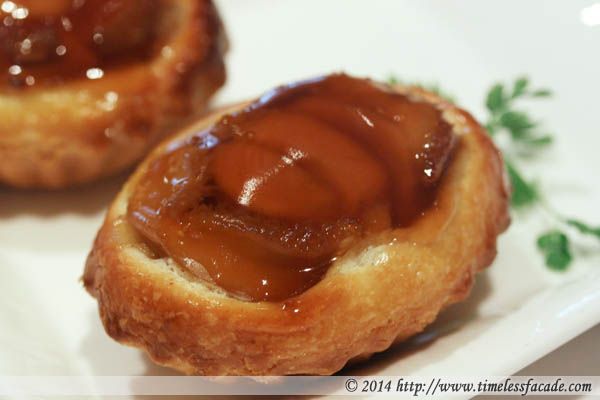 Baked Whole Abalone Puff with Diced Chicken
A singular, relatively generous piece of abalone sitting on a bed of diced chicken atop a beautifully buttery tart shell; The epitome of satisfaction.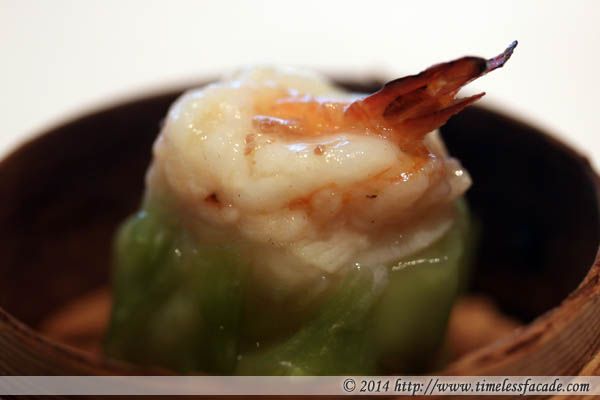 Steamed Lobster and Scallop Dumpling
A layer of lobster, a layer of scallop and a huge prawn; All fresh and wrapped in a thin, semi translucent skin. One of LHK's signature dishes and rightly so!


Baked Barbecued Pork Buns with Pine Nuts
As extolled in my
previous writeup on LKH
, the BBQ pork buns were excellent and this visit sought to affirm that. Crusty, gooey, crunchy and sweet all rolled into 1 piping hot bun. It was so good that I had 2 amidst feeble protests from my stomach.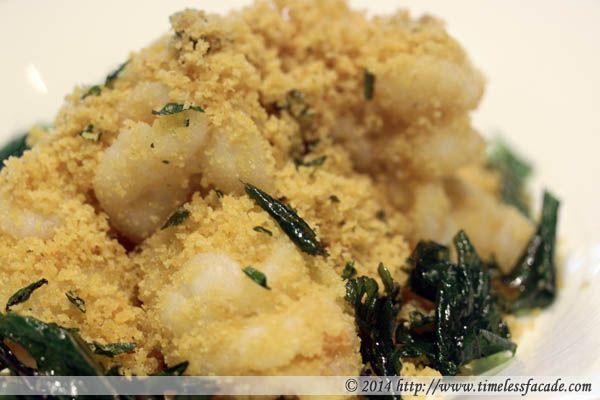 Wok-Fried Prawns with Crispy Green Peas
We felt like more seafood and decided on the wok fried prawns, which on hindsight, probably wasn't the wisest dish to order, seeing how bland they were (though they were humongous and crunchy). The deep fried green pea crumbs did add a nice crisp texture but was rather tasteless as well. Our usual order of their namesake chicken would have been better.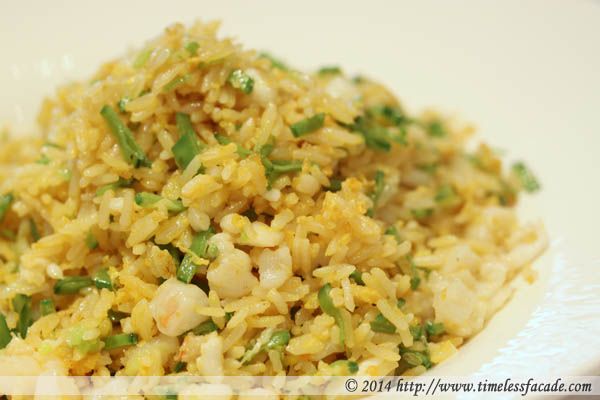 Lung King Heen Lobster Fried Rice with Seafood
A perennial favourite, the lobster fried rice was fried to perfection as usual, with an evident wok hei and generous pieces of lobster. We polished off every last bit.


Baked Red Bean Puffs with Pine Nuts
Our first ever order of dessert from the menu and it actually turned out pretty good. Beautifully baked, buttery and flaky pastry filled with semi sweet and smooth red bean paste. I had all 4 pieces by myself.


Complimentary Dessert
Once again I don't remember much about the complimentary dessert but it definitely provided a nice ending to the meal.


Bill
We definitely over ordered and we paid the price. Both of us were so bloated after the meal that walking straight was a challenge. And lunch cost us a whopping HKD 1581 (~ SGD 260), which was quite a significant increase over our usual lunches (SGD 130/pax vs SGD 80/pax) at Lung King Heen. Having said that, food quality was still very good (save for the prawns) and I'm definitely looking forward to a return visit soon.


Final Verdict:

Ambience: 7.5/10
Service: 7.5/10
Food: 8/10 (9/10 for the BBQ pork buns & 6.5/10 for the prawns)
Value for money: 7/10

Overall: 7.5/10

Address: 4th Floor, Four Seasons Hotel Hong Kong

Contact: (852) 3196-8880

Opening Hours:

Lunch
Sundays and public holidays
11:30 am – 3:00 pm

Monday to Saturday
12:00 noon – 2:30 pm

Dinner
Daily 6:00 pm – 10:30 pm

Website: http://www.fourseasons.com/hongkong/dining/lung_king_heen