The wife and I did a getaway to Bali for a couple of days and decided to park ourselves mainly at our excellent hotel,
Westin Nusa Dua
(very good treatment of SPG Platinums by the way), for some relaxation time, spa and chow. One of the restaurants we frequented was Prego, the resident Westin Italian eatery, which incidentally, shares the same name as the
Italian restaurant
in Fairmont Singapore (is Prego really such a common name?).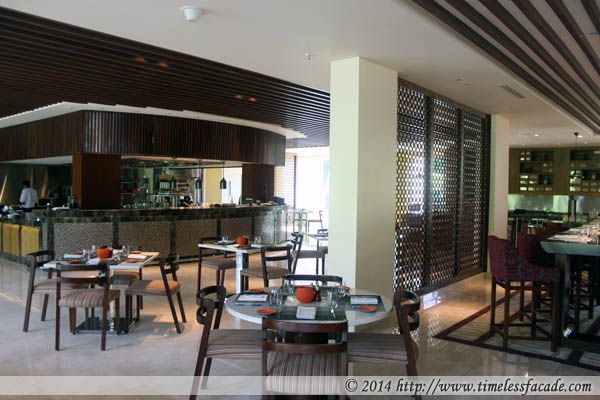 The Interior & Al Fresco Sitting Area
Helmed by new Italian chef de cuisine Alessandro Molini (he came on the job the day before we dined), Prego sports a spacious interior in soothing tones with a rather laid back vibe. Tables are spaced relatively far apart from one another, allowing for more personal space.
However, the beauty of the place lies in its limited al fresco sitting area in my humble opinion. The individual platforms extend out into a small pool (lights in the pool turn on at dusk make for a more romantic experience) and face a beautifully manicured lawn. There, all is calm save for the occasional invisible buggy driving past behind the wall of vegetation. Although we dined at the peak of noon, the area was surprisingly cool, probably due to its location in the shade of the building as well as a constant sea breeze.
Complimentary Bread
Crusty on the outside, softly chewy on the inside and served up piping hot. The tomato salsa dip provided a nicely mild tartness. Pretty good start.
Watermelon Juice
Here's a random shot of my drink just because I am a sucker for watermelon juice.
Calamari
Looking absolutely delicious with a crispy batter and minimal oil, the calamari was quite a let down honestly. The batter was too thick, so much so that I couldn't make out the chewiness of the squid. But on the upside, at least it tasted fresh and devoid of the rancid oil taste that usually plagues calamari dishes. Served with a less than spicy, "spicy" tartar dip.
Carbonara
Although the presentation looked a little haphazard, the penne was done al dente and mixed in with a not too rich cream sauce and generous bacon bits. Decent.
Roast Chicken with Black Truffle
Mildly crisp skin coupled with moist, juicy meat and a lingering taste of truffle (from the shaved of black truffle atop); Decadent but no great shakes. Still a decent eat nonetheless.


A Group Shot Of Our Food
Tiramisu
A quintessential Italian dessert, the tiramisu was about 20% sponge and 80% mascarpone. The mascarpone cheese was creamy yet light whilst the sponge wasn't overly soaked in Kahlua. Overall a pretty nice and smooth ending to our meal.
Bill
After a 15% SPG discount, the bill came up to IDR 565,250 (~ SGD 60), which honestly was a great price for the quantity and decent quality of food in a 5 star hotel (the same amount of food in Prego Singapore would cost at least double that). Service was nothing short of excellent as well. Throw in a great ambience and the both of us left the lunch happy and satisfied.


Final Verdict:

Ambience: 7.5/10 (if you sit outdoors)
Service: 8/10
Food: 6.5/10
Value for money: 7/10

Overall: 7.25/10

Address: The Westin Resort Nusa Dua, Bali

Contact: +62 361 771580

Opening Hours: Daily 11:00 AM - 11:00 PM

Website: http://www.westinnusaduabali.com/en/prego