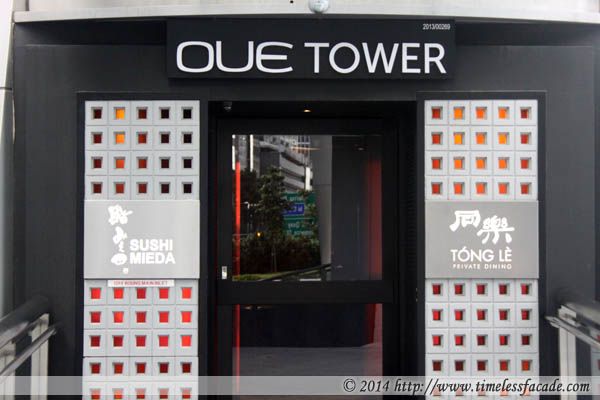 It all started with a glossy, eye catching brochure that promoted a limited time, upgraded set menu for AMEX Platinum Charge Card members (pay $120 for the $180 set). And being the ever gian png (greedy) Singaporean, I immediately called Tóng Lè to make a dinner appointment.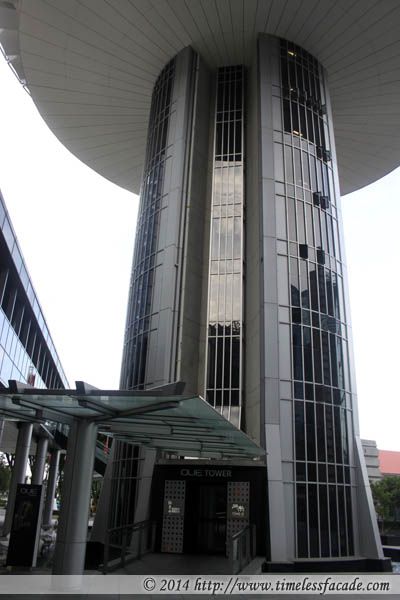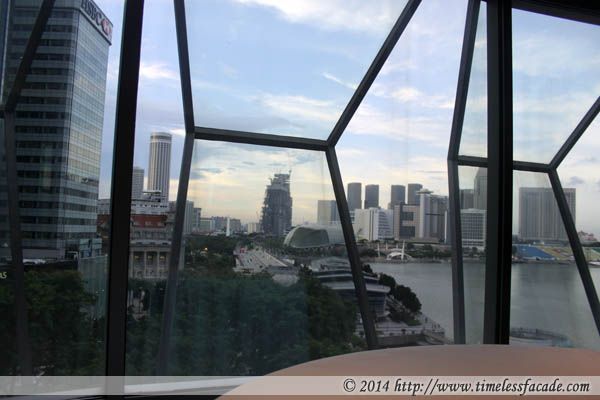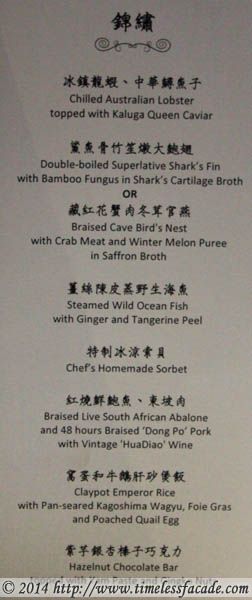 The Place & Our Set Menu
Perched on levels 8 and 10 of OUE Tower, just adjacent to the majestic Fullerton Bay Hotel (where
Clifford
is located), Tóng Lè offers a panoramic view of its surroundings via a revolving base (think Prima Restaurant and the now defunct Top of the M). 1 full revolution takes about 2 hours and unfortunately, the revolving mechanism wasn't working too smoothly during our visit and knocking sounds could be heard periodically.
Our host graciously arranged a private dining room for us on level 10, offering a nice walled up area to take in the view at our leisure. Only minor issue I had was that the rooms were separated only by partitions, which made noise level a concern. I could make out what my neighbours were talking about but admittedly, you'd have to raise your voice a fair bit for you to be overheard. Didn't seem to faze either of my neighbours though.
Cocktail
I don't remember the name of this cocktail but it was pretty refreshing with the watermelon, mint and some other stuff.
Chilled Australian Lobster Topped with Kaluga Queen Caviar
I'm honestly no caviar connoisseur but Kaluga Queen's farmed in China caviar did hit the right notes for me. Tiny, firm pearls that popped gently when consumed, releasing a salty and pleasantly fishy flavour; Eaten with a mother of pearl spoon, no less. Beneath the caviar sat a layer of chilled, crunchy and sweet lobster and a floor of sweet mango cubes and diced chilli. When eaten together, the sweetness of the mango provided a balance to the saltiness of the caviar whilst the diced chilli added a mild heat. Excellent start!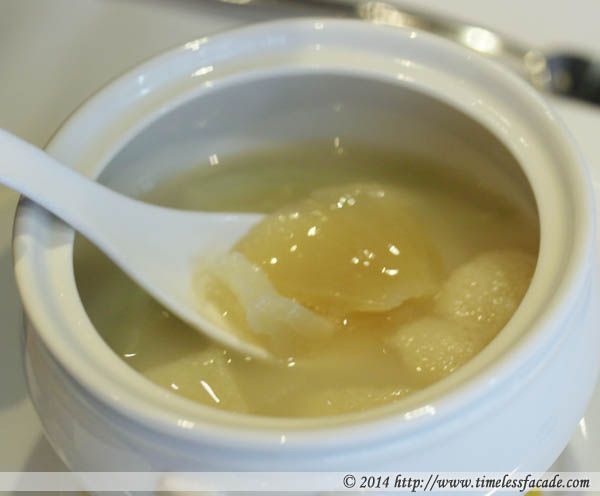 Doubled Boiled Superlative Shark's Fin with Bamboo Fungus in Shark Cartilage Broth
I wonder about the use of words like "superlative" in menus but nonetheless, the shark cartilage soup was flavourful yet light without leaving a layer of sediment on the tongue. Coupled with generous portions of delicate shark's fin and bamboo fungus, it made for a pretty good soup.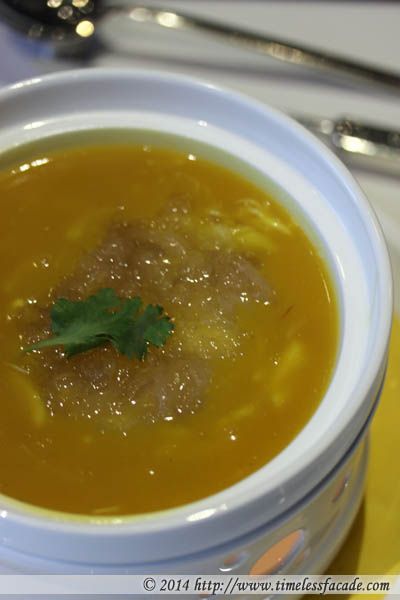 Braised Cave Bird's Nest with Crab Meat and Winter Melon Puree in Saffron Broth
The wife had this and it was rather interesting as I usually associate bird's nest with the sweet variation, never the savoury. Relatively generous strands of bird's nest floating atop a thick, mildly sweet saffron broth with hints of winter melon and bountiful shreds of crab meat. Savoury yet sweet.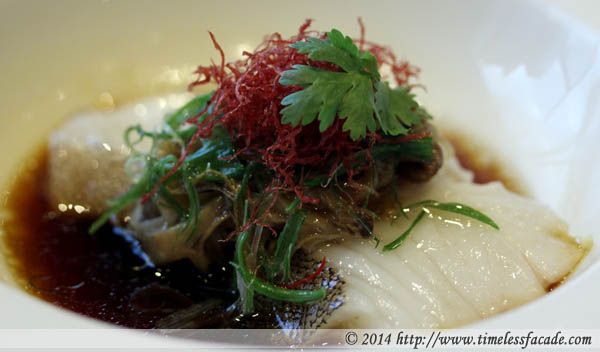 Steamed Wild Ocean Fish with Ginger and Tangerine Peel
Portions were really small for this but the fish was very fresh and came served on a piece of beancurd skin in a pool of soya sauce. Simple and nothing too fancy.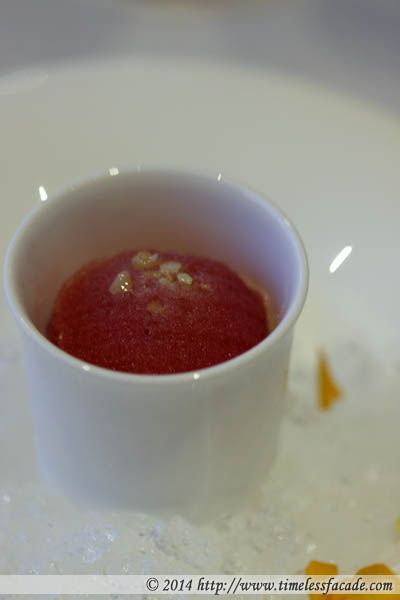 Chef's Homemade Sorbet
An interlude with a roselle sorbet taking center stage. Sweet yet mildly sourish and topped with pop rocks for that burst of sensation.


Braised Live South African Abalone & 48 Hrs Braised 'Dong Po' Pork with Vintage 'HuaDiao' Wine
The abalone was quite a size (I reckon at least a 3 or 4 head); Firm and crunchy, drizzled in a mildly savoury sauce and sitting prettily on a bed of vegetables. The accompanying block of dong po pork was beautifully braised with a thick, moist chunk of meat capped by a firm layer of fat; Mildly sweet with a hint of 花雕酒. Excellent!


Hokkaido Scallops with Organic Millet
The wife doesn't take beef so she got the Hokkaido scallops in lieu of the wagyu. And it was a seriously bad choice. The scallops were huge but tasted like they were coated in flour and pan fried, which gave it that icky elastic surface and took away the natural sweetness of the sallop. The organic millet and rice crisp was decent though; crisp with a hint of capsicum. Could do with a little less salt though.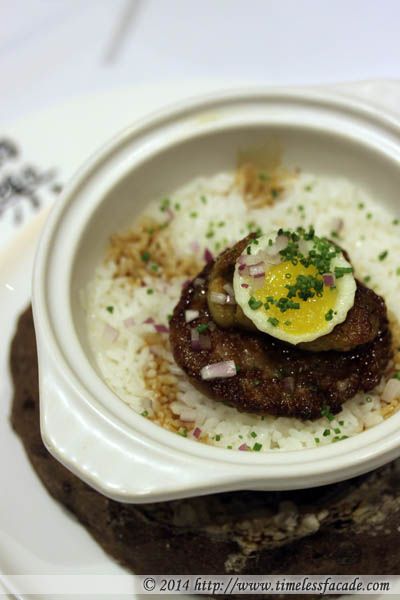 Claypot Emperor Rice with Pan Seared Kagoshima Wagyu, Foie Gras and Poached Quail Egg
I had the wagyu and it came in the form of a patty (sadly). Crisp on the outside, the patty was overcooked but a little too soft on the inside. And the overcooking extended to the foie gras as well. Disappointing to say the least.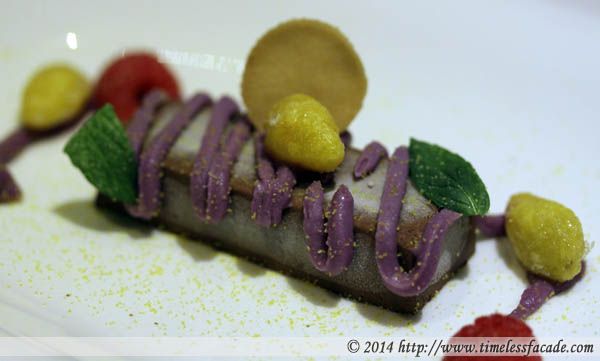 Hazelnut Chocolate Bar Topped with Yam Paste & Gingko Nuts
And finally, desserts. Aesthetically impressive but lacked the flavours to end the meal off on a positive note. The chocolate bar sported bits of hazelnut entrenched within its smooth and creamy texture that had a mild bitterness to it whilst the the yam swirls were more for show than anything. Special mention goes to the gingko nuts, which seemed to have been deep fried, giving it a fleeting crisp, shrivelled exterior. All form, no substance.


Bill
With a singular mocktail and an upgrade discount, the total bill for 2 pax came just shy of $300. Definitely not mind-blowingly expensive but while the quality of ingredients is undeniable, the execution for a couple of the dishes leave much to be desired. Service, however, was excellent and I'll definitely be happy to return if something is done about the quality of execution.


Final Verdict:

Ambience: 8.5/10
Service: 8/10
Food: 6.5/10
Value for money: 6/10 (without the discount)
Overall: 7.25/10

Address: Level 8 & 10 OUE Tower, 60 Collar Quay

Contact: 6634 3233

Opening Hours:

Lunch: 11.30am – 3.00pm

Dinner: 6.00pm – 11.00pm

Closed on Sundays

Website: http://www.tong-le.com.sg/index.php