We were in a fix. I was in shorts, slippers and t shirt and there weren't many decent eating places in the vicinity that would allow me in. But thankfully Ti Amo did, without so much as batting an eye lid.
The Menu
I'm fuzzy as to the exact location of the place but it struck me as a dimly lighted Italian restaurant targeted more at couples than a raucous bunch aka yours truly and friends. And with a name like Ti Amo (Italian for I love you), I would probably assume so as well.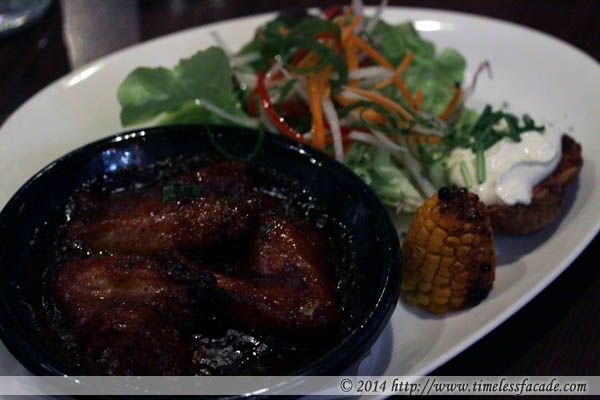 American Platter
God knows what possessed us to order an American dish in an Italian restaurant. Maybe it was the chicken wings. But whatever the reason, it was a bad choice. The buffalo wings were way too drenched in sweet sauce and were rather miniscule as compared to the real deal. The deep fried potato skins fared a little better but could do with a little more crisp.
Scotch Fillet
The scotch fillet, or more commonly known as the ribeye in Singapore, was quite good. Done to a medium well instead of the requested medium and sitting on a bed of mashed potatoes, the meat was still tender and flavourful with a beautiful crusty surface. Only small gripe I had was that it was a touch too salty. And to top off, two large and fresh shrimps beautifully cooked and drizzled with a mildly creamy sauce. Delicious!


Sticky Date Pudding
A decent sticky date pudding to end off dinner; Moist and not too sweet but a tad too kueh (steamed cake) like for my liking. The accompanying scoop of ice cream was forgettable though, with ice chips in it and a lack of vanilla bean.


Bill
Dinner was a pretty relaxed affair and cost the 3 of us about AUD 110 (~ SGD 130), which wasn't too expensive by Aussie standards. Though the food quality was generally average, the scotch fillet did stand out. And for that, I might just drop by again.
Final Verdict:
Ambience: 7/10 (definitely more for couples)
Service: 7/10
Food: 6/10 (
7.5/10 for the scotch fillet
)
Value for money: 7/10 (I'm being a little generous here because of the scotch fillet)
Overall: 6.75/10
Address: 57 Hampden Road, Nedlands
Contact: (08) 9386 6611
Opening Hours: 7 days a week, 7am till late
Website: http://www.tiamocafe.com.au/