A couple of us got together for dinner at Imperial Treasure Fine Chinese Cuisine @ MBS even though I had a less than stellar experience there
a few years back
. Well things change, don't they?
Interior & Menu
Well the interior hadn't changed since my previous visit; Modern with warm lighting and lots of glass. One issue I had this time round was the noise level, probably due to the easily excitable patrons seated in the neighbouring tables. But I digress.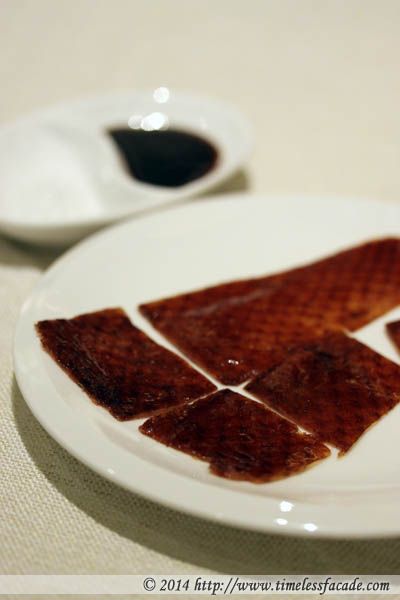 Peking Duck
The Peking duck was carved up table side and came in 3 courses. First up was the crisp skin dipped in sugar ala authentic Peking style, which would have been great if the skin had been less greasy.
Following up was the overly greasy meat and skin wrapped in limp crepes that tasted really bland. Thank god for the
hoisin
sauce! Presentation was also very shoddy for a fine dining restaurant.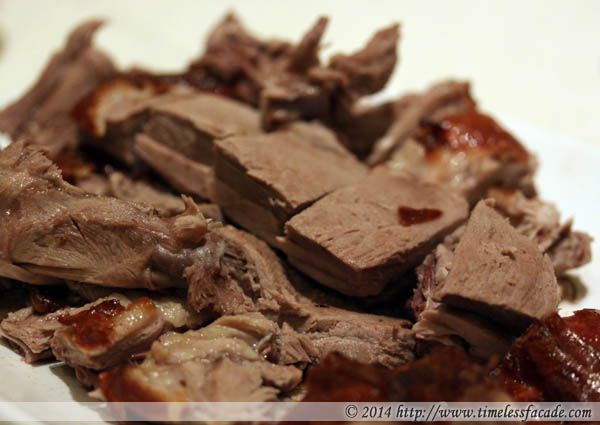 For our third course, we opted for the meat to be chopped up and served. And strangely enough, for all the greasiness in the first two dishes, the meat was a tad dry and overall this was a very average dish. So much for being an Imperial Treasure signature dish.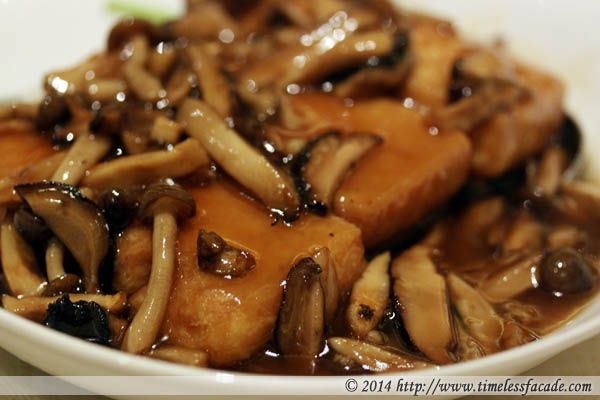 Sauteed Beancurd with Mushrooms
Silky smooth with a nice savoury taste, topped with copious amounts of deletable mushrooms and sitting on a bed of greens. Just a wee bit too salty but perfect if eaten with rice.
Sauteed Prawn Ball
The sauteed prawn ball boasted fresh, huge prawns that packed a crunch in every bite. Came with lots of celery for that extra crunch. Simple and unadulterated goodness. A large portion entitled each of us (6 pax) to 2 prawns each. Would have been nice to have more though.
Broccoli with Mushrooms
Our necessary greens for the evening, a nicely sauteed, crunchy broccoli dish topped with huge mushrooms. Very appetising.
Truffle Meepok
The highlight of our evening, the truffle
meepok
, which isn't on the menu but it's available at many of the other Imperial Treasure outlets, including my personal favourite,
Imperial Treasure Cantonese @ Crowne Plaza Hotel
. Silky
meepok
with a strong taste and aroma of truffle oil, topped with mushrooms and beansprouts; Simple yet delicious. Just be sure to share.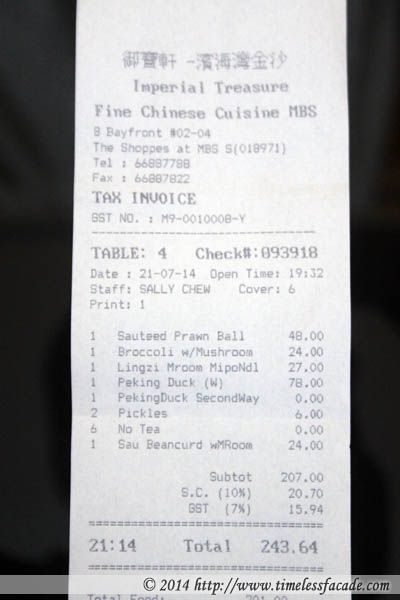 Bill
Dinner wasn't bad, save for the Peking duck which clocked in at average. And at almost $41/pax, it wasn't too expensive either. Service was decent but not exactly friendly, which is typical of alot of Chinese restaurants in Singapore. But at such a price point,
Imperial Treasure Cantonese @ Crowne Plaza
does a better job and that is where I'll be sticking to.
Final Verdict:
Ambience: 7/10
Service: 6.5/10
Food: 7/10
Value for money: 6.5/10
Overall:7/10
Address: L2-04 Marina Bay Sands Casino. Access via Bay Level (L1) lifts at UOB and Grand Colonnade North, as well as from Casino.
Contact: 6688 7788
Opening Hours:
Monday to Saturday 11.30am to 10.30pm
Dim Sum Available from 11.30am to 4.00pm
Sunday 11.00am to 11.30pm
Dim Sum Available from 11.00am to 4.00pm
Website: http://www.marinabaysands.com/Shoppin/Shop/Imperial_Treasure_Fine_Chinese_Cuisine.aspx