Had dinner with a couple of friends at Seasons Bistro, an American styled bistro that has garnered pretty good reviews since its opening a couple of months back.


Interior & Menu
Located on the ground floor of Triple One Somerset (the former PUB building) and playing neighbour to
Imperial Treasure Windows of Hong Kong
and Imperial Treasure Steamboat (which I personally don't find that great), Seasons features a down to earth wooden interior with huge wall to ceiling glass panels for a view of the exterior pedestrian walkway.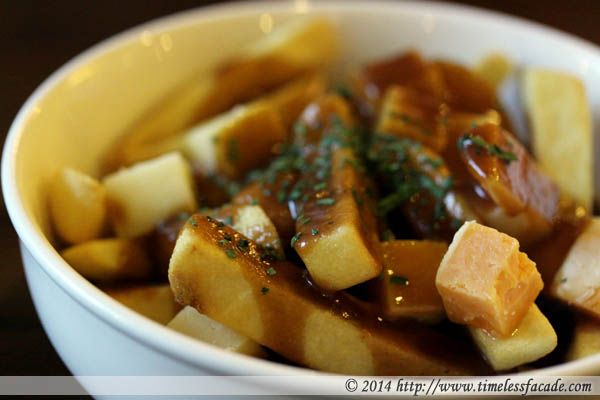 Season's Poutine ($10++)
I love my poutine and even though Season's poutine was specifically recommended in quite a few reviews, it was quite a let down in my humble opinion. Sure, the fries were moist but where was the lightly crisp skin? Also, the gravy was a tad too bland and the Stripey Jack cheese came in cubes, not mildly gooey curds, which is one of the hallmarks of poutine. I will take gladly take Triple O's version over this anytime.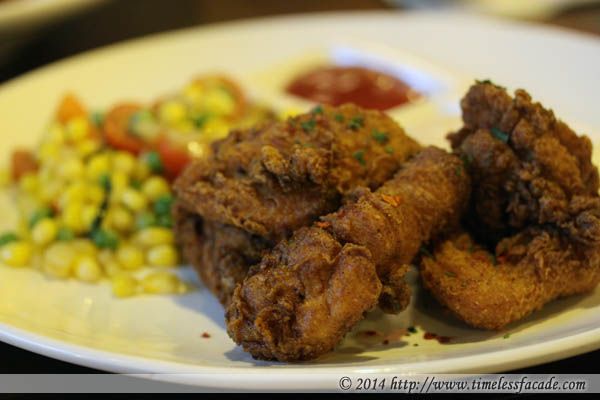 Buttermilk Fried Chicken ($22++)
After a rather disappointing start, this Southern dish of buttermilk fried chicken perked things up a little though it did look rather dry on the outside. Thankfully the meat was flavourful and juicy with a nice crunch from the skin. 3 rather small pieces, served with a side of corn salad.
Banana Split ($12++)
Season's deconstructed banana split. Done to an almost perfect disaster. 1 rock hard scoop of vanilla bean ice cream coupled with a dash of nutella and 2 pieces of caramalised bananas (goreng pisang) that came coated with a limp layer of flour and lacked any sweetness or taste for that matter. The granola nut crumbs gave this dish a slightly chewy taste which I personally didn't like; Crushed nuts would have suited better in my humble opinion.
Bill
1 poutine, 1 chicken and 1 dessert cost me about $52 nett. Expensive? Quantitatively speaking, not really. But qualitatively, yes. General food quality was average at best and definitely not worth the price paid. Service was pretty decent though and the restaurant offers a relatively quiet place to catch up with friends in Orchard road over dinner but unfortunately that's just not enough.


Final Verdict:

Ambience: 7/10 (Based on a weekday night)
Service: 7/10
Food: 5/10 (6.5/10 for the buttermilk fried chicken)
Value for money: 5/10

Overall: 6/10

Address: #01-11/12, 111 Somerset Road

Contact: 68365841

Opening Hours: 10am to 1030pm daily

Website: http://www.seasonsbistro.com.sg/