Dropped by my favourite dim sum place, Wah Lok, with my friends one weekday afternoon for a leisurely lunch.
Suckling Pig Combo
We had the suckling pig and BBQ pork combination and it honestly wasn't a very good start to our meal. The BBQ pork sported a beautiful sheen but lacked bite whilst the suckling pig had a nice crisp skin to it but came across as overwhelmingly oily.
Steamed Pork Dumpling
The 烧卖 had a rather low fat to meat ratio thus didn't come across as too overwhelming. Pretty good.
Deep Fried Beancurd Skin Roll
A crisp but a wee bit too oily exterior packed with crunchy prawns. Best eaten hot!
Steamed Custard Buns
Now this wasn't quite impressive. The flowing custard lacked the saltiness and texture of egg yolk. It was just plain sweet honestly.


Steamed Prawn Dumplings
Fresh tasting, crunchy prawns all bundled up in a thin, semi translucent skin. What's not to like?


Steamed Crabmeat Dumpling
This tasted rather similar to the steamed prawn dumplings except that it was filled with crab paste instead of prawns and wrapped up in a mildly stretchable, semi translucent skin. Pretty decent.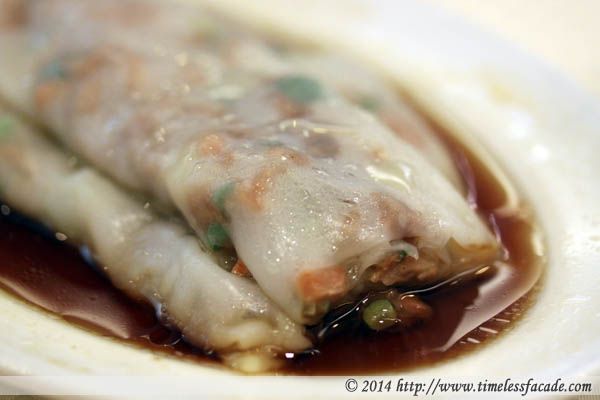 Steamed BBQ Pork Cheong Fun
Another dim sum staple, the BBQ pork cheong fun boasted silky smooth skin with generous servings of BBQ pork within, all sitting in a pool of light soya sauce. Nice!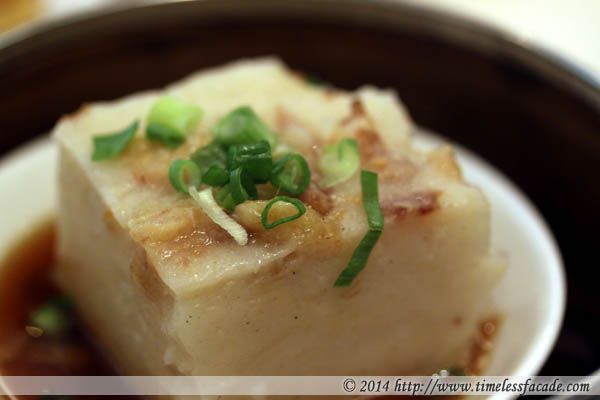 Steamed Carrot Cake
The steamed carrot cake honestly didn't look like much but it came across as smooth, moist and encrusted with savoury dried shrimps. Simple yet nice!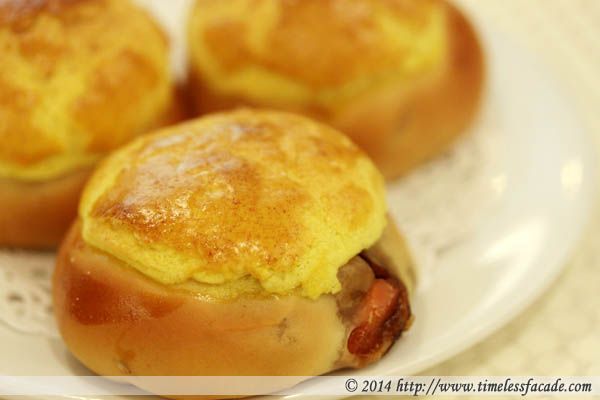 Baked BBQ Pork Bun
One of the signature dishes of Wah Lok, the baked BBQ pork bun ranks a close third behind that of
Tim Ho Wan
and
Lung King Heen
(top of my chart) in my humble opinion. Sporting a darker than usual colour probably due to a slight overbaking, the bun had a nice crusty top with mildly viscous, semi sweet pork filling encased in soft dough.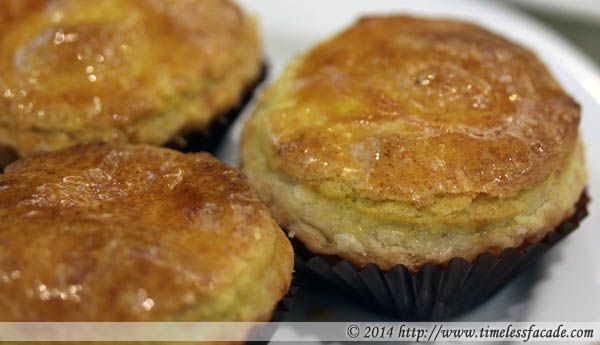 Abalone & Chicken Pie
Exhibiting a nice sheen on the crust, the abalone and chicken pie was wonderfully buttery with generous bits of moist chicken and abalone cocooned within. It was so good that we had 2 servings!


Baked Mini Egg Tarts
Quivery, not too sweet custard center on a flaky tart base. Pretty good but the tart could do with a little more butter in my humble opinion.


Baked Custard Pastries
One of my must order dishes whenever I visit Wah Lok, the baked custard pasty (美人腰) was as good as my
previous visit
. "Lithe" and flaky with a smooth and sweetly satisfying custard filling.
Homemade Soya Beancurd
To round up our largely excellent lunch, I had the homemade soya beancurd with gingko nut and chestnut. Though smooth, it honestly wasn't my cup of tea due to the amount of gelatin in it. I personally prefer the silky smooth, soft type. I did like the crunchiness from the chestnuts though.


Bill
The 3 of us racked up a bill of over $150 for a pretty satisfying meal, in terms of quality and quantity. Wah Lok has been very consistent over the years and I look forward to returning soon!


Final Verdict:

Ambience: 7/10
Service: 7/10
Food: 7.5/10
Value for money: 7/10
Overall: 7.125/10

Address: 2nd floor, Carlton Hotel

Contact: 63118188/9

Opening Hours:

Lunch 11:30 am - 2.30 pm (Mon - Sat); 11 am - 2:30 pm (Sun & PH)

Dinner 6:30 pm - 10:30 pm

Website: http://www.carlton.com.sg/dining_wah.htm