We were in historic Kingston (first capital of Canada) for the Thousand Islands (which the Thousand Island dressing is apparently named after) and decided to do dinner at Aqua Terra by Clark, a seemingly popular restaurant located at the Delta Kingston Waterfront Hotel, a 2 minute walk from our hotel (
Four Points By Sheraton Kingston
).
The Place & Menu
Weirdly enough, the entrance to the hotel and the restaurant is via the sheltered carpark and it took us a while to figure that out. By virtue of an early reservation, we snagged a corner table next to the windows which overlooked the waters edge and the accompanying marina. That would have been perfect save for one issue. It was the tail end of summer and there were quite a few spiders of varying sizes going about their business on the other side of the window. If you have a fear of creepy crawlies, then a window seat probably wouldn't be suitable.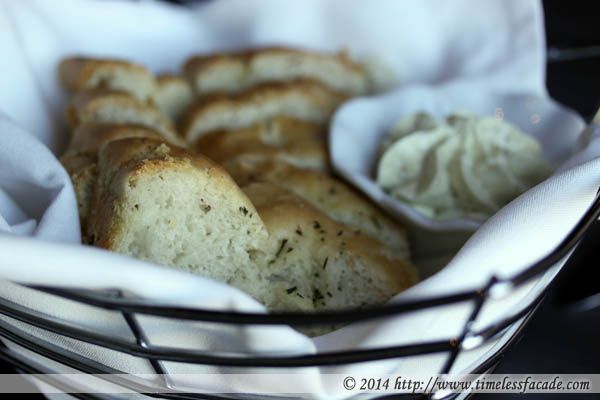 Complimentary Bread & Amuse Bouche
The complimentary bread was dry and insipid. I don't suggest more than a courtesy bite, with or without the butter. On the other hand, the amuse-bouche of braised beef with deep fried scallion was melt in the mouth tender and mildly sweet with a nice crispiness from the scallion (葱).


Pan Seared Scallops
Four pieces of huge, beautifully seasoned and seared till golden brown scallops with a tingling sweetness in every bite. Served on a bed of pan fried till charred on one side potato cubes, sweet potato cubes and pork belly chunks. I personally didn't take to the potatoes as it had that charred bitterness which definitely isn't pleasing or healthy in large quantities.


Crispy Pork Belly
The pork belly sported a nicely crisp but a wee bit over charred skin. Flavours were rather muted and it didn't have that sublime tenderness that I was hoping for. But at least the "porky" taste wasn't too strong. Little nibbles of chewy buckwheat flour provided the bland carbohydrates.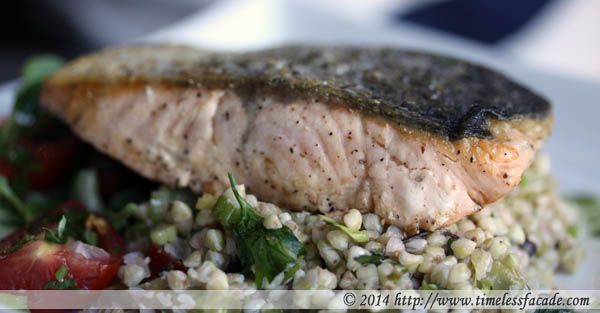 Salmon
A huge piece of salmon on a bed of buckwheat salad; Fresh but rather bland and a tad too soft. Good if you like salmon au naturel with minimal seasoning.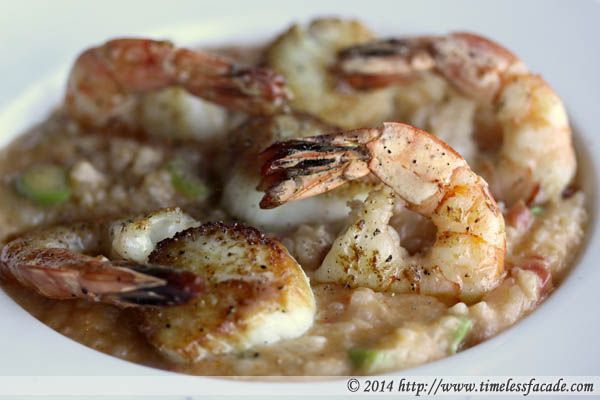 Risotto
I personally liked this dish quite a fair bit. The al dente risotto boasted a lightly tart tomato base with crunchy, extremely fresh prawns and pan seared scallops with that beautiful golden crust (just like the appetiser I had earlier). Only small issue I had was the texture of the risotto, which tended towards the watery side. But nonetheless, the taste was spot on, for me at least. Definitely beats the one at
Prego Singapore
.
Orange "Creamsicle" Sponge Cake
This was a simple slice of rather dry vanilla sponge cake topped with orange compote and, fresh berries and vanilla cream cheese mascarpone. Average at best.


Vanilla Cheesecake
I'm guessing desserts aren't Aqua Terra's specialty as the vanilla cheesecake came across as average as well. The cheese lacked smoothness and the layer of crumble came across as way too thick.


Bill
The bill for 2 pax came up to CAD 110.74 (~ SGD 130) before a 15% tip (~ 18 SGD ), which brought the total bill to about SGD 148 (slightly above the middle range pricing for a meal in Canada). Dinner was a leisurely affair with generally average to above average food and good service. A decent place to drop by for a meal if you are visiting this part of the country I guess.
Final Verdict:
Ambience: 6.5/10 (great view of the water but the spiders can be quite a distraction. Would have been a 7.5 without the arachnids)
Service: 7.5/10
Food: 6.5/10
Value for money: 6.5/10
Overall: 6.75/10
Address: 1 Johnson Street, Kingston Ontario
Contact: 613-549-6243
Opening Hours: 6:30 AM - 10:00 PM daily
Website: http://www.aquaterrabyclark.com/
Here's a picture of one of the Thousand Islands. For more pictures, please see
here
.