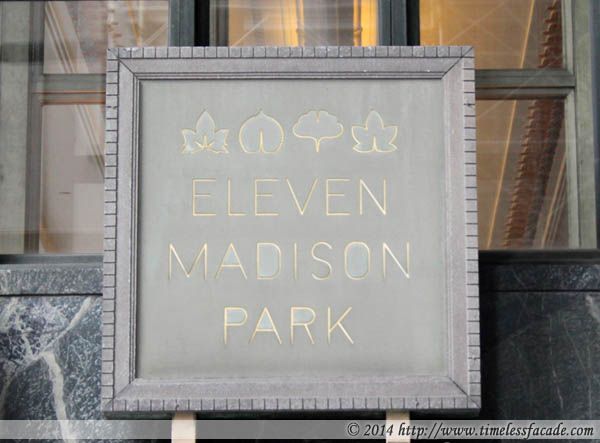 We were visibly excited at the prospect of dining at Eleven Madison Park (EMP for short), a 3 Michelin starred restaurant (and number 4 on the World's 50 Best Restaurants) partially owned and operated by Chef Daniel Humm, who is also behind the popular semi-casual eatery, The NoMad (prices are anything but casual though).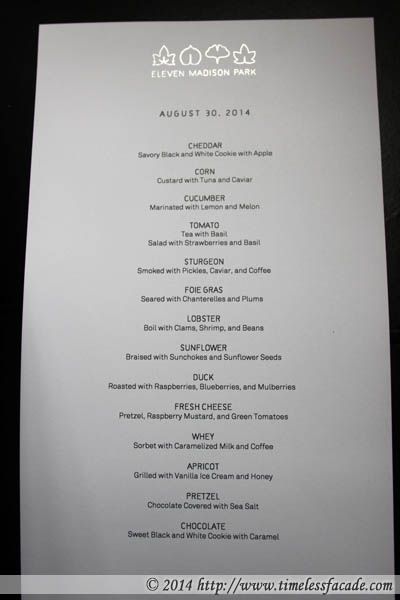 The Place & Menu
Located at 11 Madison Ave, in an art deco building just across the road from
Shake Shack
@ Madison Square Park, EMP boasts a grand, marbled entrance with a revolving door opening up to lofty ceilings and bright sunlight frittering in through the tall windows. Comfortable leather backed chairs and flowers reflecting the season (during our visit the flowers were yellow) complete the tastefully simple interior. And we were lucky to have snagged the corner booth table (though I suspect it had more to do with the competence of the VI concierge than luck) where we had a great view of the entire dining area.
There is no choice of menu at EMP. You eat what the chef decides to cook (very much like an omakase or prix fixe menu). If there is anything you don't take or any allergies, you can make it known to the wait staff during reservation or during the menu walk through.
Make Your Choice
And our experience kicked off with a choice of an ingredient via a push out card. When queried further, our waitress coyly revealed that the ingredient of our choice would be reflected in 2 dishes later on but refused to divulge any further. Playing it safe, I went with coffee while the wife went with celery. On hindsight, strawberry might have been the better choice.
Delicious Mocktails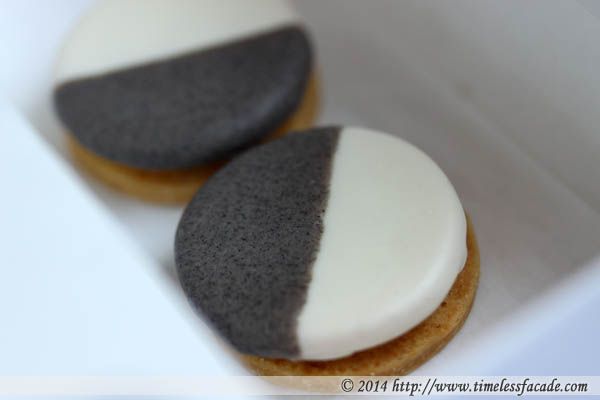 CHEDDAR - Savoury Black & White Cookie with Apple
With a cheddar and black vegetable ash glaze on the top and apple chutney sandwiched between the crisp shortbread, this was a deliciously savoury take on New York's iconic black and white cookie.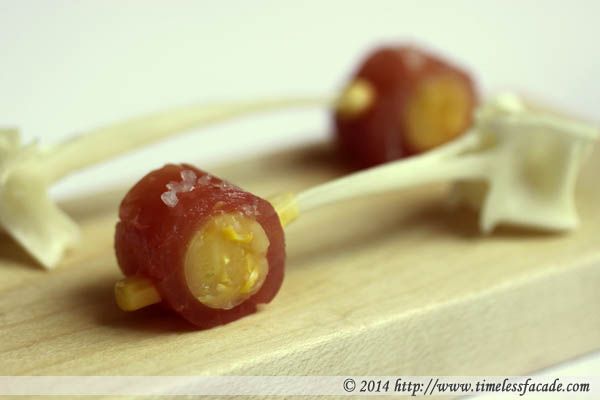 CORN - Custard with Tuna & Caviar
This dish had 2 parts to it. The first consisted of a dollop of caviar, corn mousse and bonito cream; Served with a mother of pearl spoon, no less. Eaten together, the trio featured a creamy finish with strong hints of caviar and a sweet undertone. Very nice.
The second part had corn wrapped in tuna, lightly sprinkled with salt and speared with a tuna spine. Salty and fishy coupled with a lemony zest and crunchiness from the corn. Rather interesting to say the least.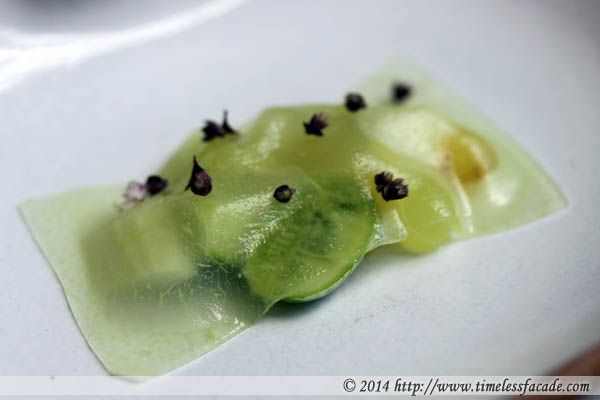 CUCUMBER - Marinated with Lemon & Melon
Cucumber from upstate New York with pickled melons; A combination of sweet and sour. Can't say this was terribly exciting.
TOMATO - Tea with Basil and Salad with Strawberries & Basil
Another two part dish with the first being tomato tea with poured into a cup with a twig of lemon thyme. Mildly tart and refreshing but not something I would drink again due to my dislike of thyme.
Part two featured a colourful ensemble with blanched tomatoes, strawberries and basil. Sweet (from the strawberries) and tart (from the tomatoes). No great shakes honestly.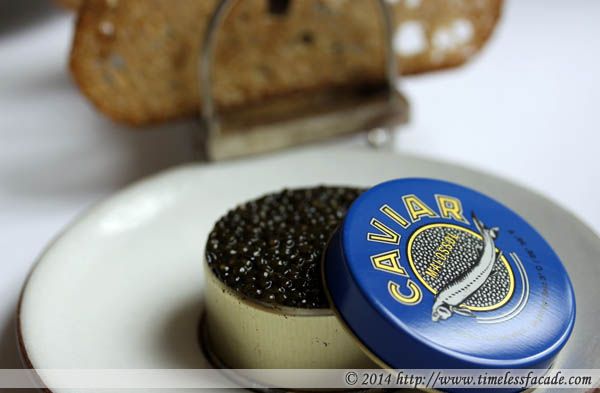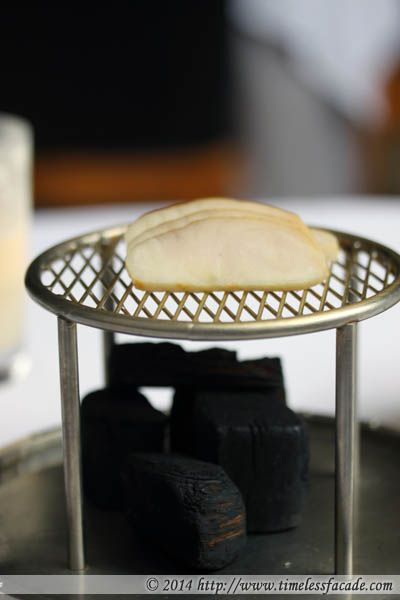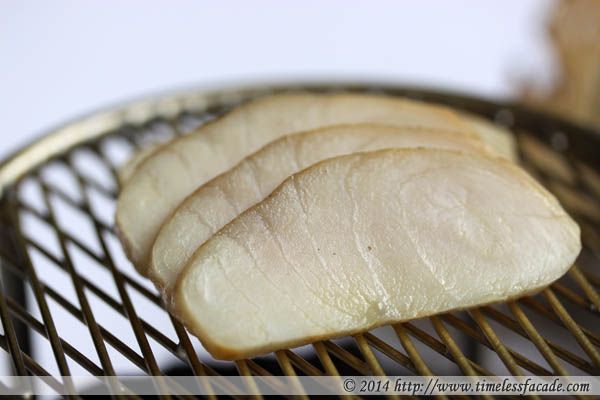 STURGEON - Smoked with Pickles, Caviar & Coffee
Still on appetisers, the sturgeon course was a deconstructed version of New York's deli classic of smoked fish on a bagel. And it had four components to it.

1) Poached Quail Egg on Cream Cheese - Runny center on a bed of smooth cream cheese. Nothing too special.

2) Malossol Caviar with Toast - Now this was great. Malossol means little salt in Russian which explained the optimal level of salt with a moderate of fishiness that was nicely balanced out by the cream cheese at the bottom of the tin.The thin strips of rye toast were crisp.

3) Smoked Sturgeon - Smoked using applewood and dramatically presented in a bell jar with the fumes still present, the sturgeon boasted firm flesh and strong smokey flavours. Nice!

You could choose to eat 1, 2 & 3 in anyway you wanted. Spread the toast with cream cheese and caviar and layer it with a piece of sturgeon or/and with the quail egg. Or simply savour everything dish by dish. We ignorantly opted for the latter.

4) Soda - See below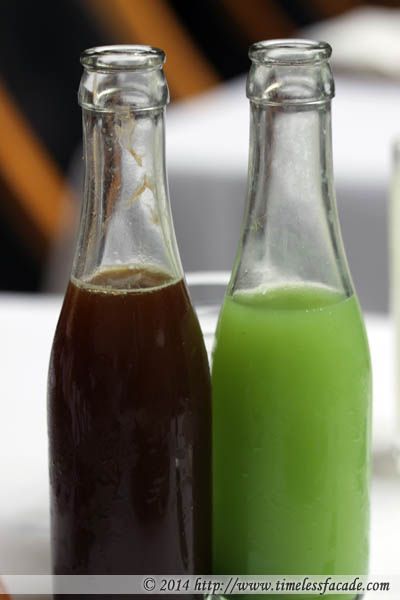 Soda
Remember the choice we had to make at the start? This is what it translates to. A coffee soda aka fizzy coffee. Interesting but can't say I really fancied it.
Homemade Bread
An intermission with homemade bread being served with Pennsylvanian butter and duck fat infused butter. Served warm, the soft bread was flaky, layered (very much like a croissant) and dusted with a sprinkling of salt. Pretty good but I personally would have skipped the salt.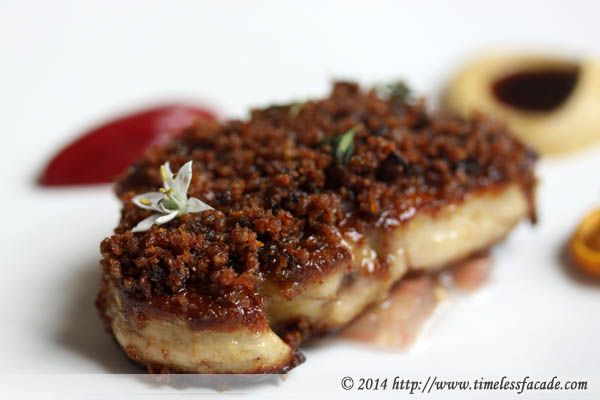 FOIE GRAS - Seared with Chanterelles and Plums
The foie gras featured a smooth, quivery inside and a beautifully pan seared outside without coming across as too gamy. Topped with bits of crisp duck skin and dried chanterelle (a type of mushroom) crumble which added to the crunch and earthiness, it was seriously quite good.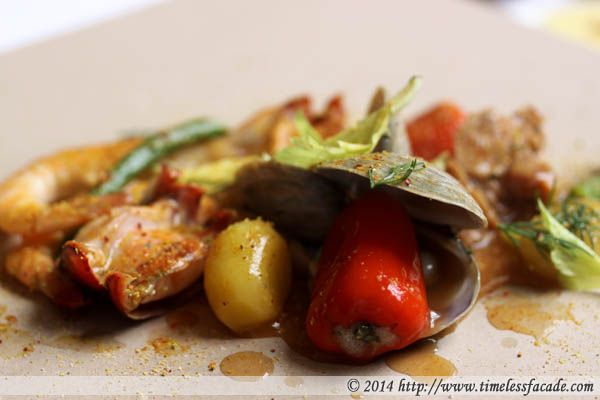 LOBSTER - Boil with Clams, Shrimp and Beans
Seafood served on the table. No plates, no cutlery. Just a piece sheet of paper and your hands, Louisiana style. Fresh Lobster, prawns, homemade sausage, clams, potatoes, jalapenos, all mixed in with a special blend of spice powder that was complemented by the smooth bacon mousse with bits of shrimp, bacon and beans on top. I did find the gravy a tad too bland though and overall this dish lacked the oomph I was looking for. Still a good eat nonetheless.
SUNFLOWER - Braised with Sunchokes and Sunflower Seeds
I'll be honest. I never knew sunflower was edible, much less have a dish based on it. So it was quite an eye opener for me when one of the wait staff actually brought a huge sunflower to the table to briefly explain to us about the dish. The sunflower heart had a layer of brioche atop which served as a dampener to the crunchy texture of the heart. I personally didn't quite like the taste of it as it came across as a tad bitter and tangy. What I did like though, was the skin of the sunchoke aka Jerusalem artichoke, which was deep fried till crisp with a mildly salty and savoury taste.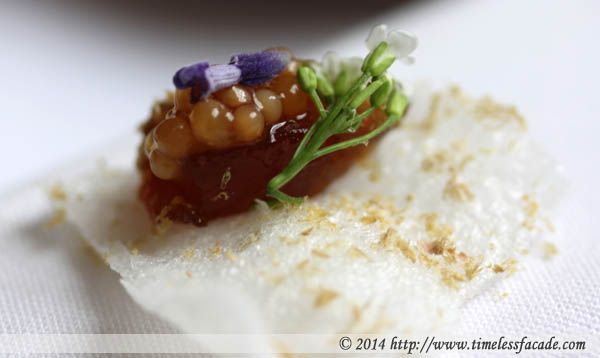 DUCK - Roasted with Raspberries, Blueberries and Mulberries
We were pretty much stuffed by the time EMP's signature dish of duck rolled in alongside a small serving of chilled and jellified duck broth topped with mustard seeds. But persisted we did.

The bite sized gelatin duck broth had a pleasant sweetness with lavender undertones whilst the slice of lavender honey duck (dry aged for 2 weeks and roasted with honey and lavender) was crunchy (from the encrusted Szechuan peppercorns), tender, peppery (sans the spiciness) and mildly sweet (from the honey) all at once. Served with summer berries to provide a counterpoint to the sweetness. Pretty good but can't say I was bowled over.


FRESH CHEESE - Pretzel, Raspberry Mustard and Green Tomatoes
Now this was an interesting concept. Coming in the form of a picnic basket with a bottle of EMP exclusive beer that changes with the seasons (from Ithaca Brewery and complete with an EMP branded bottle opener), a pretzel baked in that same beer (topped with a dash of Amagansett sea salt) and cheese, made in house and aged 5 days. Throw in a jar of raspberry mustard and pickled tomato for good measure. I honestly do not know much about cheese but this was light and creamy and went well with the tartness of the raspberry mustard. The pretzel didn't quite work for me as it was a tad too salty for my liking but I did like the beer infusion.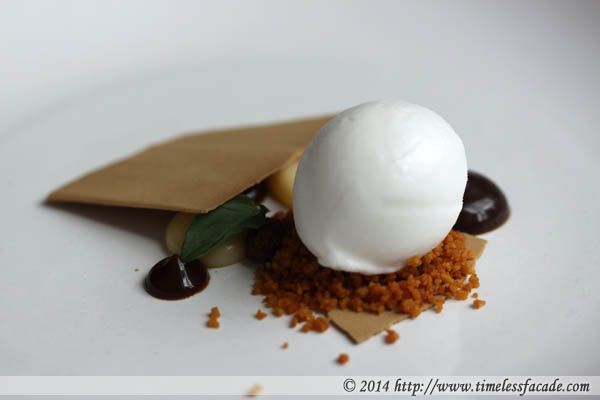 WHEY - Sorbet with Caramelised Milk and Coffee
Marking the start of our desserts, the whey (a byproduct of cheese making) sorbet had a nice cheesy taste that was accentuated by the smoothness of the sorbet. And as with the soda, the choice you make at the start is reflected in this dish as well. My sorbet came on a bed of crumble with coffee sheets, coffee and caramel mousse. Not the best combination I would say because the acidity and taste of the coffee didn't quite go with the cheesiness in my humble opinion.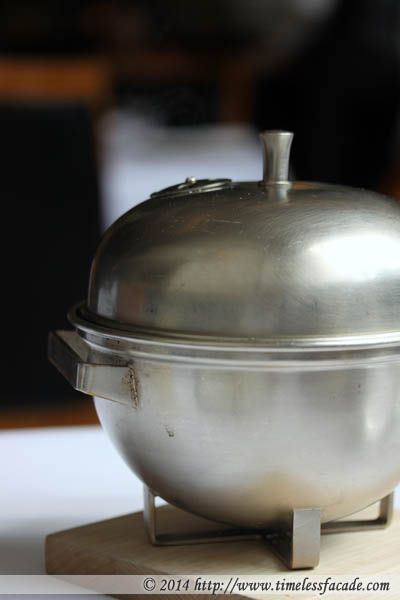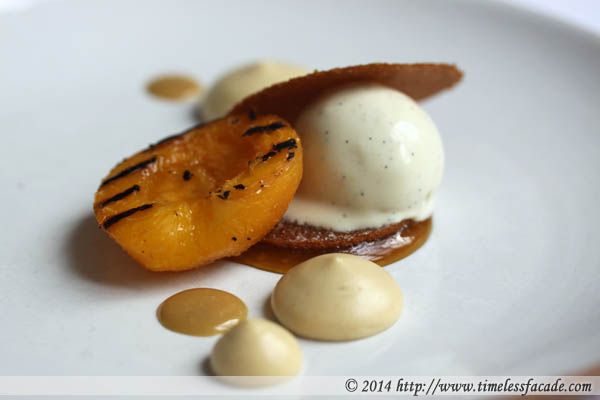 APRICOT - Grilled with Vanilla Ice Cream and Honey
Desserts round 2. An elaborate set up comprising a portable metal grill with 2 halves of an apricot drizzled with honey and grilled till caramelised. Accompanied on the plate by a sprinkling of sea salt, a scoop of vanilla bean ice cream and honey. I couldn't quite reconcile the salt with the sweetness of the apricot and the ice cream so this dish didn't do it for me.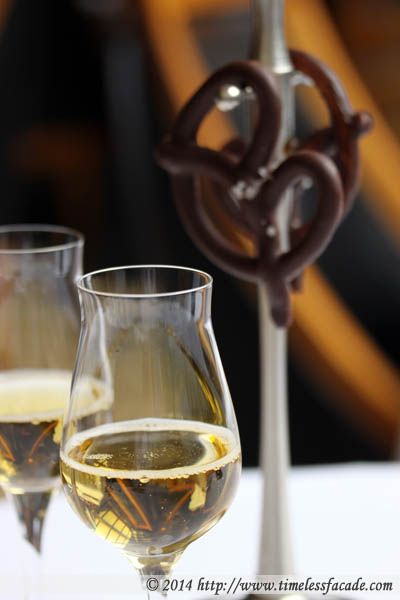 PRETZEL - Chocolate Covered with Sea Salt
I was beginning to feel sick from all the salt in the dishes and the granulated sea salt on the chocolate coated pretzels didn't help one bit. I ended up scraping it off. The sparkling apple juice from France was much appreciated though.


CHOCOLATE - Sweet Black and White Cookie with Caramel
And a befitting end to our meal, a sweet take on New York's classic black and white cookie and a contrast to the savoury version that was served at the start of our meal. Coated with vanilla and chocolate on a buttery biscuit base, I could make out hints of lemon, caramel and salt. Nice!


Bill
The entire lunch lasted us about 3 hours and it was an experience, no less. At USD 580 (~SGD 750, inclusive of a 15% tip), I wouldn't rate it as expensive but I personally feel that food quality isn't quite that of a 3 star restaurant. Probably a 1 star at best. Service was excellent though and everyone was very welcoming and genuine and that did help make our meal a lot more enjoyable. In conclusion, I wouldn't go back but if you have never tried EMP, it might be worth trying out once for the experience. But do make your reservations as soon as they open (28 days in advance).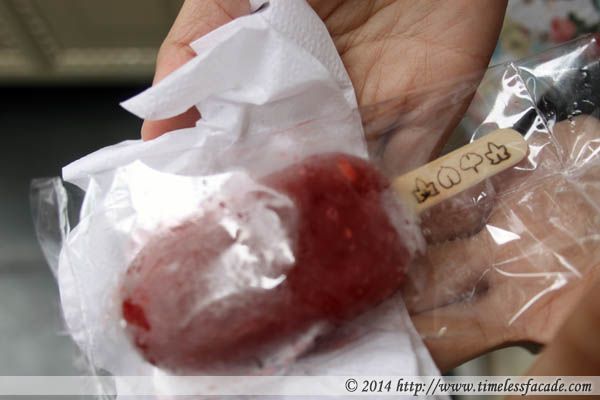 Surprise
And to add on to the surprises, as we were walking out of the restaurant, one of the wait staff cheerfully informed us to approach the street vendor just outside the building for a special something. Which turned out to be a nicely tart raspberry popsicle with a creamy center. Definitely a great way to end the meal!


Final Verdict:

Ambience: 8.5/10
Service: 9.5/10
Food: 7/10
Value for money: 6/10
Overall: 7.75/10

Address: 11 Madison Ave, New York, NY 10010

Contact: 212.889.0905

Opening Hours:

Lunch: Thursday–Saturday, noon–1:00pm

Dinner: Monday–Sunday, 5:30pm–10:00pm

Website: http://elevenmadisonpark.com/