Our hotel (
St Regis New York
) was at full occupancy and apparently there weren't any rooms available until the stipulated time of 4pm (we didn't mange to check in till 7pm. But that's another story). Did I also mention that we were running late for our reservation at Minetta Tavern (1 Michelin star), home to the legendary Black Label Burger which is said to be one of, if not the best beef burger in New York? So after hastily fumbling through our luggage in the hotel washroom, we managed to dig up an outfit more appropriate for lunch (or so we hoped). Talk about tardiness.
The Place
Located at the junction of Minetta Lane and Macdougal Street, just a hop away from NYU, Minetta honestly doesn't look like much from the outside but step inside and an old school western diner charm kicks in. Much of the interior has been left untouched since the original Minetta Tavern (selling Northern Italian cuisine) opened in 1937 so expect a blast from the past (cheesy I know). Tables are spaced relatively close to each other so do request for a corner booth seat if those are available.


Dressed Prawns
The dress prawns consisted of 3 large, fresh and crunchy prawns on a bed of fresh greens drizzled with vinaigrette. A very simple dish and probably not worth the USD 20++ price tag.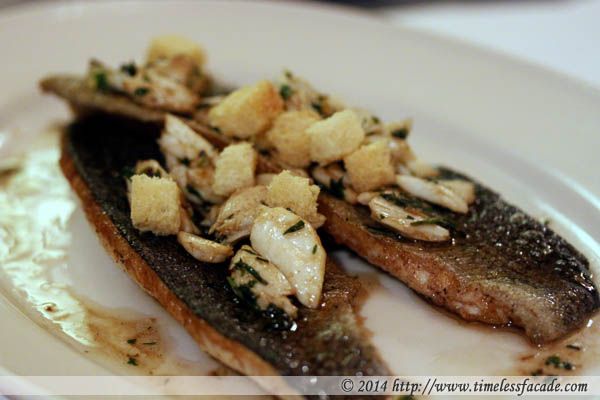 Filet of Trout Meunière
Two thin fillets of fresh trout sporting a mildly crisp skin and topped with sweet chunks of crab meat and crisp brioche croutons. Drizzled over with lemon sauce to cut out the fishiness. Pretty nice.


Black Label Burger
And of course, the prodigious Black Label. The thick 8oz, prime dry aged patty boasted a well charred surface yet retained a brilliant blush within; Tenderly juicy and perfectly seasoned with a touch of salt. Coupled with a layer of sweet caramlised onions and addictive shoe string fries, it made for a most wonderful meal. I don't know if it's the best beef burger in New York (there are arguments for and against) but it's the best I've tried anywhere till date. Now if they would only do something about the buns, which were crisp but could do with a little more moisture.
Bill
A rather filling lunch cost the both of us to the tune of USD 95 (~ SGD 120) inclusive of a 15% tip. Pricing is honestly a little on the high side especially when you add in the tip but food quality is good (especially the black label burger!) and the service is pretty decent. It probably isn't the best place for a date but this is the place I would go for a really good burger. Reservations open 30 days in advance so be sure to make yours early if you intend to go during dinner or over the weekend!
Final Verdict:
Ambience: 7/10 (old diner style but can be noisy)
Service: 7/10
Food: 7/10 (
8.5/10
for the Black Label)
Value for money: 7/10
Overall: 7/10
Address: 113 MacDougal St., New York, NY 10012
Contact: 212-475-3850
Opening Hours:
Lunch: 12pm—3pm (Wed—Fri)
Brunch: 11am—3pm (Sat—Sun)
Dinner/Supper: 5:30pm — 1am (Mon—Sat), 5:30pm — 12am (Sunday)
Website: http://www.minettatavernny.com/
ps: Remember at the beginning of my post, I mentioned about only being able to check into our hotel at 7pm? Well, it was worth the wait as we were upgraded to a Royal Suite. SPG Platinum members usually move up to the Madison or Astor suite so this was definitely a huge jump! Just to share a couple of pictures of our room.
Walkway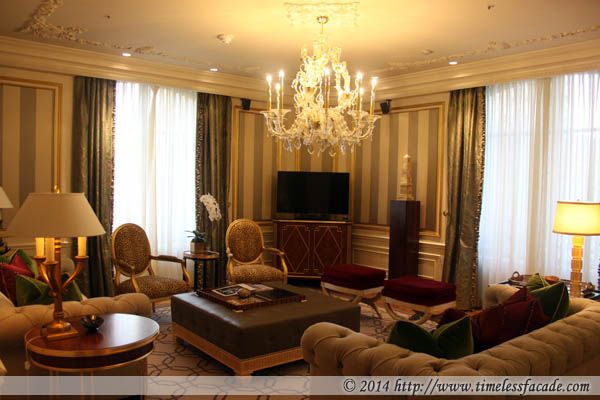 Living Room
Bedroom
Dining Room
All in all, a wonderful room and great butler service but they did misplace our luggage and it took almost an hour with me walking around with one of the bellhops to settle it. Rather disappointing I must say.