Just a few minutes walk down from the iconic Katz Deli is another well known eatery, Clinton Street Baking Company & Restaurant, which has been named by Lonely Planet as "New York's #1 breakfast spot" and as having the "best pancakes" by New York Magazine. Its success has led to outlets overseas, in both Dubai and Tokyo.
The Place
Located along the leafy Clinton Street, the eatery doesn't take reservations for breakfast/brunch (only for dinner for 6 or more pax) so it's first come first served. You register your name with the counter and wait outside for your number to be called. We got there at about 830am on a weekday and the wait for a table was about 30mins (and they only open at 8am!).
Inside, the seating capacity is limited to 32 people. Some might call it cosy but I personally feel it's a little crampish. Window seats offer alot of sunlight but also the stares of hungry diners awaiting their turn. But having said that, you wouldn't have had a choice of seating anyway, at least not during brunch.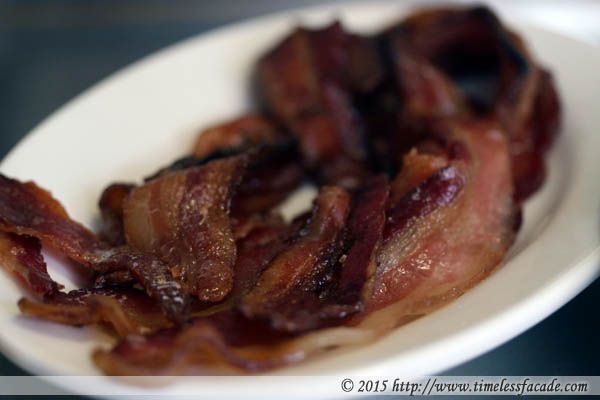 Sugar Cured Bacon
This was one of the best perk me up I've had in a long while as far as bacon goes (another awesome one would be from
Peter Luger
). Lightly crisp, mildly sweet yet savoury whilst retaining the familiar taste of bacon. Inexplicably good!
Clinton St. Omelette
Okay this was rather standard fare and didn't come across as anything worth mentioning about. We had the omelette with cheddar and mushrooms and it seemed a little limp and bland. You could probably get something similar at many of the brunch places elsewhere.
Blueberry Pancakes
The blueberry pancakes were a delight to consume; Fluffy with a little charring on the surface for a nice crusty finish, filled with blueberries and topped with even more blueberries. However the pièce de résistance was undoubtedly the warm maple butter sauce. Smooth and rich with the saltiness of butter and the wild aromatic sweetness of maple syrup; potent combination. This ranks as the second best pancakes I've ever tried, with
Pancakes On The Rocks
in Sydney taking the top spot and
The Pancake Parlour
in Melbourne sliding down to third.
Bill
2 mains, 2 drinks and a side cost us a mere USD 48 (~ SGD 62) inclusive of a 15% tip. Pretty reasonable if you ask me. Food quality was quite good in general and I would have liked to try more of their dishes if not for the time constraint (we had a flight to catch to London). Service was personable as well and I'll be happy to drop by for some pancakes and bacon the next time I'm in New York.


Final Verdict:

Ambience: 6/10
Service: 7/10
Food: 7/10 (8/10 for the bacon and pancakes)
Value for money: 7/10

Overall: 6.75/10

Address: 4 Clinton Street (btw. East Houston & Stanton)

Contact: 646-602-6263

Opening Hours

Mon - Fri
8am - 4pm full menu dining
4pm-5pm cafe only (pastries/ coffee to go)
closed: 5pm to 6pm
6pm to 11pm open for dinner

Saturday:
open 8am-9am for pastry & coffee takeout only
open 9am - 4pm
closed 4pm- 6pm
open 6pm-11pm for dinner

Website: https://clintonstreetbaking.com/