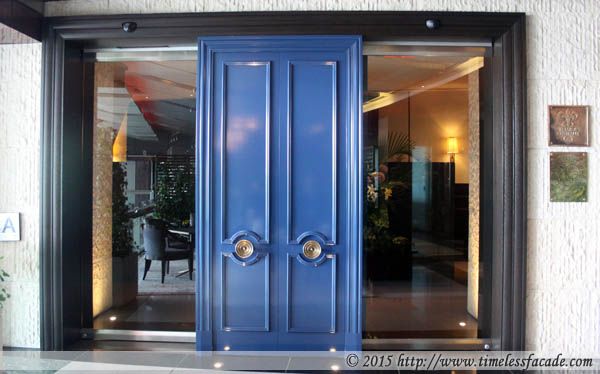 Behind those blue wooden doors laid our lunch venue, a much vaunted 3 Michelin starred restaurant from the very same chef behind the acclaimed The French Laundry (3 Michelin Starred as well) in California, Thomas Keller. It was named "Best Restaurant in New York" by a New York Times' critic in 2011 and we were eager to see how it would fare against another 3 Michelin Starred restaurant,
Eleven Madison Park, which we had just dined at two days prior
.
Interior & Menu
And once again, thanks to the efficient folks at the VI concierge who got us a reservation at the restaurant and a great corner booth seat on the upper level to boot! Do note that reservations are difficult to secure so do make them once they open up one month before your desired dining date.
The dining area wasn't all the grand (certainly not as nice as
EMP's
) but offered views of the surrounding Columbus Circle and Central Park (if you happen to score a window seat) from its 4th floor "vantage" point. That aside, we both had the 5 course meal with additional top ups for certain dishes.
Amuse Bouche
Things got off to a flying start with the amuse-bouches. The bite sized gruyère cheese choux pastry was an instant hit; awesomely cheesy with a nice tough of saltiness. The salmon tartare and crème fraîche came wrapped in a crisp black sesame twirl - Not too fishy with a mild tartness and a lingering taste of black sesame.
Oysters And Pearls
Served up warm, the sabayon of pearl tapioca came across as rich, creamily smooth and went very well with the lightly chilled white sturgeon caviar and plump island creek oysters.


Tsar Imperial Ossetra Caviar
The Tsar Imperial Ossetra Caviar required a top up of USD 75 and I'm not too sure it was worth the extra money. Doled up on a bed of champagne finger lime granita and Kendall Farm's crème fraîche, the briny caviar hit the spot with the rich yet lightly tart crème fraîche but I didn't quite take to the champagne granita which came across as bitter. Better off sticking to the classic Oyster and Pearls dish!


White Truffle Infused Custard
Per Se's signature dish, the white truffle infused custard served with a potato chip in an open top egg shell. Sublimely smooth with a distinct taste of truffle and a crisp chip for added texture and good measure. Very nice.
Complimentary Bread
On to the complimentary bread (gluten free apparently and baked in house), which came individually wrapped in a napkin to keep it warm. Salted and unsalted butter as well as a variety of salt (Hawaiian salt, sea salt etc) on the side. Crusty with a soft center but rather bland on its own. Still nice but not as good as the one from
EMP
in my humble opinion.
Black Mission Fig Tart
I'm not a big fan of figs but this was decent. Crumbly base with a cheesy filling and the sweetness from the figs. Maybe someone who likes figs will appreciate this more.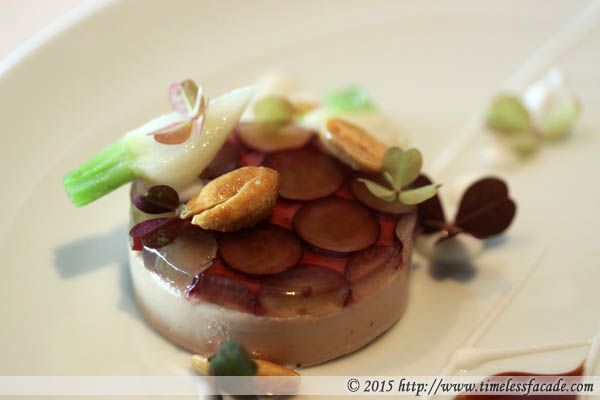 Terrine of Hudson Valley Moulard Duck Foie Gras
Silkily smooth and topped with a a jellied layer of grape and peanuts, the terrine (similar to pâté) of foie gras was nothing short of excellent. The sweetness from the grape slices complemented the moderate gaminess of the foie gras and contrasted against the saltiness of the nuts. Best eaten with the side of flaky and buttery brioche. This was well worth the USD 40 top up.


Jade Tiger Abalone "Picatta"
Maybe I'm more used to eating abalone the Chinese way as I couldn't quite wrap my taste buds around the softness of the abalone and its thin, pan fried till golden brown layer of flour. Would personally prefer a much firmer texture. Average at best in my humble opinion.


Cuisse De Poularde
Now this was interesting. A combination of chicken thigh meat and mousse wrapped in chicken skin. The end result wasn't that intriguing though; Tender piece of meat with the creaminess of the mousse and mild sweetness from the base sauce. Tasted pretty good though!
100 Day Dry Aged Snake River Farm's Beef
I love my steak and Per Se's 100 day dry aged beef wasn't particularly outstanding. Cooked to a perfect medium rare and lightly seasoned with salt and pepper, the meat was tender with a bit of fat for that chewy texture. However the flavours were rather muted even though the Bearnaise gastrique sauce at the bottom did add a touch of sweetness. Nothing like
Peter Luger
I'm afraid.
Lemon Bar
And on to desserts. Starting us off was a small serving of the lemon bar, a sponge like dessert with a layer of lemon and blackberry each. Topped off with fresh raspberries. Moderately tart and not quite my cup of tea.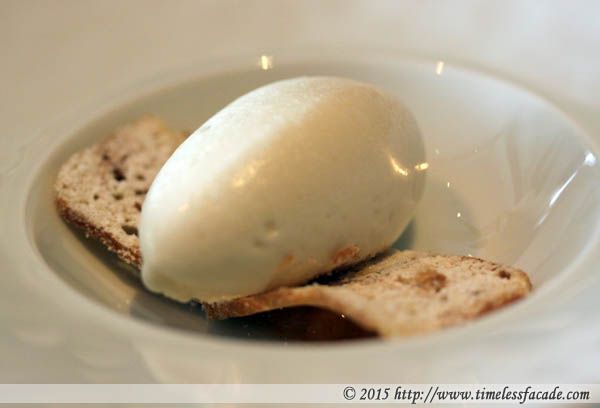 Pain Au Lait Ice Cream
The pain au lait (milk bread) ice cream had a mildly savoury and milky slant to it and was reminiscent of eating the actual french toast albeit of a different texture and temperature. Served on a crisp slice of brioche for added texture and slices of peach for that little sweetness.


Hazelnut Milk Chocolate
A small rectangular block of hazelnut milk chocolate with dulce de leche (milk candy) and a solitary hazelnut; Small on presentation but big on taste. Nice and smooth with a distinct hazelnut taste without coming across as too rich. The salt granules scattered atop acted as a counterpoint to the sweetness of the dulce de leche. Very nice!
Chocolate Selection
You get to choose from the 24 beautifully made in house chocolates as part of the dessert course. Classy!
Coffee & Donuts
One of Chef Thomas Keller's signature, the ubiquitous coffee and donuts. Fluffy and not too sweet cinnamon brioche sporting a nice crisp exterior coupled with a smooth cappuccino semifreddo. Simple yet satisfying.


Sweets Stand
Nougats, macarons and assorted truffles to end off. I personally found the macaron shells a tad too soft whilst the nougats were a tad too sweet for my liking. Still a decent way to end off though.
Bill
At USD 680 (~ SGD 880) inclusive of tips and taxes, this was one rather expensive lunch. Food quality was of a certain standard but definitely not up to par with what I would expect from a 3 Michelin Starred restaurant. Think
Guy Savoy
or
Restaurant Gordan Ramsay
. Service was so professional that it bordered on stiff.
One thing to note, jackets are a must at Per Se, which doesn't quite sit well with yours truly (just for the record, I did wear a jacket). I can understand the rationale behind dressing up as a form of respect for the restaurant but I humbly believe that a good restaurant should be solely about its food (and in certain cases, service) and almost everything else is superfluous. But I digress.

Will I be back? Probably not.


Final Verdict:

Ambience: 7.5/10
Service: 7.5/10 (polished but stiff)
Food: 7.5/10 (good food overall but not outstanding)
Value for money: 5.5/10

Overall: 7/10

Address: 10 Columbus Circle

Contact: (212) 823-9335

Opening Hours

Lunch: Friday - Sunday: 11:30am - 1:30pm; Dinner Nightly: 5:30pm - 10:00pm

Website: http://www.thomaskeller.com/per-se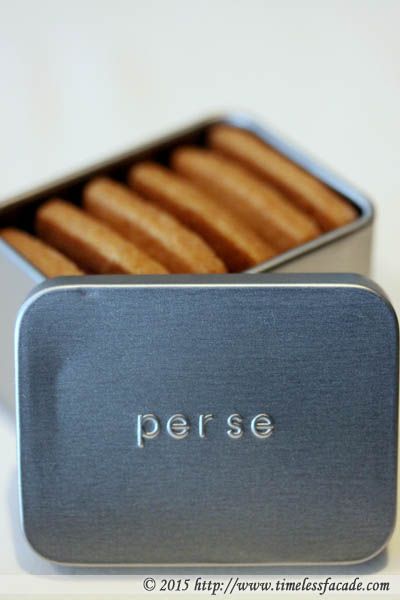 One For the Road
A nice parting gift from Per Se, fragrant butter cookies in a restaurant branded metal container. Pretty nice!