It is said that no trip to New York is complete for steak lovers without a visit to the legendary Peter Luger Steakhouse, which currently holds 1 Michelin Star and has been voted "Best Steakhouse in New York" by Zagat for 30 years in a row. And so there we were on a sunny Saturday afternoon, thanks to a reservation courtesy of the VI concierge (reservations are a definite must and by phone only).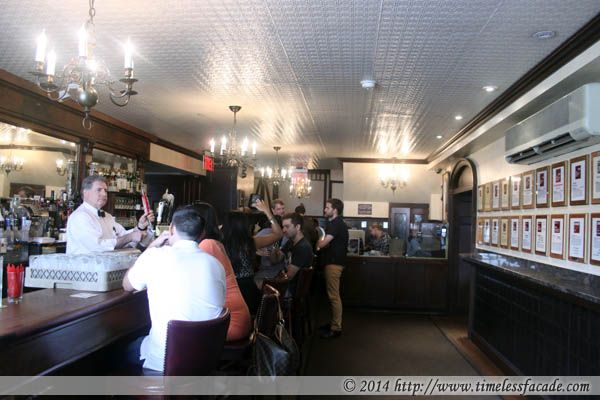 The Place & Menu
Located about a 5-10 minute walk from Marcy Ave subway station, Peter Luger's Brooklyn outlet has been around since 1887 (the other Great Neck outlet since 1996) and even though the both of us had reservations, we had to join the snaking queue to speak to the counter about it. There were a lot of people in line who didn't have a reservation but opted to wait at the bar area for a table to open up. According to the gentleman at the counter, estimated wait time is about 1-2 hrs so yes, please make that reservation, way in advance if possible.
The place had a cosy, old school steak house vibe to it, with lots of wood, mini chandeliers and wait staff (all male I observed) decked out in white aprons and bow ties.
Complimentary Bread & Butter
The complimentary bread was plentiful and came with rather crude chunks of lightly salted butter on a plate. No frills and we took only a few bites to save space for our mains.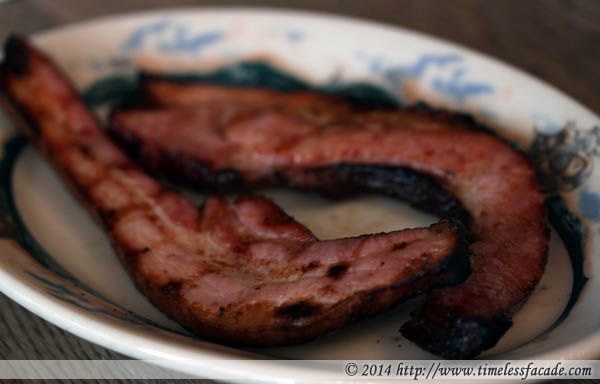 Luger's Sizzling Bacon, Extra Thick, By The Slice (USD 4.50/slice)
These were the thickest, heartiest slices of bacon I've ever been served in any eatery. Crisp along the edges with a good amount of fat and minimal salt, the bacon slices went very well with Peter Luger's steak sauce; Mildly tart, sweet and spicy all rolled into one, a little like BBQ sauce (see steak below).
Fresh Broccoli (USD 8.95)
The obligatory greens for the afternoon, steamed fresh broccoli for that nice crunch and to break the monotony of all that meat.


Salmon, Grilled with Potato and Vegetable (USD 18.95)
Having stayed in Norway for a period of time, the wife was fairly blasé about salmon dishes. But she was all praise for this salmon. Crisp exterior coupled with sweet and flaky flesh with a tinge of oiliness. The accompanying creamed spinach was nicely smooth and creamy but the texture did seem a little like baby food. Now if only they served this in Singapore steak houses.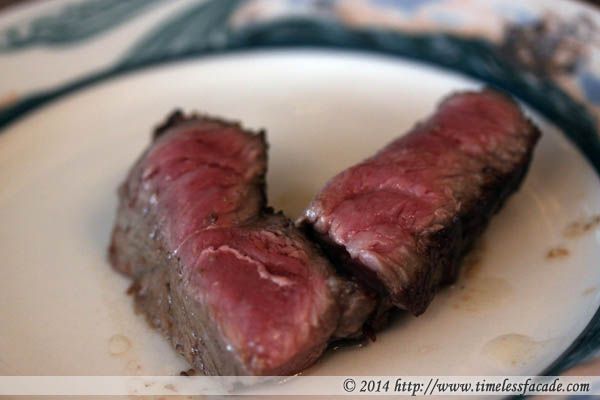 Small Single Steak (USD 48.95)
And now for the undisputed star of the afternoon and the main reason why I was there, the steak. Lightly seasoned with a dash of salt, the steak boasted a beautifully broiled surface with charred bits around the edges, belying a pinkish, perfect medium center that was ever so flavourful and tender. It was probably THE best steak I've had so far (step aside
Mortons
and
Ruth Chris
). Eat it on its own or with the special steak house sauce. Either way, it's bound to delight. And to save you the trouble of cutting up your meat, Peter Luger serves up their steak all cut up into chunks for easy sharing if you so wish. One of the best fifty bucks I've ever spent.

Sweets
No fancy petit fours to end our meal, just gold foiled Peter Luger chocolate coins for that simple, nostalgic finish.
Bill
The place is cash only (unless you have a US debit card or US cheques with ID) and our excellent meal cost the both of us USD 110 (~ SGD 140) after tips; Extremely great value for the quality of food. And contrary to what some folks have described as gruff service at Peter Luger, we were made to feel welcome and enjoyed our meal tremendously. I'll definitely be back in a heartbeat!


Final Verdict:

Ambience: 7/10
Service: 7.5/10
Food: 8/10 (9/10 for the steak)
Value for money: 7.5/10

Overall: 7.5/10

Address: 178 Broadway, Brooklyn, N.Y. 11211. Other outlet at 255 Northern Blvd, Great Neck, N.Y. 11021

Contact: 718-387-7400 (Brooklyn)& 516-487-8800 (Great Neck)

Opening Hours:

Monday - Thursday: 11:45 am - 9:45 pm (last seating)

Friday & Saturday: 11:45 am - 10:45 pm (last seating, Brooklyn) & 11:45 am - 9:45 pm (last seating, Great Neck)

Sunday: 12:45 pm - 9:45 pm (last seating)

Website: http://peterluger.com/