The queues were long and I was hungry. But I decided to grit my teeth and join the crowd as they queued for one of New York's most popular burger joint, Shake Shack. Starting out as a hot dog cart in Madison Square Park in 2001, Shake Shack has gown to multiple stores worldwide and a loyal following to boot.


The Queues
After about a 20 minute wait, it was finally my turn at the counter and the order was quickly dispatched through via the less than friendly counter staff. Collection was a seperate line altogether by means of a beeping buzzer. Seats are limited but if you really want a table, bring along a huge dose of patience and agility (for leapfrogging your competitors to the next vacant table).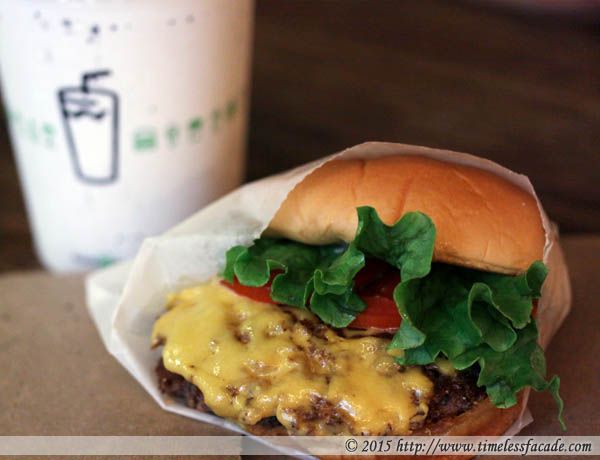 Double Shackburger + Strawberry Shake
The double ShackBurger sported two 100% angus beef patties, lettuce, tomato and shack sauce. And it tasted great, much much better than your usual fast food joints like McD or the wee bit more upmarket Carl's Junior. Thick patties that oozed flavourful bovine juices but didn't come across as limp and perfectly seasoned with a touch of pepper and salt; All encapsulated within two soft buns and smeared with the mildly spicy, sweet and sourish, secret shack sauce. Delicious!

The strawberry shake was great as well. Thick and creamy without coming across as overly sweet and perfect for a hot summer day. I almost went for another burger and shake but stopped myself when I saw the queue.


Bill
An awesome meal at USD 13.45 (~ SGD 17). What more can I ask for? Well, maybe shorter queues and an outlet in Singapore please.


Final Verdict:

Ambience: NA
Service: NA
Food: 7.5/10
Value for money: 7.5/10

Overall: 7.5/10

Address: 691 8th Avenue(8th Ave & 44th St). Various other outlets in the US and worldwide.

Contact: 646.435.0135

Opening Hours: 11:00 AM – Midnight daily

Website: https://www.shakeshack.com/