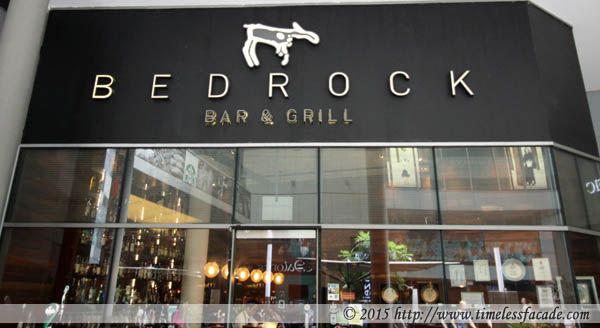 We were craving steak but didn't fancy splurging at
Morton's
so dropped by Bedrock Bar & Grill for their steak set lunch since we happened to be in town during the weekend.
The Place
The interior isn't anything too fancy and sports wooden furniture, halogen lamps and a partially open concept kitchen with an island top and lots of overhanging pots and pans where you can view your bread being kneaded and baked. Window blinds provide cover from the adjacent pedestrian walkway. Overall a pretty cosy place if you happen to secure one of the booth seats.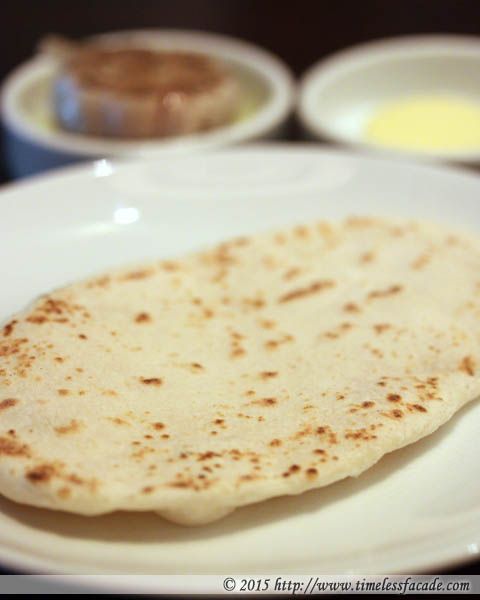 Complimentary Flat Bread
Served with a clove of roasted garlic and butter, the piping hot flat bread came fresh out of the oven; warm, chewy and reminiscent of naan.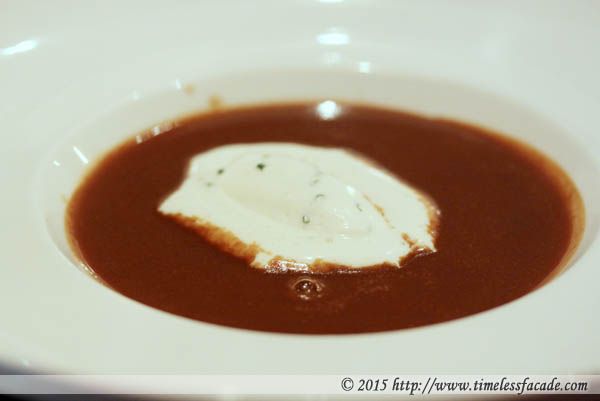 Classic Lobster Bisque
Relatively rich but salty even with the rather amount of chive cream, the lobster bisque boasted no lobster meat and the dubious honour of pairing best with a glass of water.


Confit Corned Chicken
This tasted like the chicken version of duck confit (duh!), just a touch more moist and a little less salty and flavourful. Accompanied by a sunny side up and crunchy, mildly salty sausages. Overall a very palatable dish but nothing to go wow over.


Woodfire Grilled Sirloin
At $58++ for the steak set lunch, this was pretty good. Relatively flavourful with a touch of salt and done medium as per my request. Meat was tender but not as juicy as I would have liked it to be. Topped with a creamy Bearnaise sauce and a side of slick and buttery mashed potato.
Bread Street Kitchen
,
Morton's
and
Ruth Chris
still does a meaner piece of steak but for the price, I really can't compare or complain.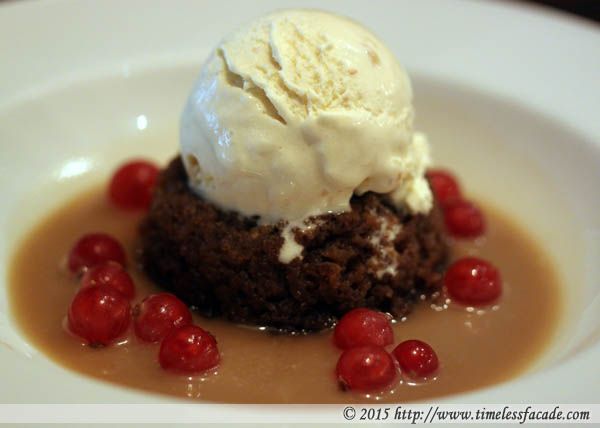 Sticky Stout & Toffee Pudding
This dessert was pretty interesting - A scoop of gingernut ice cream (not a fan of ginger but this was pretty mild) plopped atop a rather sweet toffee pudding with a significant stout aftertaste. To counter the sweetness, tart red berries were placed alongside. Decent finish to our meal.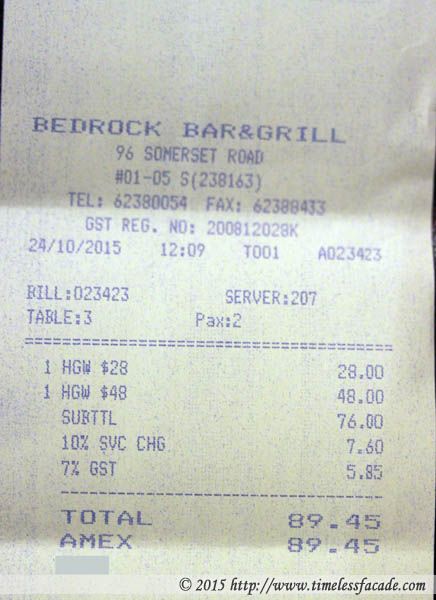 Bill
HGW happened to be running a promotion during that period so we got $10 off each set lunch ($28++ for non steak and $48++ for the steak variant). Food quality came across as decent (steak was a notch above that) and so did service. I'm honestly not inclined to return, given that
Bistro Du Vin
does a reasonably good steak for lunch as well and offers a more compelling value proposition in my humble opinion.
Final Verdict:
Ambience: 6.5/10
Service: 6.5/10
Food: 6.5/10 (7/10 for the steak)
Value for money: 6.5/10 (without the $10 off promotion)
Overall: 6.5/10
Address: 96 Somerset Road, #01-05 Pan Pacific Serviced Suites
Contact: 6238 0054
Opening Hours:
Lunch: Mondays to Sundays, 12pm to 3pm (last order at 2:30pm)
Dinner: Mondays to Sundays, 6pm to 11pm (last order at 10:30pm)
Bar: 12pm to 12am (last drinks order at 11.30pm)
Website: http://bedrock.com.sg/