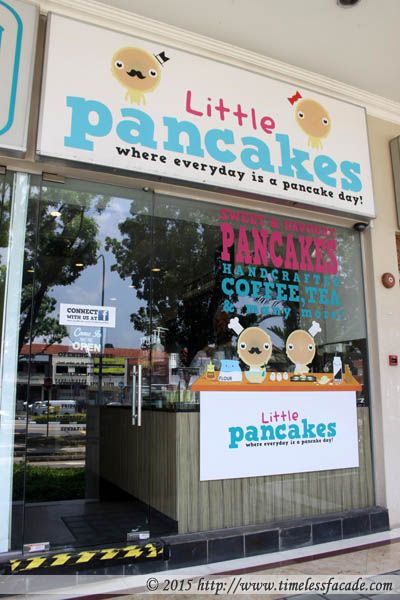 We were on the lookout for pancake places in Singapore when we chanced upon Little Pancakes, a little shop on the ground level of an apartment along Upper Thomson Road. To be honest, it was the cute pancake pictures that attracted us.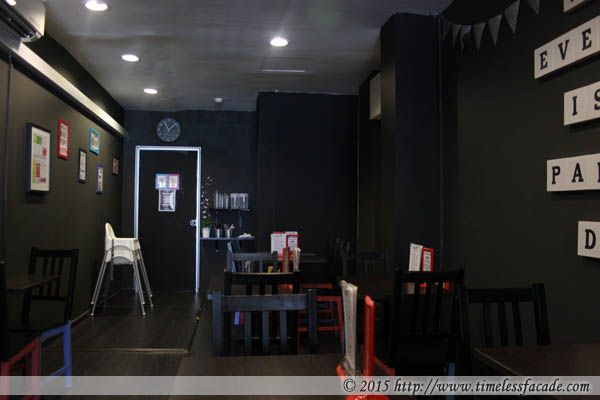 Interior
The interior isn't big, with capacity maxing out at about 10+ pax or so but it has this cosy cafeish vibe to it; Dark walls, wooden furniture and cute little signs like the one above. Ordering and payment is done at the counter and your food will be served to you.
Vanilla Latte
Not a fan of coffee and know next to nothing about it so no comments on this.
Big Fan Of All Day Breakfast
What a mouthful! The name of the dish, that is. And it came with ten mini pancakes (side of syrup), scrambled eggs, a couple of mini sausages, potato salad and greens. The pancakes were soft with a little fluffiness and mildly sweet. Being snack sized, there was no issue of the flour being undercooked in the middle but I would have liked the accompanying syrup to be a tad thicker (tasted very similar to the hotcake syrup from McD). As for the scrambled eggs, it also tasted similar to what the golden arches serve albeit a little more moist while the sausages were well, your off the rack sausages. If that's insufficient, the creamy potato salad will fill you up real fast! Pretty decent.

Chick & Cheesy
This was essentially two layers of cheese sandwiched between two mini pancakes and topped off with mini sausage. Pretty decent and something that might appeal to your inner child. The only difference between this and the All Day Breakfast is the cheese, which comes in lieu of the scrambled eggs. Personal preference really but do note that this is slightly cheaper.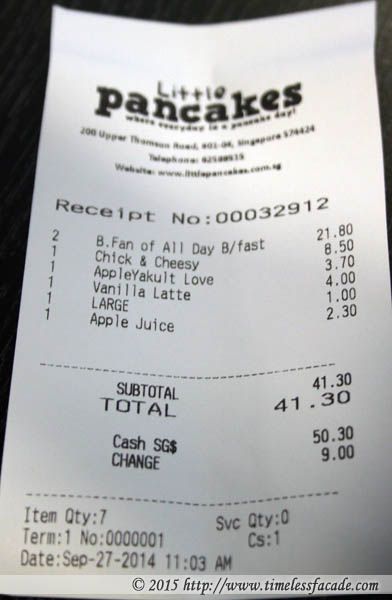 Bill
Brunch for 3pax with drinks cost just over $41, which is relatively reasonable given that there is no service charge or GST. Food quality is decent (pancakes are above average) and miles better than
Batter Fluffy Flaps
in my humble opinion. Worth a stop if you are in the area but I wouldn't make a trip specially to eat here.
Final Verdict:
Ambience: 6.5/10
Service: NA
Food: 7/10
Value for money: 7/10
Overall: 6.83/10
Address: 200 Upper Thomson Road, #01-04, Thomson Imperial Court, Singapore
Contact: 6258 8515

Opening Hours:
Mon: 13:00 - 23:00
Wed - Fri: 13:00 - 23:00
Sat: 11:00 - 23:00
Sun: 11:00 - 21:00
Closed: Tue
Website: https://www.facebook.com/littlepancakess