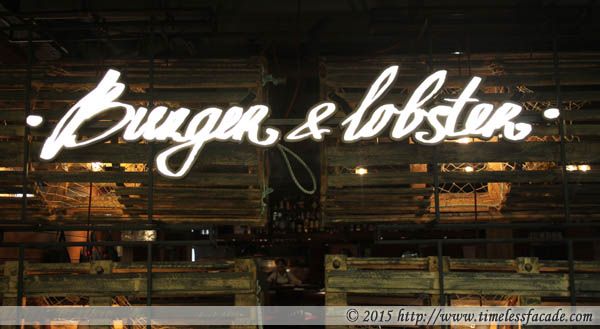 We were in London for our final leg of our mini round the world tour. And we were tired from the flight in from New York (which ran almost an hour late). Our hotel (
The Park Tower Knightsbridge
) was full so we couldn't check in till the stipulated time and we were hungry/grumpy. Brussels Airline's food was decent but we were just too tired to really eat (for my case I blame it on the smallish cubby hole at the foot of my seat which deprived me of a good rest). There was a Burger & Lobster outlet just across the street from our hotel so we hastily made our way over for a much needed energy boost.
The Place
The place is like your typical casual dining restaurant (think Denny's) but with a more industrial theme to it and there is no menu to speak of. As the name suggests, Burger & Lobster only sells burgers and lobsters. 3 varieties to be more specific; Beef burger, lobster (steamed or steamed and grilled) or lobster roll for a fixed £20 + 12.5% service. For more variety, go for the "half and half", where you get half a lobster and half a lobster roll (only applicable if you dine in multiples of two I believe).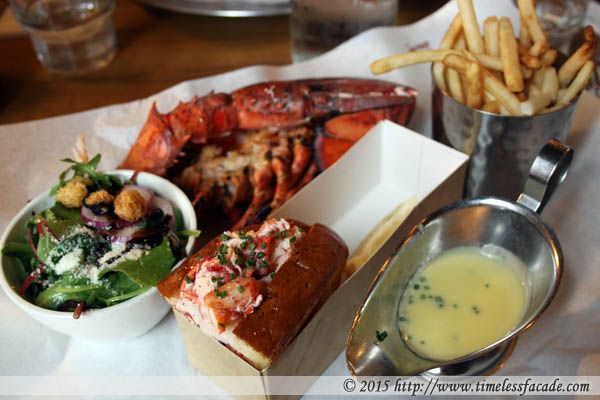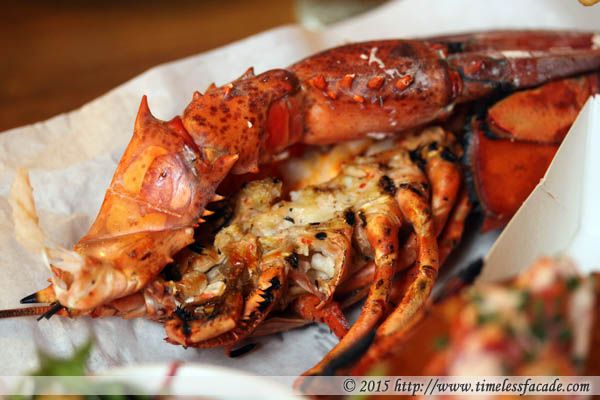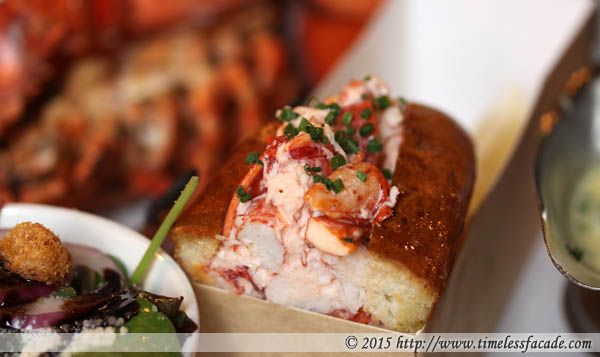 Half & Half
We both opted for our lobster to be steamed first and then grilled, giving rise to sweet and tender meat with a little charring at some spots for that smoky goodness. Best eaten with the deliciously creamy garlic butter sauce that came alongside.
However the undisputed star of the afternoon, the pièce de résistance, the prima donna, the humble lobster roll. Crunchy and sweet lobster meat (without the lobster wrestling) all squeezed onto a beautifully crusty and buttery brioche. Mildy tangy (from the seasoning), sweet and buttery all rolled into one, what's not to like? This edges out
Luke's Lobster's
lobster rolls by a slim margin in my humble opinion (due largely in part to the brioche).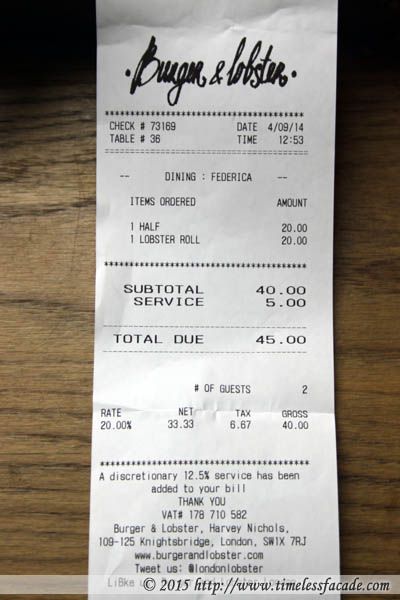 Bill
The food was good, the service was friendly and there was no sticker shock waiting for us at the end of our meal. £45 (SGD 92) for 2 pax (tap water is complimentary) is actually rather reasonable by London standards so do try it if you happen to be in London! I know I will return.
Final Verdict:
Ambience: 6.5/10
Service: 7/10
Food: 7.5/10 (
8/10
for the lobster roll)
Value for money: 7/10
Overall: 7/10
Address: Fifth Floor Harvey Nichols (various other outlets across London)
Contact: 02072018676
Opening Hours:
Mon-Sat:12pm -10:30pm
Sun:12pm -10pm
Website: http://www.burgerandlobster.com/
ps: To be fair to Brussels Airlines, they provided a wonderful hard product in J (just that the cubby was too small for my liking) as well as decent food and great service. I liked the sleek controller as well though it did seem a little unresponsive at times.


My Seat & Delicious Smoked Duck Starter
Sunrise Over UK
Flying Over Belgium