We were torn between The Fat Duck or Dinner, both Michelin starred restaurants by Chef Heston Blumenthal. The former has three stars whilst the latter, two stars. Since Dinner was just across the road from our
hotel
and we had quite a tight schedule given that we were catching "The Book of Mormon" matinée, we settled for Dinner.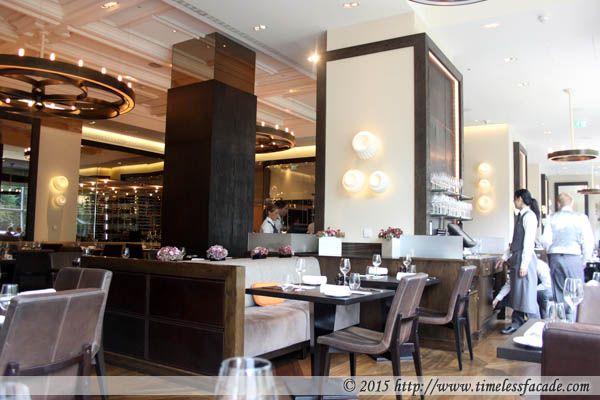 The Place & Menu
The interior was modernly classy yet down to earth with the stucco ceiling and different shades of wood. We were accorded a corner table overlooking Hyde Park through tall, floor to ceiling windows that allowed plenty of sunlight through. A perk of making reservations way in advance perhaps? There was no set lunch (£38 for 3 course) available on weekends which suited us just fine as the set choices were really limited.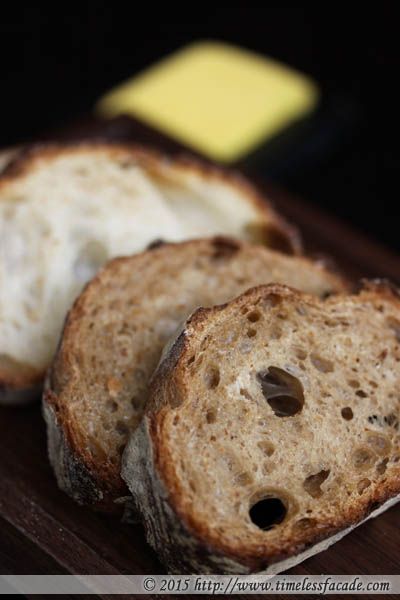 Complimentary Bread
Chewy with a hardened exterior, the sourdough bread proved quite a good start, especially with the butter. Just remember to save your stomach for the real food!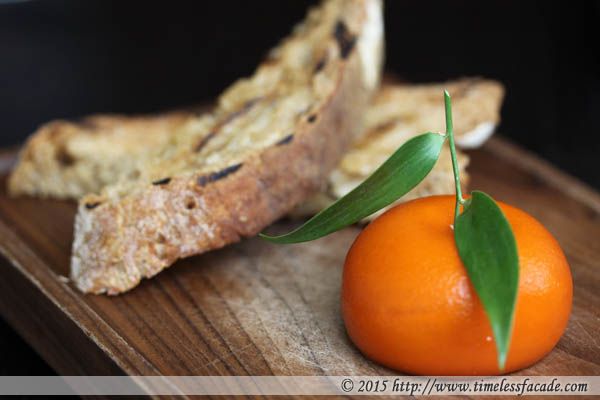 Meat Fruit
A dish from the court of the Tudors and a signature of Dinner, the unassuming meat fruit. Dressed up innocuously as a mandarin orange complete with a "branch", the meat fruit features a creamily smooth chicken liver and foie gras parfait encapsulated in a thin, gelatin orange jelly that inbued the foie gras with a nice citrus flavour. Best eaten with the crisp, buttery toast served alongside. Don't eat the leaf though. It's merely for decoration purposes!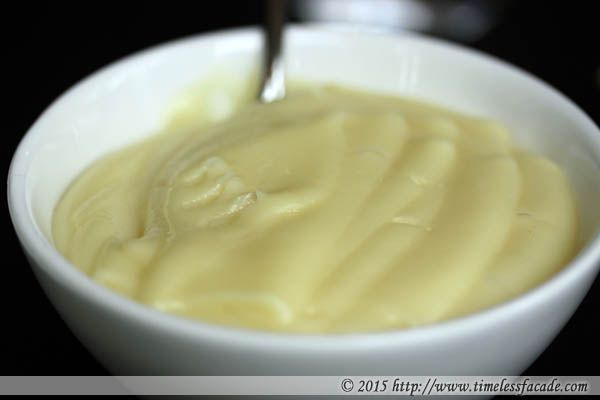 Powdered Duck Breast
The powdered in this dish refers to the brining process that the duck goes through before being cooked sous vide at 63°C for 22 minutes. Sporting a nice pinkish hue, the duck came across as moistly tender with a touch of saltiness and chewiness sans the overwhelming fowl taste. Pretty good! The side of mashed potatoes (additional £4.75) was also excellent; Supremely smooth and creamy with a hint of buttery goodness.


Roast Iberico Pork Chop
A thick but very well roasted piece of ibérico pork. Tender with a burst of flavourful juices in every bite and a nice layer of fat along the edges for that extra chewiness. Served with smoked cabbage (which provided the necessary greens) and awesomely crispy bits of deep fried dehydrated pork skin, drizzled with Robert (brown mustard) sauce.


Brown Bread Ice Cream
This was interesting to say the least, with the brown bread ice cream tasting like wholemeal bread albeit of a different texture. Sitting on a base of crusty oatmeal biscuit walled up with crisp croutons, melon cubes and richly smooth salted caramel. I liked how all the flavours (sweet and salty) and texture (creamy and crispy) all came together to sing a joyously appetising melody.


Tipsy Cake
Another of Dinner's signature and a popular Victorian dessert, the tipsy cake. Pillowy brioche boasting a light crusty top brushed with a small amount of brandy and the core soaking in a rich sauternes and vanilla bean sauce. Served with grilled pineapples glazed with caramel and smoking syrup for a mildly tart yet smoky contrast to the sweetness of the brioche. I am seriously amazed at how such a seemingly simple brioche dessert can taste so good. Portion sizes aren't big though and I can easily polish off one pan by myself. Note to self to order two servings the next time round.


Petit Fours
And petit fours to end off. A caraway biscuit paired with a smoothly rich chocolate ganache. The wife was full so I ended up polishing hers off as well.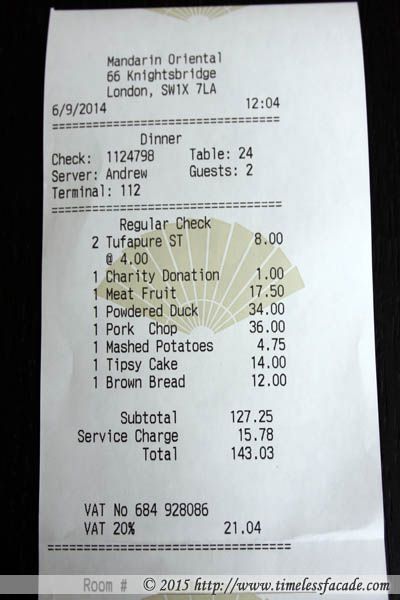 Bill
An appetiser, two mains, two desserts and two bottles of water cost us about £143 (≈ SGD 295) which was reasonable by London standards. Food was very good in general but what really stood out were the meat fruit and the tipsy toast. Service was very professional with a touch of warmth and I would rate it just a shade below that of
Restaurant Gordon Ramsay
. We had intended to try out the famous theatrical ice cream cart but unfortunately time wasn't on our side (1.5 hours for lunch is definitely insufficient!). Yet another reason to return!
Final Verdict:
Ambience: 8/10
Service: 8/10
Food: 8/10 (
9/10
for both the tipsy toast and meat fruit)
Value for money: 9/10
Overall: 8.375/10
Address: Mandarin Oriental Hyde Park, 66 Knightsbridge, London, SW1X 7LA
Contact: +44(0)20 7201 3833
Opening Hours:
Monday - Sunday
Lunch
12:00pm - 2:30pm
Dinner
6:30pm - 10:30pm
Website: http://www.dinnerbyheston.com/