It was not too long ago when De Burg (a decent burger outfit which has since moved to Kallang) was still situated at the rather quiet coffeeshop along Blk 119 Bukit Merah Lane 1. In the space of a about a year, much has changed and the same coffeeshop is now bustling with stalls selling different produce and crowds patiently queuing up for a table. One such stall that has moved in is Immanuel French Kitchen, a much publicised (by the media) outfit selling fine French cuisine at seemingly affordable prices.
Duck Rillettes
Served up in a tin container alongside another tin of gherkins and a platter of sliced, rather dry and hard baguette, the duck rillettes came across as decent; Generous and well shredded with a nicely smooth, oily finish. Would have been better if it had been a little creamier and a little less salty.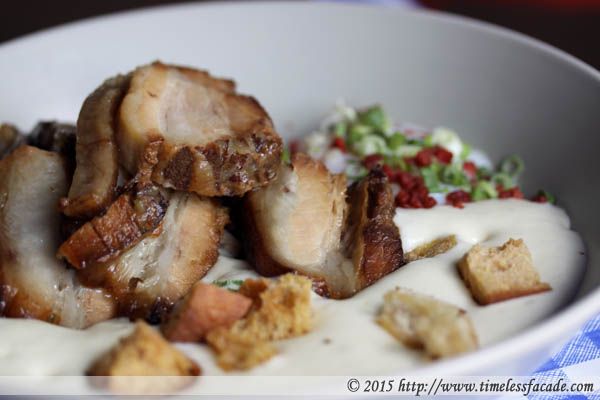 Pork Belly Braised In Kakuni Style Served With Duxelle Mushrooms, Onsen Egg & Potato Foam
This dish was a little east meets west as the pork belly was done Kakuni style (simmered in dashi, soya sauce, mirin, sugar and sake and popular in Nagasaki). The belly was relatively tender but had quite a fair bit of fat, giving it a nice wobbly texture but also a rather nauseating effect. Amidst the richness of the pork belly and a quivery onsen egg sporting a runny center (topped unfortunately with bacon bits that tasted straight off the shelves), the duxelle mushrooms provided a commendable earthy complement whilst the lightly smooth potato foam and croutons dispensed the necessary carbohydrates. Pretty decent but honestly it was the potato foam that impressed me more than anything else.
Bill
1 duck rillettes and 1 pork belly dish for a grand total of $25.50. Whilst I appreciate the thought and effort that has gone into both dishes, I personally do feel that $16.90 is a bit too much to pay for the pork belly, given the quantity (not much!) and setting of the place (coffeeshop). But to be fair, food quality is a notch or two above average so that should count for something I guess?


Final Verdict:

Ambience: NA
Service:NA
Food: 7/10
Value for money: 7/10

Overall: 7/10

Address: 119 Bukit Merah Lane 1

Contact: 9297 3285

Opening Hours

Tue - Sun: 12:00 - 14:30

Tue - Sun: 18:00 - 21:30

Closed: Mon

Website: https://www.facebook.com/immanuelfrenchkitchen

And we had other stuff to eat from the other stalls at the same coffeeshop.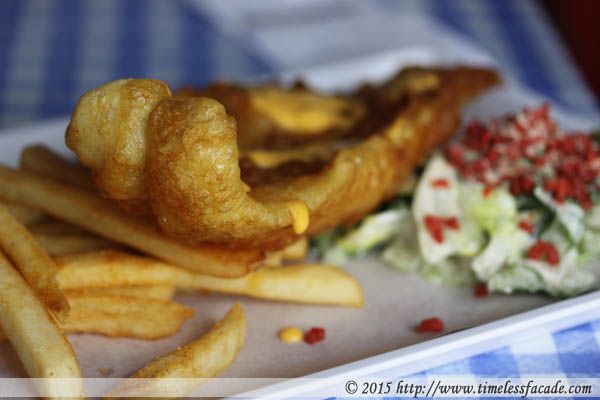 Fish & Chips (from Seasalt) & Chicken Wings (from Two Wings)
Just a brief comment. The fish and chips was heavily battered and tasted bland. Not my idea of a good fish and chips but at least it was palatable. However the much vaunted (by many bloggers) chicken wings failed miserably in my humble opinion. Sure, the wings were a fair bit bigger than usual and juicy with a crisp exterior but the meat wasn't sweet, the batter was way too thick and had a funny plastic taste to it. The both of us poked at our wings, had a few bites and gave up. Best chicken wings? Seriously?!! And the wings weren't exactly cheap to boot ($8.50 for 4 wings).