We were fans of Gordan Ramsay's television shows (Hell's Kitchen, Kitchen Nightmares etc) and were bent on dining at his 3 Michelin starred eponymous restaurant (Restaurant Gordan Ramsay or RGR for short) in London. Unlike
Eleven Madison Park
or
Per Se
(both 3 stars as well), reservations open up way in advance so no need for fastest fingers first.
The Menu
Located along Royal Hospital Road in the leafy Chelsea borough, Restaurant Gordon Ramsay is helmed by Chef Clare Smyth, the only female chef in the UK to head a 3 Michelin starred restaurant. The dining area was small and cozy, with a maximum capacity of 40 diners (and according to the maître d, a staff strength of 43). Tables were spaced adequately far apart and the whole place had a nice hum to it; Sufficient personal space for a leisurely conversation and lunch yet never a dull moment.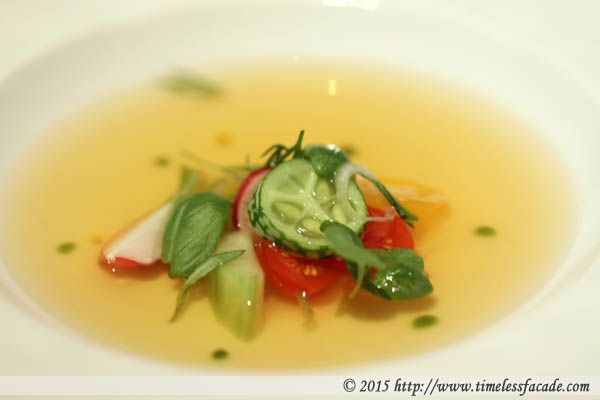 Amuse Bouche
Starting us off was the amuse bouche of chilled tomato soup with olive oil. Lightly tart yet flavourful. Great start! Served alongside (sorry forgot to take a picture of it) was a complementary slice of onion and bacon bread; Softly delicious but a tad oily.
Pressed Foie Gras with Green Apples, Turnips, Watercress & Smoked Duck
The pressed foie gras was smooth without coming across as too gamy. Diced green apples provided a nice sweet accompaniment whilst the bits of smoked duck layered on a pleasant tinge of smokiness. Good but not as good as
Per Se's
rendition in my humble opinion, with the latter's foie gras being smoother and silkier.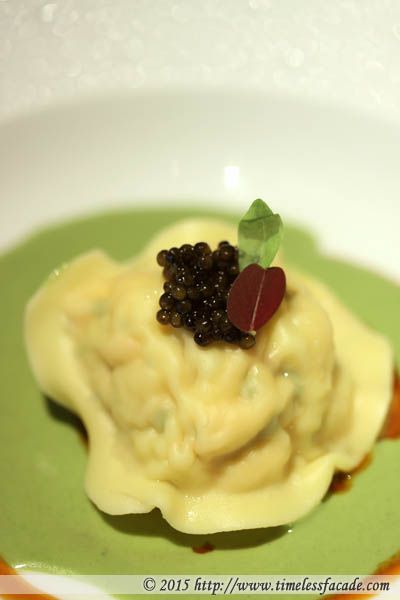 Ravioli of Lobster, Langoustine & Salmon
A signature of RGR, the ravioli boasted a thin yet firm skin deftly wrapped around a bulging filling of langoustine, salmon and lobster, lightly poached, topped with small spoonful of prized oscietra caviar and served with sorrel (a type of herb) velouté. The resulting concoction? A balanced combination of flavours (natural sweetness from the crustaceans, salty smokiness from the caviar and sharp earthiness from the sorrel velouté). Worthy of the signature tag I must say!


Pan Fried Sea Scallops From The Isle Of Skye
This was from the ala carte menu. Huge scallops from Scotland that were beautifully pan fried till golden brown along the edges with sweet apple cubes, cider and celery emulsion and smooth walnut cream. I love how the sweetness from the apples complement the natural sweetness of the scallops and how the walnut cream gives the whole dish a nutty finish. Delicious!


Isle of Gigha Halibut
Another sourced from Scotland dish, the fresh piece of halibut came topped with finger lime and a piece of king crab, on a bed of cauliflower cous cous and pine nuts and drizzled with a ras el hanout (a middle eastern spice blend) infused broth. Nicely poached with a tinge of sharpness from the finger lime that helped to cut through the fishiness, the fish was unfortunately a tad too salty for my liking. The bed of cauliflower cous cous and pine nuts however, provided a nice crunchy base that helped to alleviate the saltiness issue. Although this was the first time I've encountered ras el hanout, it was honestly quite interesting; Strong floral notes on the onset but dissipated very quickly. A very good dish but a pity about the salt level.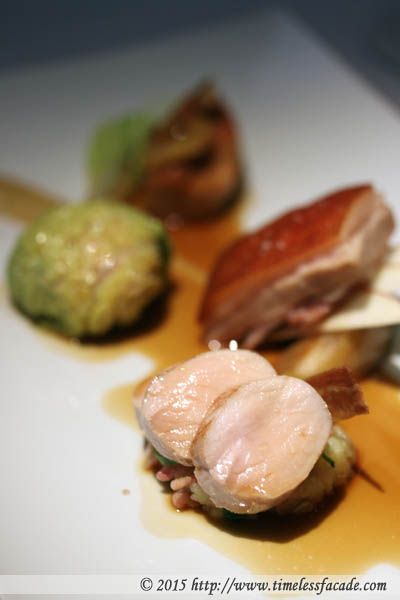 Suckling Pig
I didn't fancy any of the mains in the Prestige menu hence I swapped it for something on the ala carte menu (at no extra charge), the suckling pig (the wife had the same thing as well); Suckling pig, crispy belly, roasted loin, spiced shoulder sausage and chou farci (stuffed cabbage) with crushed potatoes and spring onions.

The pork belly boasted a crisp, chewy skin with a nice layer of fat beneath and a complementary slice of caramelised apple for a sweetness boost whilst the chou farci's pork cheek was melt in the mouth tender with a splash of alcohol, all wrapped up in a cabbage leaf. Less interesting but equally delightful was the roasted, lean and tender loin served on a bed of crushed potatoes and spring onions. The spiced shoulder sausage was very competent but in no way deftly exciting whilst the ham (gammon hock), cooked sous vide at 63°C for 36 hours, was beautifully glazed with apple juice and honey and remarkably tender. Topped with a mini pineapple ring.


Mango, Jasmine & Passion Fruit Soup
Nice and refreshing with the taste of passion fruit predominant and the sweetness of the mango lingering behind. Texture reminded me of a smoothie. Very good!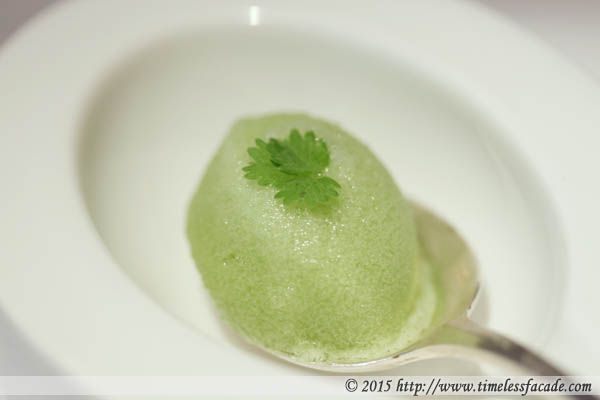 Cucumber Sorbet, Salad Burnet, Lemon Verbena & Mint
First you pound the burnet, lemon verbena and mint leaves in a frosty granite bowl before adding the cucumber sorbet in and mixing to form a herbal slush. But it honestly tasted quite good; sweet with a light citrus taste and a mild minty finish. And I say this as someone who doesn't really like herbs.


Caramalised Tart Tatin Of Apples With Tahitian Vanilla Ice Cream (For Two)
I wasn't too enamoured by the dessert on the Prestige menu hence I requested to swap it for the apple tatin (a £10 top up required on my part) so that the missus and I could share this (since it was meant for 2). And it proved to be an excellent choice. Flaky, buttery tart shell finished with a beautiful glaze and topped with lightly tart, caramelised apple chunks. Accompanied by a scoop of not cloyingly sweet Tahitian vanilla bean ice cream that hit the spot.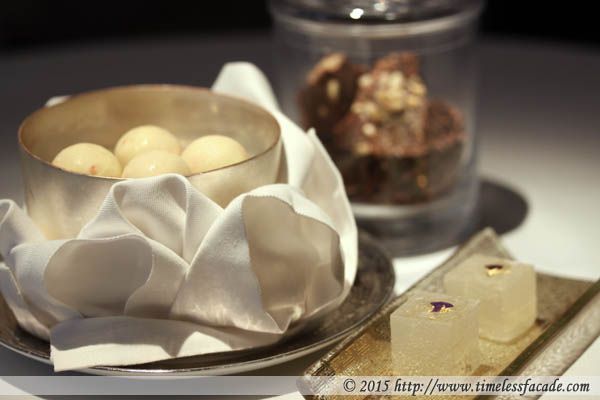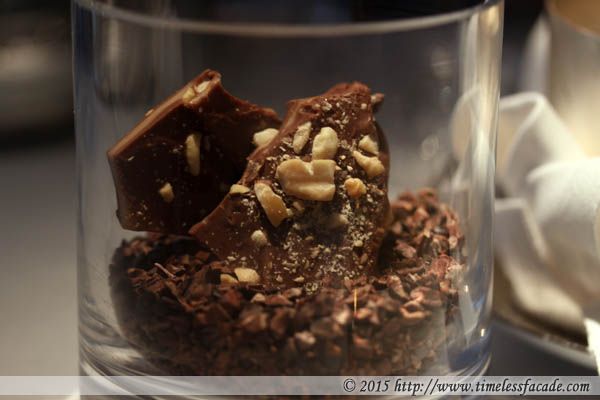 Petit Fours
Petit Fours to end off our meal; Strawberry white chocolate truffles, peanut butter chocolate brittle and Turkish delight. I particularly took to the truffles, which featured smooth strawberry sorbet encased in a crisp, white chocolate shell and presented in a metal container with dry ice to keep the truffles cold and for that theatrical effect. Thumbs up to the excellent peanut butter chocolate brittle as well - Savoury yet sweet with a dominant peanut butter taste. I didn't quite take to the quivery and mildly chewy Turkish delight with rose water though as it was a tad too floral for my liking.


Bill
I had the Menu Prestige (7 course) while the wife had a 3 course lunch from the ala carte menu. Together with 2 bottles of Evian and a top up of £10+ on my end for the apple tatin, it worked out to be just over £280 (≈ SGD 580). Which of course is a much more reasonable sum to pay as opposed to the likes of
Per Se
or
Eleven Madison Park
(although I would still recommend to try EMP once just for the experience). Aside from the small hiccup with the halibut, food was excellent and we really enjoyed our leisurely two hour lunch.
Service was notably polished and friendly, ranking a little below
EMP
but definitely a notch up from
Per Se
and narrowly edging out
Dinner by Heston Blumenthal
.
You know what they say about a good meal being able to lift spirits? Well, we left the place with a bulge in our bellies and a spring in our steps that not even the impending downpour could dampen.
Final Verdict:
Ambience: 8/10
Service: 9/10
Food: 9/10
Value for money: 9/10
Overall: 8.75/10
Address: 68 Royal Hospital Road
Contact: 020 7352 4441
Opening Hours:
Monday to Friday
Lunch 12pm – 2:30pm
Dinner 6:30pm – 11pm
Website: http://www.gordonramsay.com/royalhospitalroad/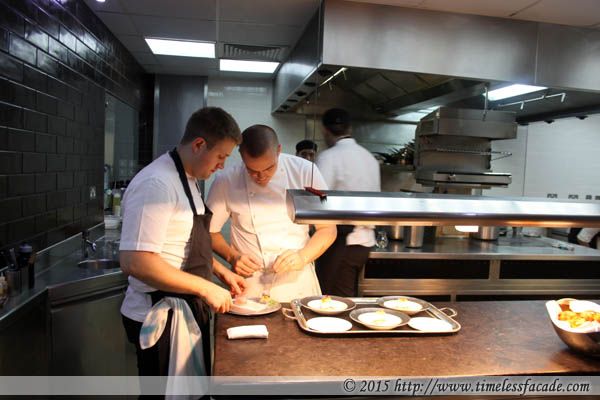 The Kitchen
We were invited to a tour of the kitchen after our meal and it was interesting to see the inner workings of a top notch restaurant. A very nice gesture on the part of the restaurant!