It was our monthly dinner gathering as well as a pre CNY celebration. The venue of choice was Imperial Treaure Cantonese @ Terminal 3, which also happens to be one of my favourite Chinese restaurants in Singapore.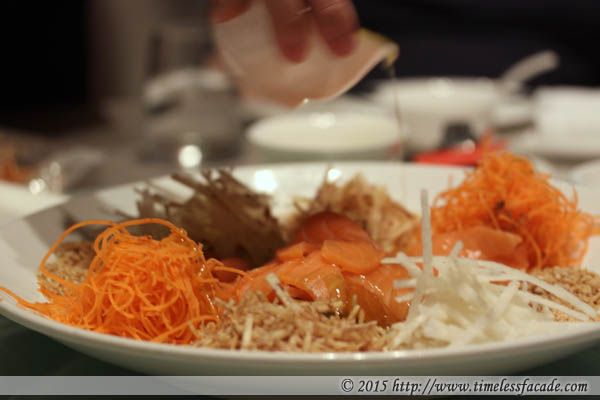 Salmon Yusheng
My first yusheng (鱼生) of 2015 and it got us off to a great start; Thick slices of salmon and fresh tasting crackers coupled with a not cloyingly sweet plum sauce and crunchy strips of carrot, radish etc. Simple yet delightful. Only small gripe I had was that there seemed to be a lingering lemongrass taste in a couple of mouthfuls which I'm no big fan of.


Pea Shoots With Bamboo Shoots
The prized winter bamboo shoots (冬筍) were in season so we had them stir fried with pea shoots for our obligatory greens dish. Which was quite nice really; Nice wok hei and savouriness to the pea shoots whilst the bamboo shoots were very crunchy with a tinge of rawness.


Crabmeat With Egg White And Italian White Truffle Oil
Scallops were our original choice but unfortunately, the quality was suspect that day hence the decision by the restaurant to temporarily withdraw it from the menu. We eventually settled for crab meat in lieu and honestly, it was equally good (prawns don't go well though. See my previous writeup
here
). The crab meat imparted a nice crustacean flavour to the egg white, which acted as a sponge for the wonderfully aromatic and earthy white truffle oil.
Sauteed Beancurd With Mushroom
Silky smooth with a nice savoury finish from the layer of seaweed atop. Topped with a generous serving of mushrooms. What's not to like?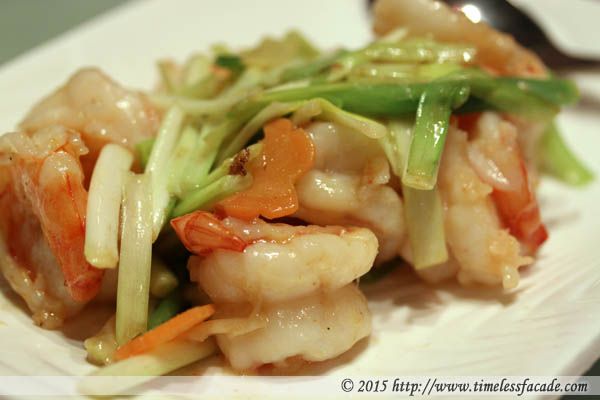 Sauteed Prawn Ball
Huge, fresh and crunchy de-shelled prawns stir fried with leek, carrots and spring onion; Simple unadulterated sweetness and goodness.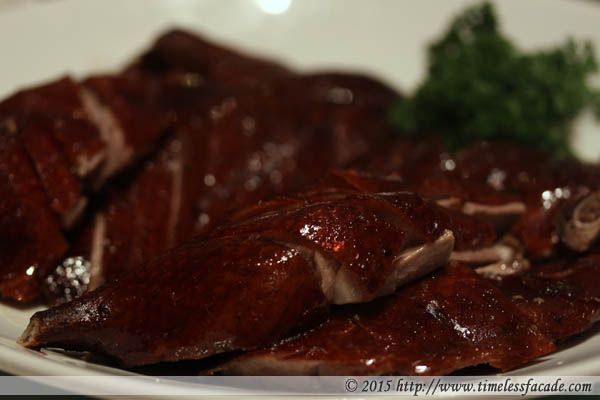 Roasted Duck
The rather sizeable whole duck sported a nicely crisp skin, tender and juicy meat sans an overwhelming fowl taste. Excellent.


Truffle Mee Pok With Lingzhi Mushroom
This off the menu dish remains one of our must order items whenever we drop by Imperial Treasure Cantonese. Al dente mee pok coupled with a prominently aromatic truffle oil taste and crunchy beansprouts; Definitely worth the carbohydrates!


Durian Pudding
And we ended off dinner with a round of durian pudding. Chilled and smooth with a distinct taste of durian and bits of the fruit lodged within the pudding. Great way to finish.


Bill
The 6 of us clocked in at almost $360, which was pretty reasonable given the quality and quantity of food (we struggled to finish the duck). Service was decent and it was a great dinner all in all!


Ambience:7.5/10
Service:7/10
Food:7.5/10
Value for money:7/10

Overall:7.25/10

Address: #01-02 Crowne Plaza Hotel, 75 Airport Boulevard

Contact: 6822 8228

Opening Hours:

Mon–Fri
11.30am–3pm, 6pm–11pm

Sat–Sun & PH
10.30am–3pm, 6pm–11pm

Website: http://www.imperialtreasure.com/