I had been meaning to try Les Amis for the longest time and the wife and I finally got down to it one sunny Saturday afternoon. Les Amis has been around for 20 years and is regarded as one of the pioneers of independent French fine dining in Singapore. It has also consistently appeared in various rankings as one of the top restaurants in Asia and the world (ie. 14th in Asia's 50 Best Restaurants by San Pellegrino in 2013 and 2014). Expectations were high, naturally.
The Place
I like the high ceiling and chandelier but couldn't quite wrap my head around the two levels of seating (the 3 private rooms are on the mezzanine floor whilst the normal seating is on the ground floor. Maybe it's just me but I didn't get a very good vibe upon stepping in; The place just seemed a tad too stuffy for my liking.
Complimentary Bread
A decent enough basket of bread to quell any growling pangs before the meal proper. This proved to be very useful later on.


White Asparagus In "Blanc Mange", Oscietra Caviar
The white asparagus came in the form of a blancmange (flavoured dessert made from glutinous or starchy ingredients and milk), which came across as creamy and smooth with a distinctive asparagus taste amidst a mousse like texture. Topped with caviar for that salty slant and aesthetically surrounded by a ring of sour cream to cut through the fishiness of the caviar. Nice but too much of sour cream and blancmange together can be a tad nauseating. A very decent start nonetheless!

Warm Lobster Encased Within Baby Spinach Accompanied By Classic Fish Bone Sauce
I couldn't quite make out the significance of the baby spinach leaf as the taste didn't quite feature but the warm lobster encased within was very good; crunchy with flavours accentuated by the creamy yet not too rich fish bone sauce. And finished off with salty fish roe. I liked this dish but found it tiny and a tad overly fishy.


Angel Hair Pasta With Lobster, Crispy Sakura Ebi And A Touch Of Parmesan
First impressions, "god it's tiny!". Al dente angel hair pasta topped with small, crunchy lobster pieces, crisp sakura ebi that provided a nice crunch and chilli flakes for that mild fire; All simmered in a broth that had a beautiful crustacean flavour to it. Only gripes I had were that it was a tad too salty (and believe me, I have quite a high salt tolerance level) and that it tasted rather pedestrian, like a more refined version of 虾面 (prawn noodles).


Hot Souffle Of Reine-Claude With A Refreshing Yoghurt Sorbert
The Reine-Claude (greengage) souffle was a tad soggy but relatively light. Served with a mildly sour yet sweet yoghurt sorbert. Pretty nice way to end off the meal.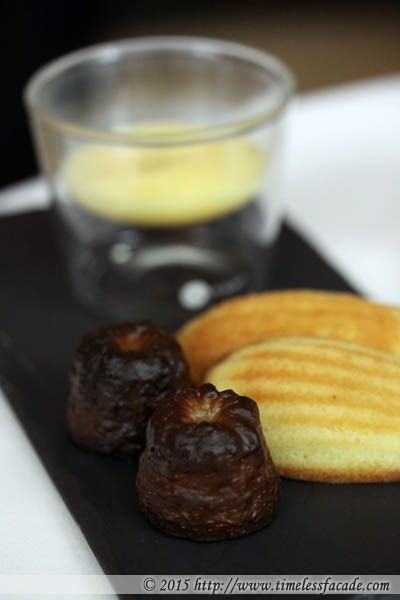 Petit Fours
Lemon madeleines and vanilla canelés. Not great, especially the canelés, which came across as bitter and hard on the outside. The lemon madeleines fared slightly better, sporting crisp edges and a mild lemony taste.
Bill
Remember the basket of bread at the beginning of the meal and how I mentioned it was useful later on? Well, with the portion sizes, I definitely needed the bread to fill me up. And even so, I was left rather unsatisfied. Decently competent food but lacking the spark in my humble opinion. At almost $165 for a 2 pax lunch and with all its credentials, I was certainly expecting more; More creativity, more outstanding flavours. But sadly, both seemed to be a little lacking. Service was professional but reserved. So is Les Amis past its prime? Maybe...


Final Verdict:

Ambience: 7/10
Service: 7/10
Food: 7/10
Value for money: 5/10

Overall: 6.5/10

Address: 1 Scotts Road, #01-16 Shaw Centre,

Contact: 6733-2225

Opening Hours:

Monday to Saturday
Lunch 12.00pm (Last seating at 2.00pm)
Dinner 7.00pm (Last seating at 9.30pm)

Sundays
Closed

Closed on certain holidays.
Please call to enquire.

Website: http://lesamis.com.sg/