The lobster roll cravings kicked in some two weeks after we returned from our mini round the world trip. And we didn't fancy waiting for a table at the seemingly overhyped Pince and Pints hence Platypus Lobster Shack or PLS for short.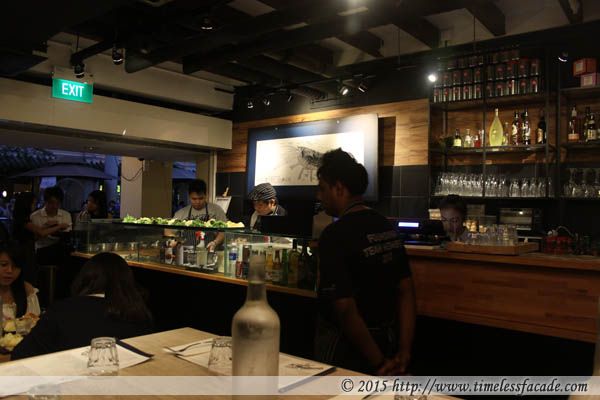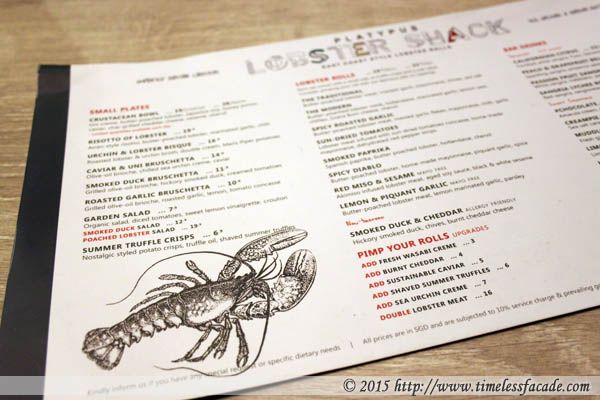 The Place & Menu
Occupying a single storey shophouse along Nankin Row @ China Square Central, PLS offers both alfreso and indoor seating (both rather limited by the way), separated only by an air curtain. The place practices an open concept and you can see your food being prepared. Only major gripe I had was that the noise level was rather ridiculous; More like a pub than an eatery. And the main culprit? Loud music. So much for a pleasant meal.
The menu is divided into three sections; Starters, lobster rolls and drinks. Pretty specialised eh?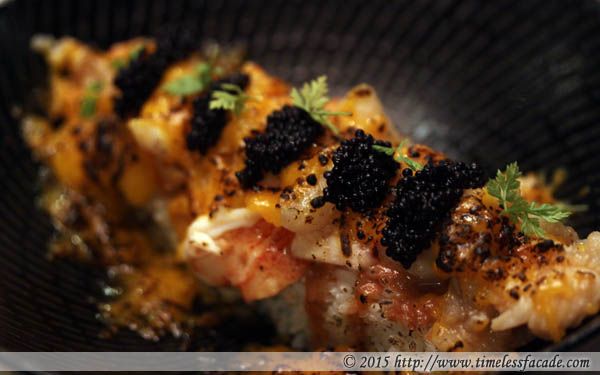 Crustacean Bowl
Apparently there are only limited quantities of this available on a daily basis and you have a choice of having it in either starter ($19++) or main ($26++) portions. The starter portion looked a little pathetic honestly so we had the mains to share (two pax to one serving). And it was pretty good. Crunchy lobster chunks pressed upon sushi rice and topped with char grilled cheddar cheese, uni creme and caviar. Mildly sweet, creamy and savoury all in one mouth. The caviar could do with a quality upgrade though. And even as a main, this was quite small. I would probably need at least three to four servings to fill my stomach. Nonetheless still a great eat and I would love to have more!
The Traditional
I'm a purist so I went with the traditional lobster roll. First impressions, the roll was rather small but packed with crunchy lobster chunks that didn't have much crustacean sweetness to speak about and the roasted garlic mayonnaise came across as mild and lacking in depth. Though crisp on the outside, the bread roll lacked butter whilst the side of crisp chips were unevenly drizzled with truffle oil (still nice though as I'm biased towards truffle oil!). All in all, a very average tasting lobster roll and pales in comparison to
Luke's Lobster
in New York or my current favourite,
Burger and Lobster
in London.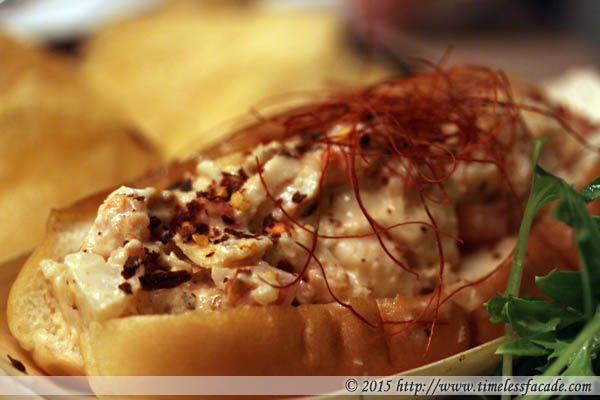 Spicy Roasted Garlic
The spicy roasted garlic variant of the lobster roll tasted pretty similar to the traditional offering save for the spiciness from the chilli and crunchiness of the garlic chips. Average tasting as well.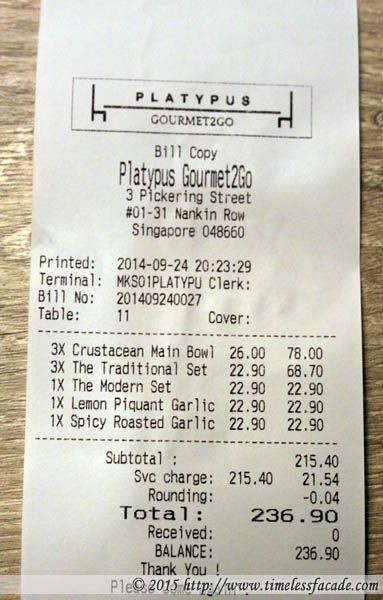 Bill
The six of us chalked up a bill of about $237, which wasn't too expensive considering that there was lobster involved. But portion sizes were small and quality of the lobster rolls were average at best. Service was decent but I honestly can't see myself returning unless I am in the mood to blow in excess of $100 on four crustacean bowls!
Final Verdict:
Ambience: 5/10 (way too noisy!)
Service: 6/10
Food: 6/10 (
7.5/10
for the crustacean bowl)
Value for money: 6/10
Overall: 6/10
Address: 3 Pickering Street, Nankin Row #01-31
Contact: 6438 7961
Opening Hours:
Mon - Thurs, 5:30pm – 10pm
Fri, 5:30pm – 11pm
Sat, 5:30pm - 11pm
Closed on Sundays
Website: http://www.platypuslobstershack.com/