It was a rainy day and the wife and I were itching to try out some place new. Artistry (a hybrid new art gallery and cafe) came up in our conversation and viola, we made the trip down to try our luck at getting a table (they don't take reservations).


The Place & Menu
The cafe isn't big, with a couple of tables indoors and a few long benches in the al fresco dining area. Since the weather was nice and cooling, we opted to sit outside over the rather squeezy tables inside.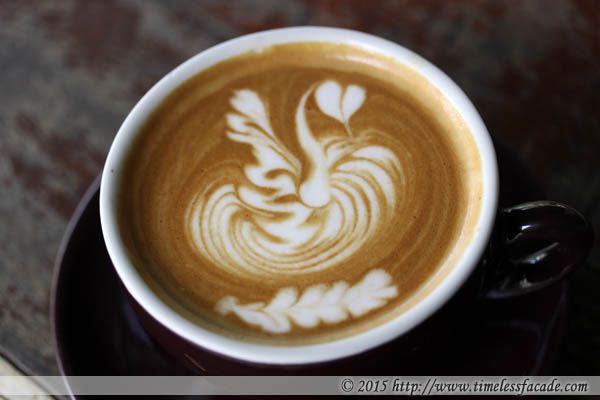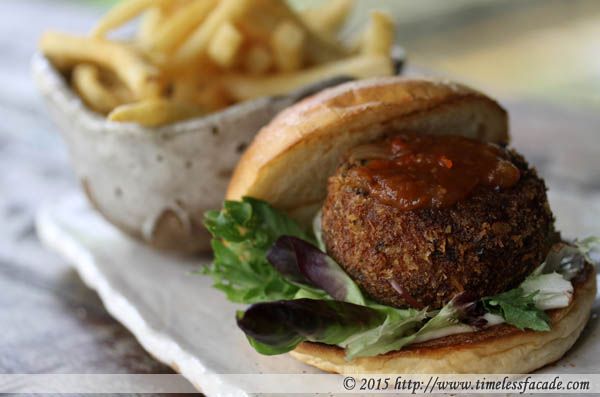 Crab Burger
A rather sizable patty chock full of crab meat shreds topped with sweet caramelised onion and tomato jam, sandwiched between two unremarkable buns. Pretty decent but the taste of the crab could be a little more pronounced in my humble opinion. The accompanying truffle fries were cut a tad too thick for my liking and coated with flour, which gave it a relatively stiff texture. Not really my cup of tea.


Nasi Lemak Burger
Now this was rather interesting. Pandan buns infused with coconut shreds coupled with a sunny side up, ikan bilis (dried anchovies), peanuts and a slab of juicy but relatively bland piece of breaded chicken thigh. Accompanied by a small dish of mildly sweet and spicy chilli. In all honesty, there was some resemblance to the real nasi lemak (coconut milk rice) but the less than fresh tasting peanuts could do with a little more work. Oh yes and maybe the chicken could use some seasoning. Nonetheless, still a thumbs up for the idea.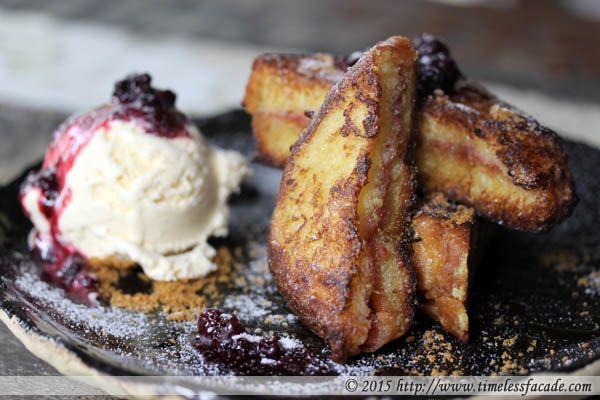 PB&J French Toast
And of course desserts. The peanut butter & jelly french toast sported a a beautifully crisp surface while the insides were lightly moist yet airy and played host to a filling of smooth and sweet peanut butter and jelly. Served with a scoop of vanilla bean ice cream and finished off with a topping of blueberry jam and a dusting of icing sugar. Pretty simple yet delectable I must say!


Bill
All in all, the both of us spent $54 for brunch (no service charge or GST is a plus!) which was quite reasonable considering that the food was quite decent overall and service was friendly. But the sole reason for my return would be for the PB&J french toast.
Final Verdict:
Ambience: 7/10 (based on al fresco sitting on a chilly morning)
Service: 7/10
Food: 6.5/10 (
7.5/10
for the PB&J french toast)
Value for money: 7/10
Overall: 6.875/10
Address: 17 Jalan Pinang
Contact: 6298 2420

Opening Hours:
Tues-Sat 10am-11.30pm
Sun 10am-7pm
Closed on Mondays
Website: http://www.artistryspace.com/