Our
last meal
at Flutes was at its old premises @ the lovely Fort Canning Park and the food was disappointing to say the least. Fast forward two years, we were due at the National Museum on a Saturday morning and decided to give Flutes another shot at brunch.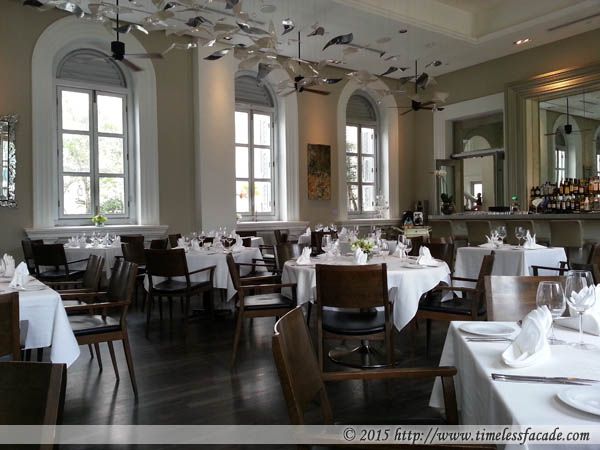 Interior
Located on the ground floor of the museum, Flute's interior is reminiscent of its old location; Wooden flooring coupled with wooden chairs, white table linen and huge windows that allow for direct sunlight. What's different is the noise level. Where the old outfit used to be plagued by noise problems due to the boxed up nature of the building, this new dining area has a higher ceiling and much better sound proofing.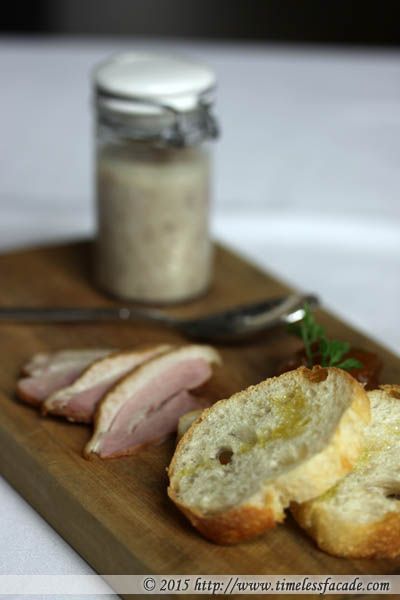 A Jar Of Confit Duck Rillette, Smoked Duck Ham, Ginger & Apple Chutney, Toast
The small jar of duck rillette wasn't overly rich but came across as a tad too greasy and could do with a little more shredding. Served alongside were slices of smoked duck that had whiffs of smokiness but could really benefit from more smoking time. Slices of crisp toast and a blob of sweet ginger apple chutney completed the picture. I personally didn't find the chutney very relevant as the sweetness didn't quite help cut through the creaminess of the rillette. Nonetheless still a decent appetiser.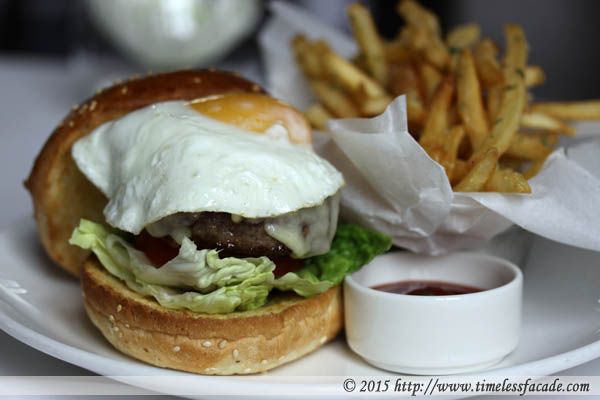 Wagyu Beef Burger, Smoked Bacon, Egg & Truffle Shoestring Fries
This was a marked improvement over the burger I had
the previous time
. Done to a nice medium well as per my request and juicy with a distinct bovine taste. Topped with cheese, an oozing sunny side up and bacon for that extra sinfulness and runny texture. All sandwiched between two very crisp on the outside, mildly fluffy and sweet buns. A little more butter would have made it even better in my humble opinion. And who could ever say no to truffle shoestring fries?
Prawn Aglio Olio, Spagetthini, Garlic & Sesame Crumbs
The spaghetti was a tad on the soft side but came across light yet flavourful with the garlic and sesame crumbs whilst the prawns, though generous, seemed a tad undercooked. Decent but nothing to shout about.


Queen's Chocolate Perfection Pie
Two tones of milk chocolate neatly compressed within a crisp tart shell and drizzled with tons of white and milk chocolate shavings. Finished off with a strawberry jam and cream. Apparently this is one of Queen Elizabeth's favourite sweet dishes but looking at the royal recipe, I have my doubts that Flute's rendition is modeled after the original. Nonetheless a pretty nice eat if you have a sweet tooth.


French Toast, Berries, White Chocolate & Pistachio
The highlight of our meal, the crème de la crème, the aesthetically pleasing French Toast dessert. Boasting a mildly crisp exterior yet soft and pillowy on the inside, this classic breakfast dish came topped with berries, pistachios, strawberries and edible flowers; Drizzled over with warm and sweet white chocolate sauce. Excellent! If I needed any reason to revisit Flutes, this would be it!


Bill
Brunch was a much improved affair and coupled with reasonably attentive service and great ambience, made for a pretty positive dining experience. All at a relatively reasonable price of $90 for 2 pax. We are already planning a return trip ;)
Final Verdict:
Ambience: 8/10
Service: 7/10
Food: 7/10 (
8/10
for the French toast)
Value for money: 7/10 (based on brunch)
Overall: 7.25/10
Address: The National Museum of Singapore, 93 Stamford Road
Contact: 63388770
Opening Hours
Weekday Lunch
11.30am till 2.00pm (Last Order)
Weekend Brunch
10.00am to 2.30pm (Last Order)
Sunday Roast
11.00am to 2.30pm (Last Order)
English Afternoon Tea (Fri-Sun)
3.00pm to 5.00pm (Last order)
Dinner Hours (Mon-Sat)
6.30pm till 10.00pm
10.30pm on Saturdays (Last Order)
Website: http://www.flutes.com.sg/