Our first choice, Imperial Treasure Cantonese @ Crowne Plaza was fully booked out for Chinese New Year eve more than 2 months in advance so we had to settle for Imperial Treasure Teochew @ Ngee Ann City (we last did our
reunion dinner there in 2010
).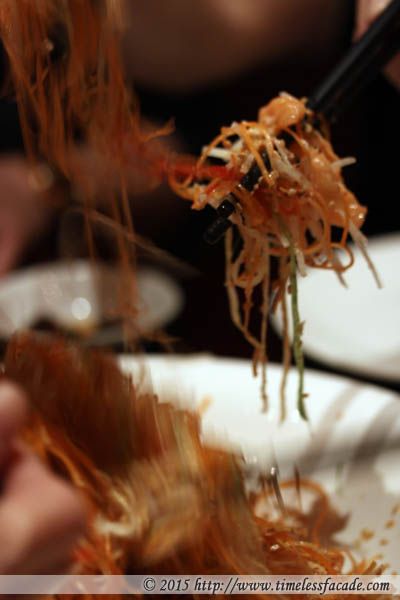 Fatt Choy Salmon Yusheng
The
yusheng
was similar to that of
Imperial Treasure Cantonese
; appetising with a myriad of flavours and crisp, fresh tasting crackers.
Nourishing Double Boiled Superior Shark's Fin With Shark Cartilage
The shark bone soup was light without coming across as too milky or nausea inducing whilst the dorsal fins were relatively sizeable and generous. Pretty good.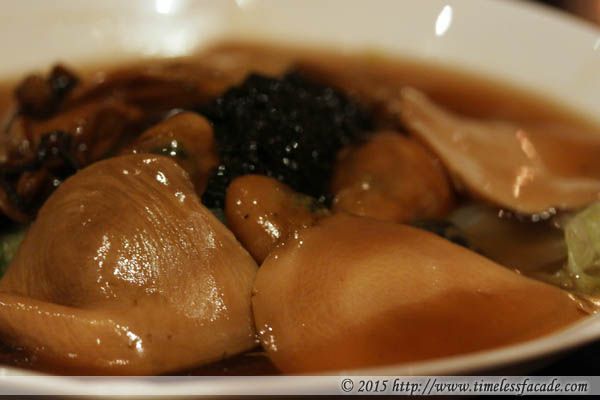 Braised Sliced Mexico Abalone With Dried Oyster & Black Moss
I'm no fan of dried oysters, which are way too fishy for my liking but the Mexican abalone slices were great; lightly chewy with a subtle sweetness. Throw in some black moss (发菜) and lettuce in a mildly starchy, savoury gravy for a classic Chinese New Year dish.


Deep Fried Soon Hock Fish In Superior Soya Sauce
The soon hock (marble goby) sported a crisp, deep fried skin coupled with firm yet flaky flesh, served on a light soy sauce base which gives it a nice salty slant (without which the fish would taste rather bland).


Roasted Crispy Duck
This was rather lacklustre in comparison to the offering from
Imperial Treasure Cantonese
; less than crispy skin coupled with juicy meat and a sauce base that could really use a touch of sweetness. Averagely decent.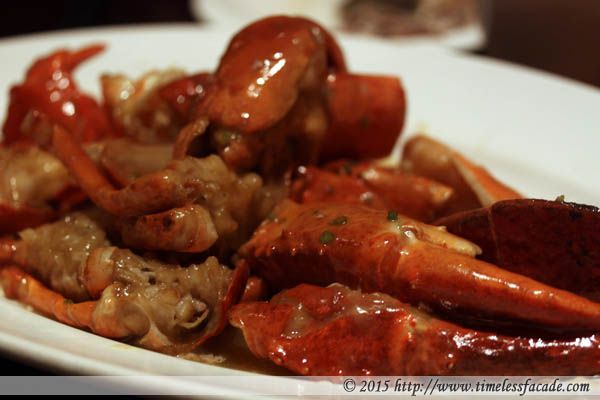 Baked Lobster With Salted Fish
We opted to upgrade our prawn dish and ended up with this weird tasting, big shelled 1.4kg lobster. Though the flesh was fresh and crunchy, the whole dish was soaked in a unusually sweet yet salty sole fish gravy. Can't say I enjoyed it very much.


Fried Glutinous Rice With Preserved Meat & Sausages
One of the ubiquitous dishes of Chinese New Year, the humble glutinous rice. Although this rendition wasn't too waxy and the rice grains carried a bit of a bite, it lacked fragrance and was essentially very bland save for the sweetness from the lap cheong (Chinese sausage). Another averagely palatable dish.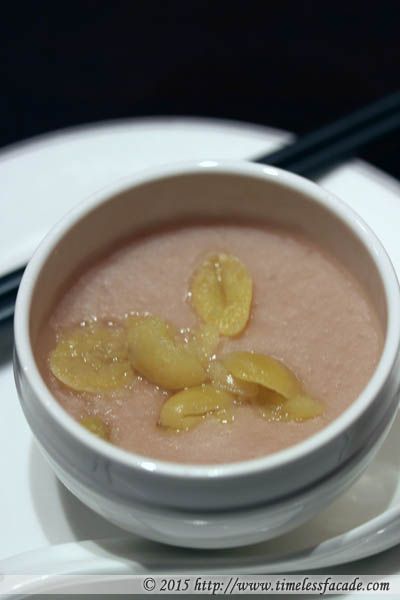 Mashed Taro Cream With Pumpkin
A staple Teochew dessert, the orh nee was smooth but lacked fragrance and came across as a tad too watery. Decent but hardly befitting a respectable Teochew eatery.


Pan Fried New Year Cake
Extremely sticky, soft, chewy and sweet. That's 粘糕 (or 年糕) for you I guess.


Bill
Our reunion dinner for 6pax cost to the tune of $1134; not entirely expensive but quality of food wasn't remarkable. Service was good but we had to wait for almost 30mins after our allocated time for our table to be made available. Will I be back? Maybe but definitely not during the Chinese New Year super peak period.


Final Verdict:
Ambience: 6.5/10
Service: 7/10
Food: 6.5/10
Value for money: 6/10 (Reunion dinner pricing)

Overall: 6.5/10

Address: #04-20A Ngee Ann City

Contact: 6736 2118

Opening Hours:

Monday to Friday
Lunch: 11.30am to 3.00pm
Dinner: 6.00pm to 10.30pm

Saturday
Lunch: 11.00am to 2.30pm
Dinner: 6.00pm to 11.00pm

Sunday
Lunch: 10.30am to 2.30pm
Dinner: 6.00pm to 11.00pm

Website: http://www.imperialtreasure.com/en/teochew-cuisine/description