Inagiku was long gone (since 2012) and in its place, Mikuni, a Japanese restaurant helmed by Executive Chef Moon Kyung Soo (who is Korean by the way). After seeing all the wonderful reviews about the place (mostly invites though), we decided to drop by for lunch one weekday afternoon.


Interior
I really don't know how to begin describing the interior of Mikuni. It had sort of a weird vibe to it, like they couldn't decide whether to make it techno-ish or modern Japanese (what's with the blue overhanging lights?) and tables were placed relatively close to each other. I could make out what the tables to our left and right were talking about which was quite a turn off in my humble opinion, the tron legacy lights notwithstanding (reminded me a little of Eva Air's Infinity Lounge @ Taipei as well).
Appetiser
And we started off with a bowl of complimentary salad and some thin, crustacean crisps (I believe it was ebi) with dashes of spice. Pretty nice.
Sashimi Set
Very fresh sashimi; Tuna, creamily smooth sea urchin, salmon, swordfish, squid and amberjack. Need I say more? Served with a cup of chawanmushi (more on that later) and a rather tasty agedashi tofu sporting a somewhat elastic skin.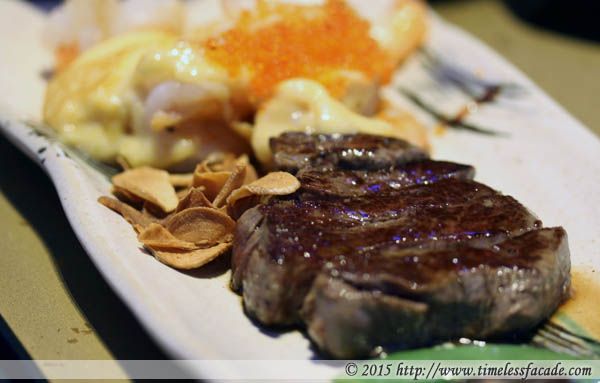 Australian Beef & Ebi Ougon Sauce Set
Although portions were a tad dainty, this teppanyaki set offered a pretty good sampling of beef and prawn. The beef was tender and flavourful with bits of fat even though it came almost well done instead of my requested medium. However, the highlight was the prawns; Fresh, crunchy and smothered in creamy yet lightly savoury golden sauce (The old
Inagiku's
rendition was slightly richer and better in my humble opinion though). I personally loved the addition of the fried garlic chips to the dish for that strong garlic infusion and crunch.
The set also included a bowl of fragrant garlic fried rich and a cup of chawanmushi, with the latter silky smooth with bits of prawn and meat inside without coming across as too eggy.
Espresso Ice Cream & Petit Fours
I'm usually not a big fan of coffee ice creams but the espresso ice cream was pretty good; Not too strong or acidic and went well with the blob of cream in the center. Biscuit crumbs atop provided a nice crunchy texture to the equation.

The petit fours included rather interesting red bean squares that had a smooth, melt in your mouth texture (similar to paste) but appeared gelatin like. Matcha balls (matcha cream encapsulated by a thin white chocolate shell and dusted with matcha powder) completed the picture and I personally liked how the bitterness of the matcha complemented the sweetness of the chocolate.


Bill
If it wasn't for the Feed At Raffles discount, our lunch would have been exorbitantly priced. Thankfully, with the 50% discount, it was a more affordable $103 for two. Food quality was pretty decent but I wouldn't describe it as mind blowing. More like reliable if you ask me. Service was good but the ambience wasn't ideal (lose the blue lights please). However, at such a price point (with the 50% discount) and food quality, I'll be inclined to return.


Final Verdict:

Ambience: 6.5/10 (confused?)
Service: 7/10
Food: 7.5/10
Value for money: 7/10 (with the 50% discount)

Overall: 7/10

Address: Level 3, Fairmont Singapore

Contact: 6431 6156

Opening Hours:

Lunch:
Monday to Sunday - 12:00pm to 2:30pm

Dinner:
Monday to Sunday - 6:30pm to 10:30pm

Website: http://www.fairmont.com/singapore/dining/mikuni/