We had heard about The Beast, a restaurant/bar specialising in southern cuisine (of which soul food is a subset of) and was drawn by the Amex tie up to offer set meals at a relatively reasonable price.
The Place & Menu
It was pouring the day we went and parking was a pain. What made it worse was that we were confined to sitting at the bar area, with reused oil cylinders as tables, loud music for accompaniment and dim lighting. Really uncomfortable. And to think we had made reservations about a week in advance. The place must be popular. Oh wait. I saw a couple of walk ins waiting at the bar area for a bit and getting a table upstairs. But I digress.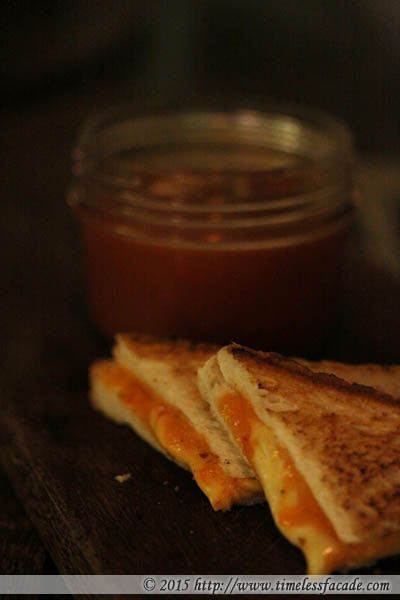 Roasted Tomato Soup
Served with a side of crisp toast sporting a gooey, cheesy filling that had me wanting for more, the tomato soup came across as lightly tart with a dash of fleeting spiciness in every mouthful. A great start to the food!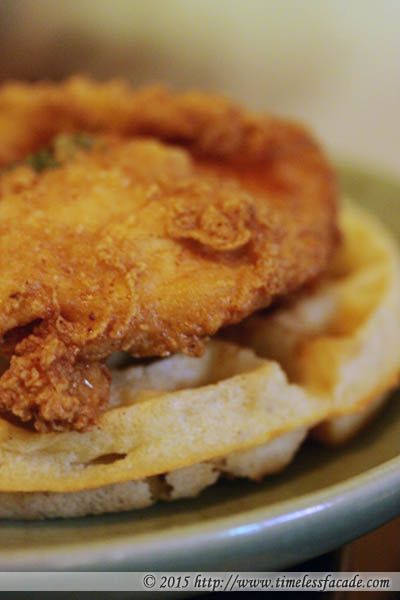 Chicken With Waffles
Apparently one of the very well received dishes at The Beast, the chicken with waffles was a mixed bag for me. First the positive. The buttermilk fried chicken was juicy and bursting with flavour beneath the beautifully crunchy skin. However the flavour was good for only the initial few mouthfuls and progressively muted down. But it was still a pretty good piece of chicken I must say. The downside to this dish was the waffle, which was crisp (almost to the extent of being hard though) but had an unpleasant sourish taste to it. And the watery bourbon maple syrup served alongside couldn't quite cover that up.
Chocolate Ice Cream
Decent way to end off; A nice big scoop of off the shelf chocolate ice cream topped with nuts and drizzled with chocolate sauce.
Bill
$30++ ($35.31 nett) per pax honestly isn't much in today's dining scene but I seriously think the restaurant needs to do something about the waffles, pronto. Service alternated between friendly but confused and outright unfriendly, depending on who we approached. Will I be back? Considering that the chicken and waffles couldn't quite match up to the real deal and our overall experience was less than positive, the answer, unfortunately, is a no.


Final Verdict:

Ambience: 4/10 (based on the bar floor)
Service: 5/10
Food: 6/10 (7/10 for the fried chicken and roasted tomato soup/cheesy toast combination)
Value for money: 7/10 (based on the Amex promotion)
Overall: 5.5/10

Address: 17 Jalan Klapa

Contact: 6295 0017

Opening Hours:

Mon – Thurs: 5pm - midnight

Fri – Sat: 5pm – 1am

Sun: 10am - 5pm

Website: http://thebeast.sg/