We were especially enamoured with the French toast during
our previous visit
and made a conscious effort to drop by Flutes for brunch again one Saturday morning.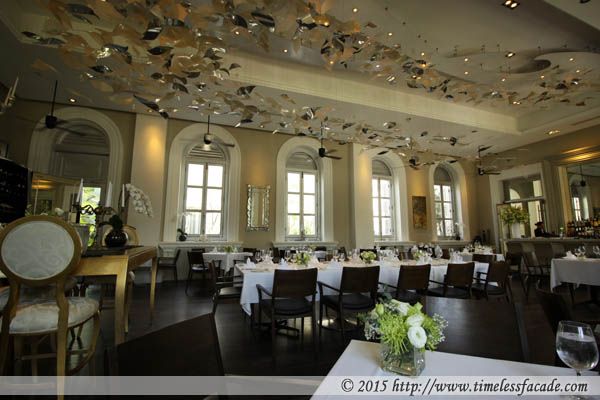 The Place
I still love the classic colonial look of the interior, finished with wooden floors, ceiling fans and arched windows. On this particular visit, a wedding reception was ongoing in the lawn outside and it was nice to witness such a joyous occasion.


Jar of Confit Duck Rillette, Smoked Duck Ham, Ginger and Pear Chutney, Toast
The duck rillette was a tad too moist this time round but on the upside, our wait staff generously offered more slices of piping hot toast to go alongside. Coupled with the deliciously tender smoked duck and mildly sweet yet tart pear chutney, it made for a pretty decent starter.
Grilled Asparagus, Parma Ham, Soft Boiled Quail Egg and Croutons
Although the parma ham came across as a tad bland, this dish was still very decent; Topped with crunchy grilled asparagus spears, a soft quail egg and razor thin, crisp crouton sheets.

Prawn Aglio Olio, Spagetthini, Garlic and Sesame Crumbs
As with our
previous trip
, the pasta was a little too soft for my liking but I appreciate how the garlic and sesame crumbs imbued this dish with a rather pronounced flavour that ended off with a mildly spicy flair. Served with acceptably fresh and crunchy prawns.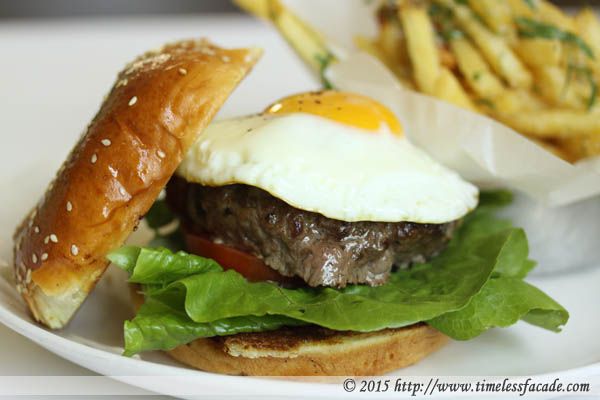 Wagyu Beef Burger, Smoked Bacon, Egg and Truffle Shoestring Fries
The beef patty seemed a little on the soft side and the doneness bordered on well done instead of the requested medium. But on the upside, at least it was still juicy. Consistency was also an issue here, with the buns crisp but very unevenly spread with a layer of butter (some areas had lots, some had zilch). I didn't think too much of the fries this time round as well; A couple of burnt ends and an almost non existent truffle oil taste. Pretty disappointing if you ask me.


French Toast, Berries, White Chocolate and Pistachio
One of the main reasons why we decided to return to Flutes, the humble French toast. Aesthetics wise, it paled in comparison to our
previous visit
(where's the flowers?) but to be fair, it was still rather pleasing. The toast still sported a crisp exterior and a pillowy interior but unfortunately, the chocolate sauce this time round was rather inadequate, resulting in an uneven distribution of the sweet creaminess. Mildly disappointing.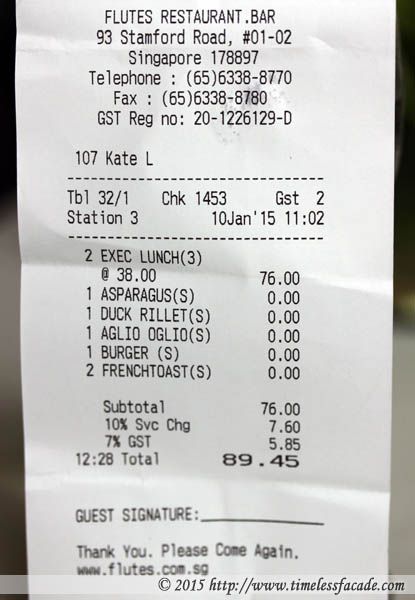 Bill
In a nutshell, service was good but quality hovered around the average mark in general. I can't believe how much standards have fallen in the course of just a few months or did we just catch the restaurant on a bad day? I guess I won't be that eager to find out, not at almost $90 for 2.
Final Verdict:
Ambience: 8/10
Service: 7/10
Food: 6/10 (
7/10
for the French toast)
Value for money: 6/10 (based on brunch)
Overall: 6.75/10
Address: The National Museum of Singapore, 93 Stamford Road
Contact: 63388770
Opening Hours
Weekday Lunch
11.30am till 2.00pm (Last Order)
Weekend Brunch
10.00am to 2.30pm (Last Order)
Sunday Roast
11.00am to 2.30pm (Last Order)
English Afternoon Tea (Fri-Sun)
3.00pm to 5.00pm (Last order)
Dinner Hours (Mon-Sat)
6.30pm till 10.00pm
10.30pm on Saturdays (Last Order)
Website: http://www.flutes.com.sg/