Punggol end used to be just Punggol seafood, a roundabout for bus 82 and a place where I used to catch spiders when I was a kid. Now it has been revamped (and renamed to Punggol Promenade) to include a handful of restaurants and pubs, a cycling track/boardwalk and even a small scale supermarket. Upon a recommendation, the six of us dropped by Horizon Bistronomy for dinner one relatively quiet weekday evening.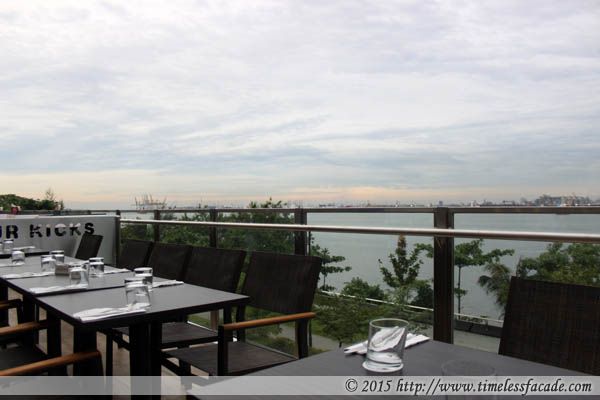 The Place & Menu
Located on the second floor of the building and playing neighbours to a Thai food outlet and a pub, Horizon Bistronomy offers both indoors and alfresco seating, with the latter obviously being more popular due to an unblocked view of the Singapore/Johor Straits.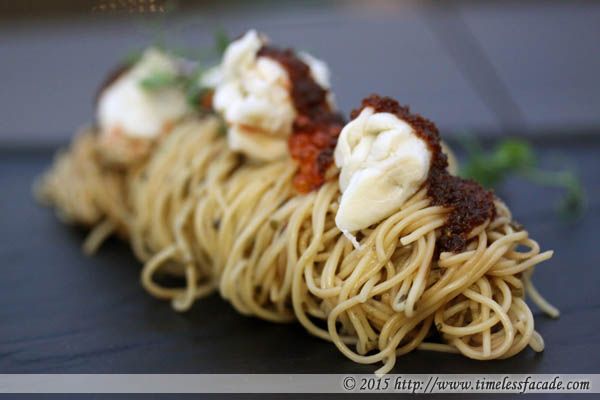 Chilled Crab Meat Angel Hair
To start, I had the crab meat angel hair, which came topped with three substantial chunks of chilled, crunchy crab meat and chorizo oil (pork sausage) that had bits of crisp chorizo for that nice bacon-like texture and taste. Finished off with salty, crunchy salmon roe. Although the angel hair had a touch of truffle oil which gave it a light fragrance and smoothness, it was a tad too thick in my humble opinion. Overall a very decent dish but not something I would go wow over.
Horizon Pork 2 Way
The two way refers to a 24hrs slow braised pork belly and a kurobuta pork tenderloin. The former was melt in your mouth tender and topped with mild grape mustard but as it had quite a substantial amount of fat, the nausea kicked in really quickly. I personally preferred the latter, which was tender with a nice smokey taste to it. The accompanying cauliflower puree was smooth but could do with a little butter. All in all, a pretty good dish!


Chocolate Textures
The name of this dessert brought back wonderful memories of
Quay's
rendition. But the end result was vastly different. A brownie like chocolate base topped with 66% valrhona chocolate mousse, seperated by a thin layer of orange marmalade and finished with a coffee sauce. Contrary to the menu's claim that this dessert is "simply divine!", the orange marmalade weighed in too strong on the flavours, effectively diluting the taste of the chocolate whilst the bitterness of the coffee sauce didn't quite jell with the whole dish in my humble opinion. Maybe a vanilla bean sauce would have been more appropriate?
Garden By The Bay
A chef's special that's not on the menu, the Garden By The Bay came looking like a few random greens growing out of a pot of soil. Beneath the soil (which is actually chocolate crumbs with bits of nuts) was a thick layer of smooth and light but rather bland vanilla mousse with strawberries, apple slices etc thrown into the mix. I personally liked the chocolate soil, which had a nice crunch coupled with a mild nutty flavour.


Bill
The 6 of us spent close to $250 which wasn't too expensive quantitatively but portion sizes did seem a tad small and quality was somewhat a mixed bag. Some items, like the pork and angel hair pasta, were decent but others, like the King of the Sea (not featured because I forgot to take a photo of it) came across as average (salmon was bland and king prawn wasn't fresh). Desserts are definitely not a forte at this place as well. On the upside, service was good with a great view to boot. That, coupled with the pork dish, might well be enough to warrant a revisit.
Final Verdict:
Ambience: 7/10 (if you sit outdoors on a cool evening)
Service: 7/10
Food: 6.5/10 (
7/10
for the Horizon Pork 2 Way)
Value for money: 6.5/10
Overall: 6.75/10
Address: 3 Punggol Point Road, #02-04, The Punggol Settlement
Contact: 6702 2855
Opening Hours: Daily: 18:00 - 23:00
Website: https://www.facebook.com/horizonbistronomy