We were back at Morton's after a rather long hiatus (almost 2 years to be exact) and were eager to reacquaint ourselves with our once favourite steakhouse in Singapore.


Interior
We were seated at our usual table, at the corner nearest to the kitchen that we so valued for the relative privacy it offered. But not anymore. The place has undergone a renovation and more tables have been squeezed into the same area (revenue increment measures?), resulting in much narrower walkways (the traditional pushcarts doing the introduction rounds and desserts have been canned as a result). The booth seats are now black instead of the original red and overall, the place oozes a modern vibe as compared to the former steakhouse like atmosphere.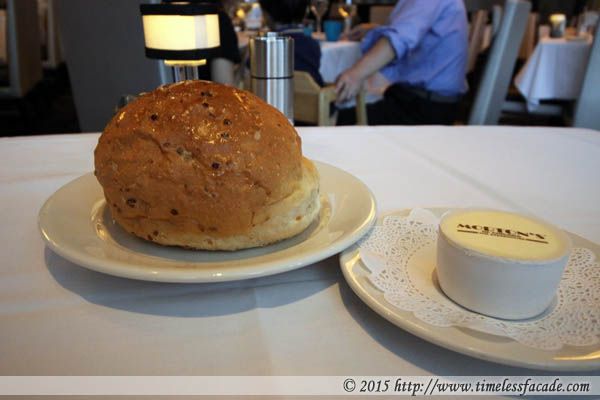 Complimentary Onion Loaf
As mentioned in
one of my previous writeups
, the size of the onion loaf has shrunk considerably but still proved too much for 2 people to try and finish up, not with the plethora of food that was coming our way. Though fragrant, quality came across as a little inferior; dry with the onion taste a tad watered down.
Salmon Mixed Grill
The mixed grills are a recent introduction to the menu (currently priced at $98++ each) and I personally feel that it's a great way to experience a bit of everything that Morton has to offer. We started off with the Salmon Mixed Grill; Fresh salmon topped with jumbo lump crabmeat with 3 grilled shrimps & 2 baked shrimps.

The chunk of grilled salmon (sitting on 2 stalks of crunchy asparagus) boasted firm flesh without coming across as too fishy whilst the crabmeat atop provided a sweet, crustacean accompaniment. Adding to the delight were the 3 jumbo sized grilled shrimps; Sweet and crunchy. I did find the baked shrimps a little repetitive though. They were nothing more than a combination of shrimp and crab meat. Still good nonetheless. Just watch out for the nausea attached to consuming too much seafood at one go.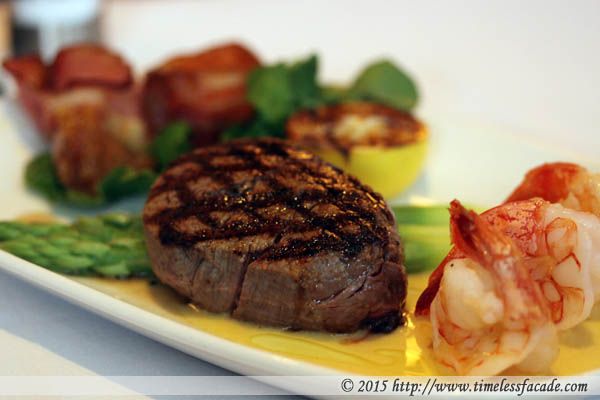 Filet Mixed Grill
The Filet Mixed Grill consisted of a 6 oz filet mignon, 3 grilled shrimps and 2 bacon wrapped scallops. I'm usually a fan of Morton's filet mignon but the meat, though done to a perfect medium rare and coming across as juicy and flavourful, seemed a little soft this time round (quality of meat, perhaps?). As with the shrimps in the Salmon Mixed Grill, the grilled shrimps here were equally crunchy and sweet. The scallops wrapped in bacon are a perennial favourite with us but these ones were a smaller than the usual ones on the appetiser menu and came across as a tad soft in the middle. On the upside, they were wrapped in crisp, salty and fresh tasting (no reused oil taste) bacon strips. Overall a sinfully rich dish.


Spinach & Mushrooms
I would very much love to label this as our much needed, healthy greens dish but unfortunately it's anything but. The spinach was soft whilst the mushrooms had a buttery sweetness to them. So much for healthy eating.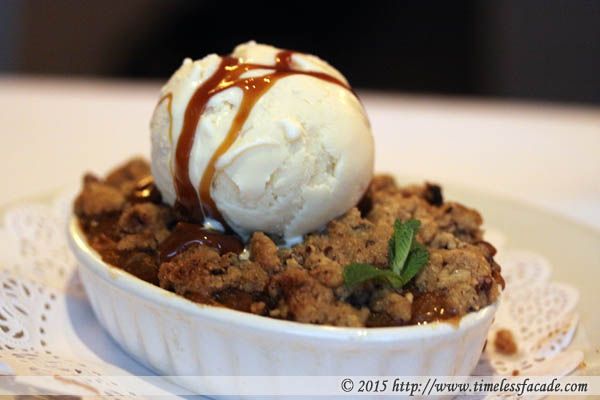 Seasonal Crisps
The Upside Down Apple Pie has undergone a revamp to become the seasonal crisp (in this instance it was the apple crisp); Apple slices and golden raisins topped with crumble and a scoop of vanilla ice cream. I personally liked how the tartness of the apple contrasted with the sweetness of the raisin and the vanilla ice cream. I also appreciated the crunchiness of the crumble and personally prefer it over the old Upside Down Apple Pie.
Ruth Chris's Warm Apple Crumb Tart
could see some serious competition now.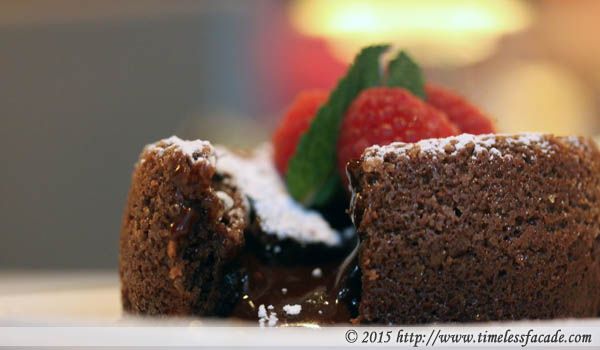 Morton's Hot Chocolate Cake
And finally, Morton's legendary Hot Chocolate Cake. Size wise, it seemed to have shrunk a little and the exterior was way too crusty this time round (even though I really do appreciate a crisp touch). The molten chocolate was still viscous and especially decadent when paired with a scoop of smooth vanilla ice cream.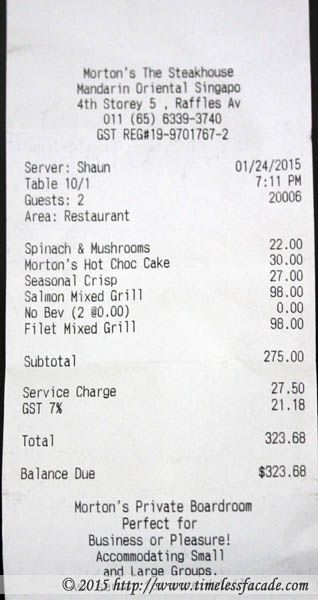 Bill
Dinner for the both of us cost about $320, which wasn't too expensive by Morton's standards but in all honesty, standards have continued to slip since the
takeover by Landry's
. Food quality was still good but for the same amount of money, I won't be eager to return, not when CUT or
Ruth's Chris
might offer a better proposition.
Ambience: 7/10
Service: 8/10
Food: 7/10
Value for money: 7/10
Overall: 7.25/10
Address: 4th Storey, Mandarin Oriental Singapore
Contact: 6339-3740
Opening Hours:
Bar
Monday - Saturday 5pm - 11pm
Sunday 5pm - 10pm
Dining Room
Monday - Saturday 5:30pm - 11pm
Sunday 5pm - 10pm
Website: http://www.mortons.com/singapore/