I had heard about the rather exclusive (served in limited quantities on a first come first serve basis and only during lunch) but delicious lobster rolls at The Naked Finn and decided to try my luck one weekday afternoon.


The Place
But first, getting a table. Strolling into the place at 12pm sharp got me the very last counter seat. And boy was I grateful. The place is tiny, with approximately 10 counter seats and another 10+ table seats inside the seemingly make shift premises. Outside there are probably another 10 seats but unfortunately those are not open during lunch.
Lobster Roll With Homemade Mayonnaise
90g of warm, sweetly succulent lobster chunks wedged between a crisp on the outside yet soft on the inside, pan fried brioche that boasted a smooth butteriness. The dollop of homemade mayonnaise imbued a smooth and creamy finish with a nice piquant aftertaste. Very good! Only gripe I had was pertaining to the fries, which were double fried till extremely dry and in some cases, burnt. Good fries should retain a certain degree of moisture beneath a crisp surface in my humble opinion.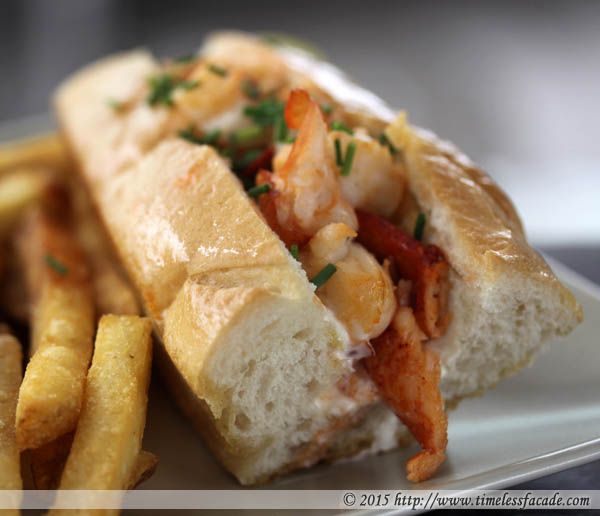 Lobster Roll With Crème Fraîche
As I was still hungry after my first lobster roll, I had a go at another one but this time opting for the other alternative on the menu; Lobster roll with crème fraîche instead of homemade mayonnaise. And the verdict? The crème fraîche was noticeably lighter on the palate but it killed the butteriness of the brioche and dulled the crustacean sweetness of the lobster. Homemade mayonnaise is definitely the way to go in my humble opinion. Did I also mention that shortly after my order was sent to the kitchen, the place ran out of lobster rolls for the day? And it was barely past 1pm!

ps: I skipped the fries, naturally.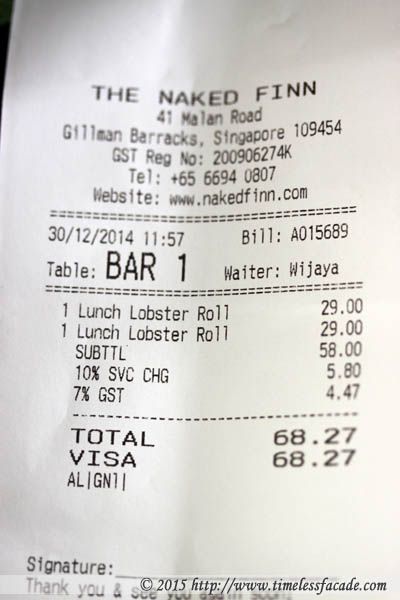 Bill
A cholesterol level busting lunch cost just shy of $70, which isn't expensive for lobster rolls, especially in Singapore. Quality was very good and just a wee bit below that of
Burger & Lobster in London
but marginally better than
Luke's Lobster in New York
. Service was good and I liked that sky juice was served free of charge as well. There were other things on the menu that seemed interesting as well but somehow I can't quite reconcile paying almost $30 for a bowl of prawn noodles vis-à-vis topping up a few dollars more for a lobster roll. I'll definitely be back!
Final Verdict:
Ambience: 6.5/10
Service: 7/10
Food: 7.75/10 (only for the lobster roll with homemade Mayonnaise)
Value for money: 7.25/10
Overall: 7.125/10
Address: 41 Malan Road, Gillman Barracks
Contact: 6694 0807
Opening Hours:
Lunch:
Monday - Friday : 12:00 - 2:00pm (last order at 1:30pm)
Brunch:
Saturday : 12:00 - 3:00pm (last order at 2:15pm)
Dinner:
Monday - Thursday : 6:00pm - 10:00pm (last order at 9:15pm)
Friday - Saturday : 6:00pm - 8:00pm (1st seating)
Friday - Saturday : 8:15pm - 10:15pm (2nd seating)
Sunday : Closed
Website: http://www.nakedfinn.com/
And I went back 3 times in the space of 3 weeks, with varying degrees of quality in the fries (twice burnt and once perfectly fried with a touch of salt. Quality control issues?). The lobster rolls remained delicious though but during my third visit, the buns seemed to have lost a bit of their butteriness and came across as a tad dry.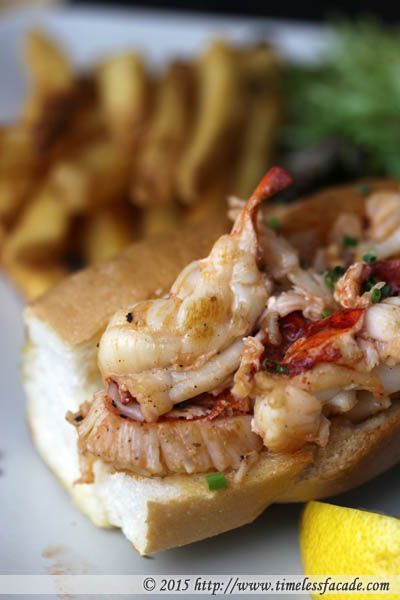 Lobster Roll With Homemade Mayonnaise (3rd Visit)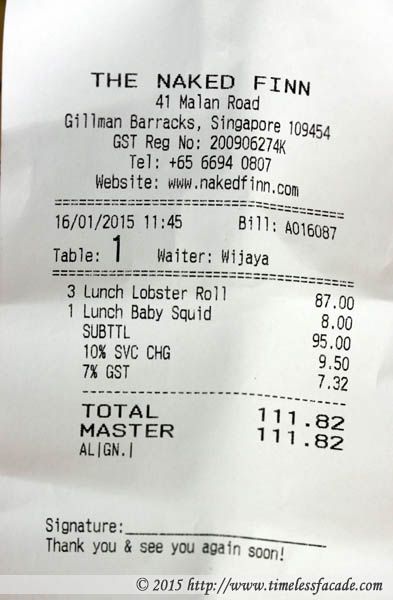 Bill (3rd Visit)