It was restaurant week again and we decided to do Chinese for once. Since neither of us had ever been to Summer Palace, we decided to give their lunch a shot.
Interior
Located on the third floor of Regent Singapore, just a level above
Basilico
, Summer Palace houses a rather traditional Chinese interior complete with wooden chairs, golden pillars and a floor of red trim carpeting. We were lucky to be seated by the window (3 such tables available) but there was honestly no view to speak of except for the pool below and the hotel guests sunbathing by it. Still, I appreciated the serenity of the whole place.
Menu & Longjing Tea (龙井茶)
Chef's Dim Sum Selection
Deep Fried Prawn Roll with Mango - I liked the crisp, deep fried rice noodles that encapsulated bits of crunchy prawn but unfortunately, the taste of mango was almost non existent. What was interesting was that the mayonnaise that came served alongside actually had hints of mango in it. Or was I imagining things?
Barbecued Pork Bun with Pine Nuts - Boasting a crusty, not too sweet top and a generous filling of sweet, mildly gooey BBQ pork, the bun was actually pretty respectable. However, unlike my personal favourite from
Lung King Heen
, the sweetness from the BBQ pork actually overwhelmed the nutty taste of the pine nuts and the bun itself wasn't as soft or chewy.
Steamed Prawn Dumpling with Bird's Nest -This was your typical 虾角 with a mere aesthetic upgrade aka tasteless shreds of birds nest. Throw in a relatively limp dumpling skin and you have an average prawn dumpling.
Double Boiled Ginseng with Fish Maw, Conpoy and Bamboo Piths
Although I'm personally not a fan of ginseng, this soup was quite good in my humble opinion. Tasty yet light with the mild taste of ginseng helping to keep the nausea at bay and the spongy fish maw coming across as crunchy.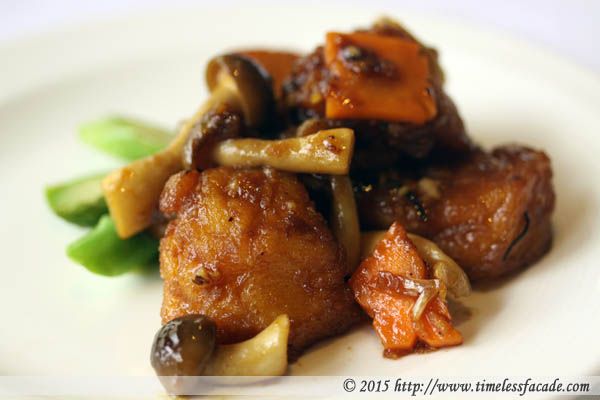 Stir Fried Fish Cubes with Asparagus in Teriyaki Sauce
Flaky and smooth flesh coupled with a light sweetness from the teriyaki sauce and a mild savouriness from the stir fried garlic and ginger. Pretty good. Only issue I had was that the sweetness of the teriyaki dominated the natural sweetness of the cod fish, which I personally am quite a fan of.


Fried Glass Vermicelli with Crabmeat and Black Pepper
A tad chewy with an abundance of wok hei, crab meat shreds and black pepper for that mildly peppery kick, the glass vermicelli was pretty decent. And the beansprouts added a nice crunchiness to it.


Combination of Desserts
Osmanthus Jelly with Wolfberries - Nice and sweet with the wolfberries tasting very similar to raisins.

Mango Sago - Chilled and a tad runny but thankfully, not too sweet. Not as refreshing as I expected and could probably do with a little tartness and a little more time in the fridge.

Lemongrass Jelly - I absolutely dislike lemongrass but this turned out surprisingly acceptable. The lemongrass taste was rather faint and it tasted like your regular ice jelly dessert with crunchy bits of aloe vera. Very decent.


Bill
And so concluded our lunch, with two restaurant week lunch sets and a pot of 龙井 hitting the century mark. Pretty satisfactory lunch but I personally don't deem it wow enough for a return visit, not when the normal ala carte prices seem a tad steep for the quality of food. Service was excellent though; warm yet unintrusive.


Final Verdict:

Ambience: 7/10
Service: 7.5/10
Food: 7/10
Value for money: 6.5/10 (based on the restaurant week lunch menu)

Overall: 7/10

Address: Level 3, The Regent Singapore

Contact: 6725 3288 / 6725 3289

Opening Hours

Lunch: 12 noon - 2:30pm (Mon - Sat); 11:30am - 2:30pm (Sun)

Dinner: 6:30pm - 10:30pm

Website: http://www.regenthotels.com/EN/Singapore/Cuisine/Summer-Palace