I was in search of a good burger, having been recently disappointed by
W39's
over-hyped rendition and word on the street was that Suprette served up one of the best burgers in Singapore in current times. Since it wasn't too far from our place, the wife and I decided to drop by one Sunday morning for brunch (yay to free parking at the public carpark).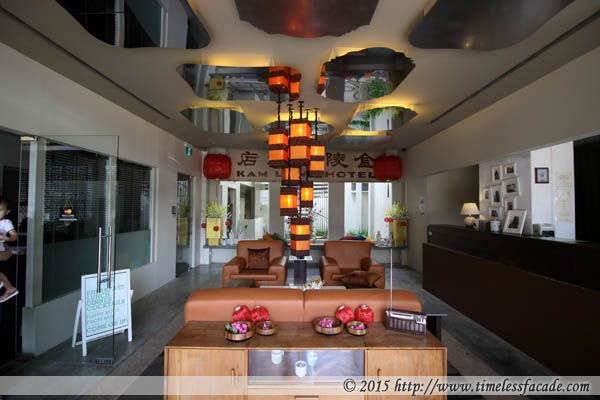 The Place & Interior
Suprette is actually housed in the heritage Kam Leng Hotel (first established in 1927 and later extensively refurbished and reopened in 2012), along the busy and sometimes chaotic Jalan Besar Road. The simply furnished eatery is quite small and can probably take up to about 30 customers in one sitting. As it is located on the ground floor, all the views you get are of cars and passers-by (relatively rare). But the place is cosy in it's own right, exuding an unhurried, small world charm amidst the hustle of the passing traffic. However, having said that, pray for quiet patrons. During our visit, there was a relatively loud table who held us hostage with their gossips and that marred our experience quite a fair bit.
Pasta Of The Day
Pasta of the day happened to be Carbonara so went for it. In a "tribute" to the local dining scene, the spaghetti is served on a water resistant brown foil (like those you would get at nasi lemak or economic beehoon stalls) placed in a old school tin plate. Or maybe they just wanted to save cost and do away with the fancy tableware. Anyways, the spaghetti was a little overcooked while the cream sauce came across as a tad runny. Throw in generous handful of porky, fat laden bacon bits and you end up with a rather uninspiring rendition of this Italian classic. I reckon I could get something similar at a random western food stall in Singapore, at a fraction of the cost.
Suprette Burger
The sole reason why we were here; Suprette's eponymous burger, with an additional topping of bacon and mushrooms ($3 apiece). Soft buns slathered with butter and toasted on the griddle till crisp and golden brown on the surface, sandwiching a juicy, beefy patty with bits of fat for that extra chewiness and topped with a layer of gruyere cheese which imbued it with a faintly sweet, nutty taste.The additional topping of mushrooms was worth it, adding an earthy perspective to the mix but the bacon did come across as a tad too crisp, dry and lacking in salt. Overall still a good burger and one of the best I've had in a while (last one was at
Minetta Tavern in New York
).

There is only 1 dessert available daily and we didn't fancy what was on offer that day (lemon meringue pie with vanilla ice cream) so we skipped it.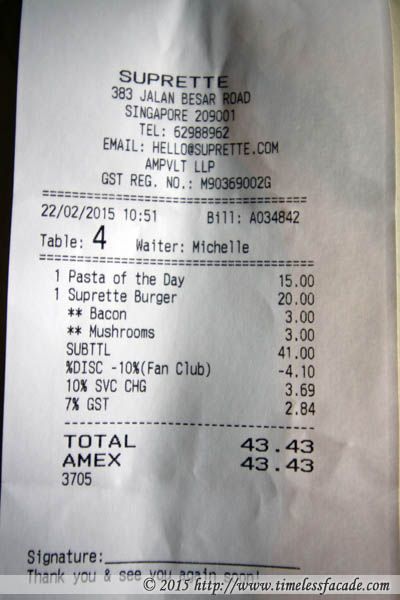 Bill
At $20++ for a basic burger with fries, it is honestly a little on the pricey side but I reckon it's well worth the dough. Service was decent and I'll be happy to return just for the burger (and the nostalgia from the hotel), minus the bacon strips of course.
Final Verdict:
Ambience: 7/10
Service: 7/10
Food: 6.5/10 (
8.5/10
for the burger)
Value for money: 6.5/10
Overall: 6.75/10
Address: 383 Jalan Besar
Contact: 6298 8962
Opening Hours:
Breakfast and Lunch
Mon - Fri 7:30am - 3:00pm
Sat - Sun 7:30am - 4:00pm
Dinner and Drinks
Sun - Thu 6:00pm - 10:30pm (Closed on Tuesday Evening)
Fri - Sat 6:00pm till Midnight
Website: http://www.suprette.com/
ps: I went back again yesterday for the burger and it was still as good! Photo from my instagram.