I had read about W39's awesome burger in the various (un)conventional media outlets and eagerly made my way down with my colleagues one weekday afternoon to partake in the consumption of one of my favourite dishes.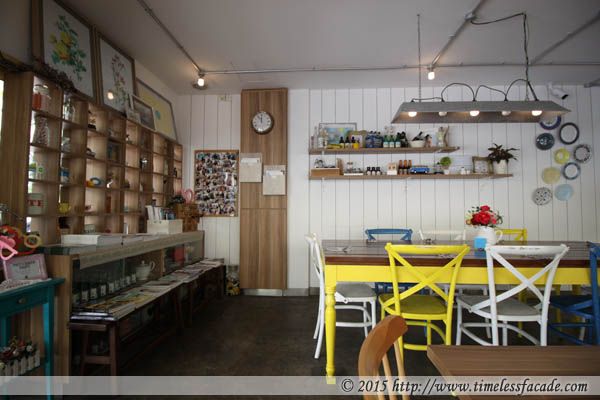 The Place & Menu
Nestled within the quiet private estate stretch of Jalan Mas Puteh and playing neighbour to KFC, W39 stands out with its cosy yet rather quirky interior with a nostalgic nod to yesteryear. Think bare floors, brightly coloured chairs, and knick knacks from my childhood (okay I'm old).
Wagyu Burger
The main reason why I was here, the much raved about wagyu burger. I should had known better. For starters, it was relatively tiny (think McD's new Small Big Mac size but without the middle slice of muffin) and the bun was dry and insipid though crisp in some parts. Instead of medium rare as per my request, the patty came medium well but looked like it had hemorrhaged just before service (check out the amount of blood soaked up by the bun). Taste wise, it was rather similar to McD's Quarter Pounder patty, albeit coming across as slightly thicker. And the cheese atop tasted almost non existent. In my humble opinion, this burger doesn't even meet the mark for a normal, non fast food beef burger, much less a wagyu beef burger. How it is so highly raved about honestly confounds me.
Mister Chocolate
Apparently the best selling dessert at W39 (according to a placard in the display fridge), the Mister Chocolate did manage to provide a wee bit of redemption after the less than satisfactory burger experience. Smooth and rich chocolate fudge covering and flowing through the moist sponge whose texture was strangely similar to huat kueh (Chinese steamed cake). Top up $2 for a scoop of average quality vanilla ice cream. Overall still a decent dessert.


Rainbow Cake
As vibrant and appetising as the rainbow cake looked, it was actually pretty bad. The buttercream was stodgy and eating it was akin to chomping straight down into a cube of butter. Dry sponge layers definitely didn't help one bit. It was so bad that there was quite a bit left over.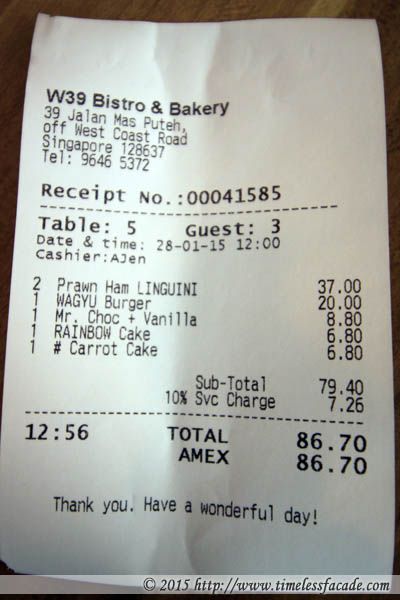 Bill
Lunch for the 3 of us cost almost $87, which was pricey considering the quality of food. Service was alright but it will take more than service and a cosy ambience to get me to return.


Final Verdict:

Ambience: 7/10
Service: 6.5/10
Food: 6/10
Value for money: 5.5/10
Overall: 6.25/10

Address: 39 Jalan Mas Puteh

Contact: 96465372

Opening Hours:

Tue - Fri: 11:00 - 22:00

Sat, Sun &: 09:00 - 22:30

Closed on Mon (except on PH)

Website: http://www.w39bistro.com/