We dropped by Wildfire Kitchen for brunch one Saturday morning, in search of their highly raved about burgers. But alas, burgers weren't available till 12pm so we had to order off the breakfast menu.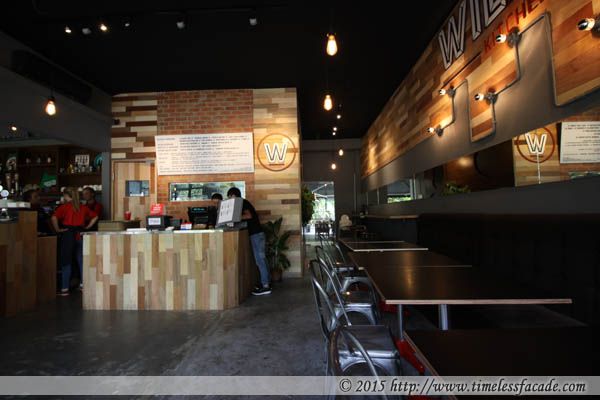 Taking over the spot vacated by
Hatched
along the leafy stretch of Evans Road (just across the road from MOE), Wildfire Kitchen spots a cafe like amostphere with cement screed floors, metallic chairs, overhanging exposed tungsten light bulbs, free seating and a "pay and collect your food at the counter" ordering process.

Hot Chocolate


Swiss Rösti
The rösti was deliciously crisp on the outside without coming across as overly charred whilst the scrambled eggs had a nice creaminess (a little less milk would be much appreciated though) to it. Best eaten with the chewy, mildly charred sourdough bread and the firm, savoury Toulouse pork sausage. Only gripe I had was that the salt content in the rösti seemed to be unevenly distributed; some parts were saltier than the others. Nonetheless, a pretty nice dish overall.
Wildfire Breakfast
Wildfire's namesake breakfast aka the big breakfast. Fresh tasting hash browns (no recycled oil taste), savoury Toulouse sausage, mushrooms, a choice of egg (I chose poached), crisp bacon, greens and toast. The eggs were mostly runny (a tad overcooked as a tiny part of the yolk had already hardened) and went well with the sourdough. Pretty decent as well.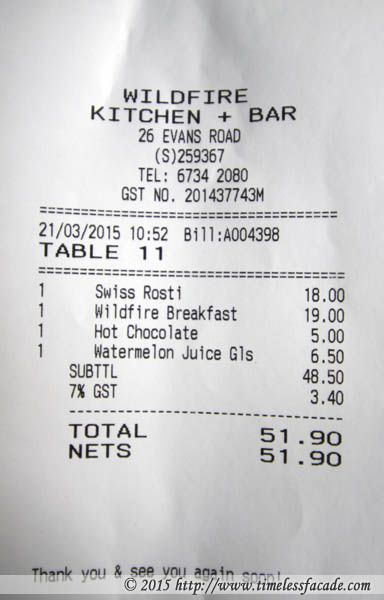 Bill
Brunch for the both of us cost a relatively reasonable $52. Quality of food was a notch above average and I like that there's no service charge imposed. Do note that its cash or nets only so don't be caught unprepared like yours truly.
And I went back during lunch one weekday to specially try out their burgers.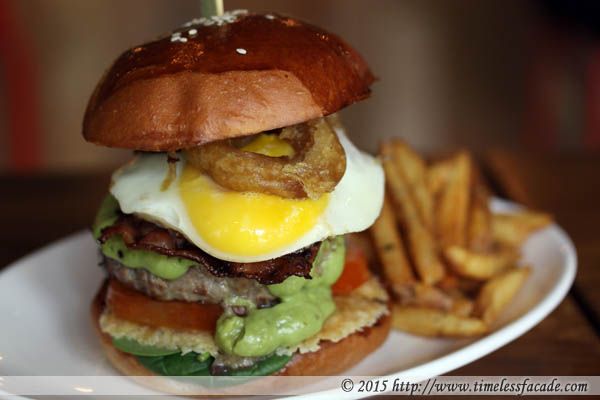 The Works
This had everything thrown in (120 day grain fed beef patty, baby spinach, bacon, rösti, Parmesan crisp, onion rings, fried egg, tomatoes, beer caramelised onions, guacamole and signature sauce) and was it a feast for the eyes; the sheer monstrosity of all the ingredients stacked up layer by layer and culminating in a beautifully (but partially) glazed bun. Unfortunately it wasn't quite as good as it looked. By virtue of the many ingredients, there were too many competing flavours in every mouthful and it was difficult to have all the flavours gel together. Sometimes less really is more. That aside, the patty (done to a requested medium) was a little too mushy for my liking and the buns could do with a little more time on the griddle to achieve a nice crisp. Still a decent burger nonetheless but it definitely won't be near the top of my list that's for sure. Maybe their basic or specialty burgers might fare better.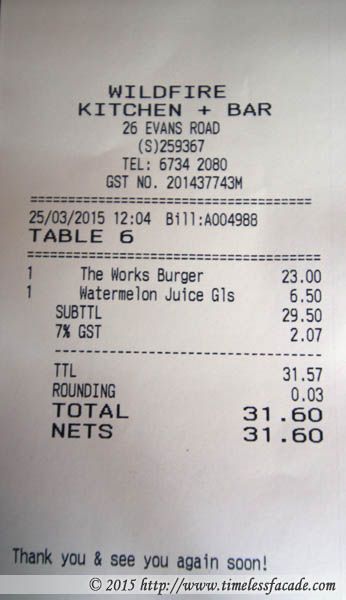 Bill
And of course the bill. I'll probably return just to have another burger before coming to a conclusion. But for now, I still very much prefer
Suprette
.
Final Verdict:
Ambience: 6.5/10
Service: NA
Food: 7/10
Value for money: 6.5/10
Overall: 6.67/10
Address: #01-06, 26 Evans Road
Contact: 6734 2080
Opening Hours: 11am to 1030pm daily
Website: http://wildfire.com.sg/