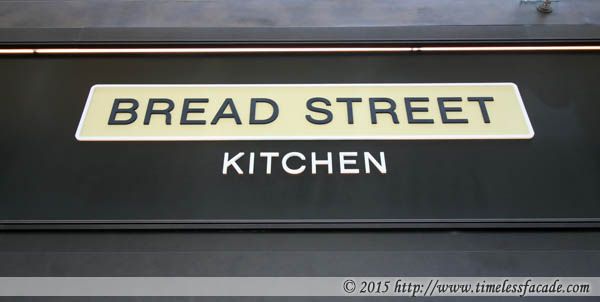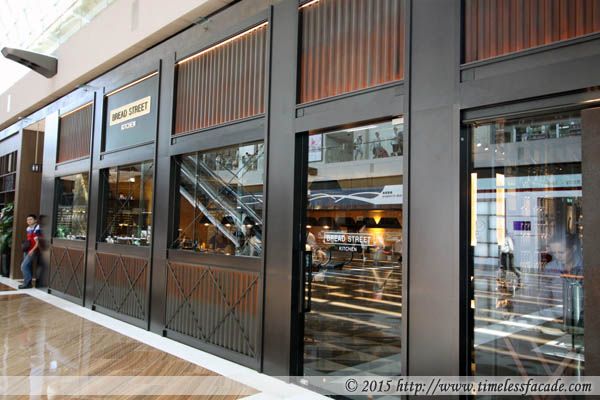 The Place
Located near a corner of the swank The Shoppes at Marina Bay Sands, BSK prides itself on serving up a British European menu with fresh seasonal produce and takes up 2 levels of space (B1 and L1) at the mall. From our observations, the dining area on B1 is much smaller and consists mostly of bar counter seats as well as an open concept kitchen while L1 offers a more expansive dining area with lots of natural light (from the floor to ceiling glass panels) and views of the surrounding Marina Bay area.
Although the place markets itself as an informal dining space, there is a smart casual dress code listed on the website. But enforcement probably isn't strict as I did notice quite a few people in bermudas and slippers. Note to self to wear favourite pair of slippers next time round.
Complimentary Bread
Served barely lukewarm, the complimentary bread basket didn't quite impress and I must say that the bread roll was rather dense and compact (in a good way) but with an yeasty aftertaste.
Traditional Fish & Chips, Crushed Peas, Tartar Sauce
I'm usually not a huge fan of fish and chips but this was pretty decent; light, crispy batter coupled with mildly sweet, tender flesh. Accompanied by a richly smooth tartar sauce and a sweetly refreshing crushed pea puree (I think there was a sprinkling of thyme in it, which explains the lingering, mild mint like cooling effect). The fries were crisp and nicely salted but having said that, I'm more of a fan of shoestring fries.


Irish Angus Rib-eye Steak 12oz 28 Days Aged Grass Fed
Irish beef is purportedly gaining in popularity for its quality and if BSK's Irish Angus Rib-eye is anything to go by, I'm quite inclined to agree. The 12oz (~340g) piece of steak was done to an almost perfect medium rare, lightly salted, tender with bits of chewy fat and full of juicy flavour. At $68++ (definitely not casual dining prices though), this could really give the steakhouses in Singapore like
Morton's
and
Ruth's Chris
a serious run for their money.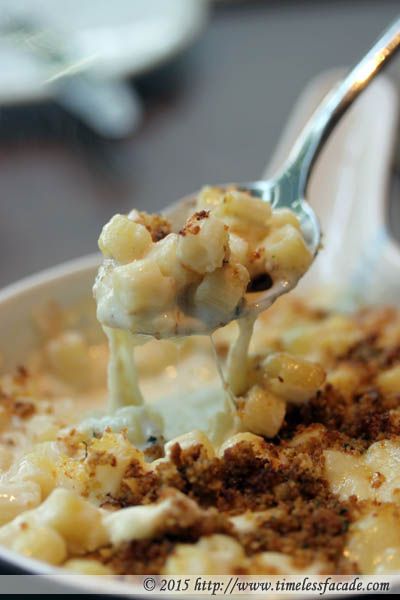 Macaroni Cheese with Garlic Roasted Crumbs
This was a side that was meant to be served together with our mains but unfortunately, the mac & cheese didn't show up till we were almost done. And if we hadn't asked halfway through, I'm not sure if it would even show up. The much longer than usual wait aside, the mac & cheese, though rich and cheesy with a nice crunch from the roasted crumbs, tasted more like béchamel sauce than cheese. Nothing like the mac & cheese from
The White Rabbit
(though I once had a nasty rendition from them ~ 2 years back)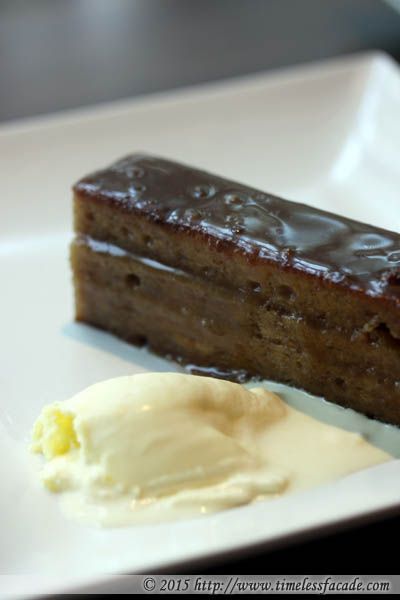 Banana Sticky Toffee Pudding, Muscovado Caramel, Clotted cream
And on to desserts. Our toffee pudding tasted like a more refined version of the banana cake from Bengawan Solo; moist, with a rich banana taste and a sweet finish from the caramel. Not a big fan of clotted cream though.
Treacle Tart with Crème Fraiche Ice Cream
A traditional British dessert (and a favourite of Harry Potter), the treacle tart sported a crusty, uneven surface and a rather dry, crumbly filling on a base of rock hard pastry. I've never had a treacle tart before and this virgin exposure was somewhat pleasant although it did come across as overly sweet and a tad stodgy. Thank god for the crème fraiche ice cream, which helped to maintain a balance with its light sourish notes.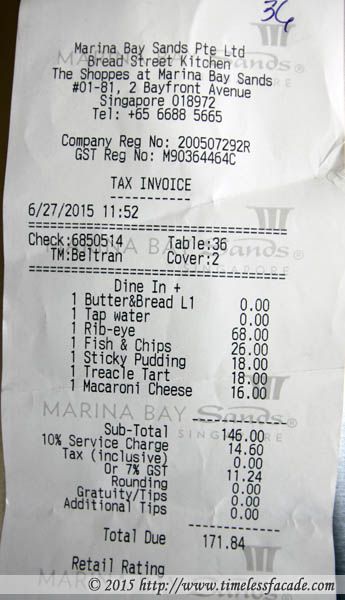 Bill
There was an issue with the Point of Sale (POS) system so we had to wait ~ 15 minutes for our final bill (our initial bill had apparently been settled with an unknown credit card number). Boo-boos aside, at close to $172 for 2 pax, it's honestly a little pricey, especially for the quality of food and the "informal/casual" labeling of the restaurant. Service was spotty (our bottle of water never got refilled until I asked) but the staff do try to be friendly.

Overall, BSK strikes me as a decent place to have a meal if you are at Marina Bay Sands but I wouldn't see it as a specific dining destination. Having said that, if BSK can iron out the kinks and refine their pricing strategy, I'll be happy to return, if only for the steak.


Final Verdict:

Ambience: 7.5/10 (only if you get a seat by the glass panels on L1)
Service: 6.5/10 (should improve with time)
Food: 7/10 (8/10 for the steak)
Value for money: 6/10

Overall: 6.75/10

Address: Bay Level, L1-81, The Shoppes at Marina Bay Sands

Contact: 6688 5665

Opening Hours:

Lunch
Daily 11:30am - 5:30pm

Dinner
Sunday - Wednesday 5:30pm - 10pm
Thursday - Saturday 5:30pm - 12am

Website: http://www.marinabaysands.com/restaurants/celebrity-chefs/bread-street-kitchen.html