We had just flown in from Maldives on a red eye flight and even though our hotel had graciously allowed us an early check in, it didn't quite help mitigate our lack of sleep. And so there we were, tired but hungry, having lunch at our favourite dim sum restaurant, Lung King Heen, on a chilly weekday afternoon (we had left Maldives with a scorching tan so a cold climate was certainly welcome!).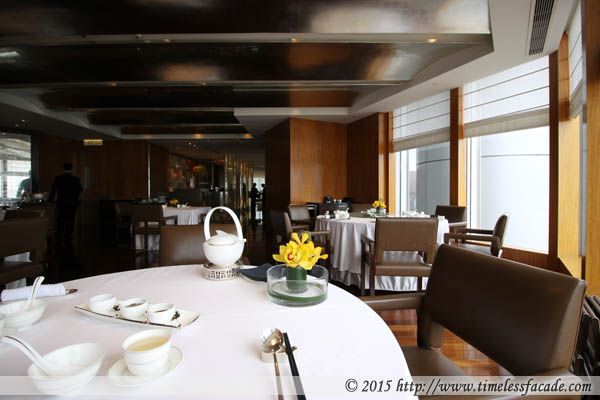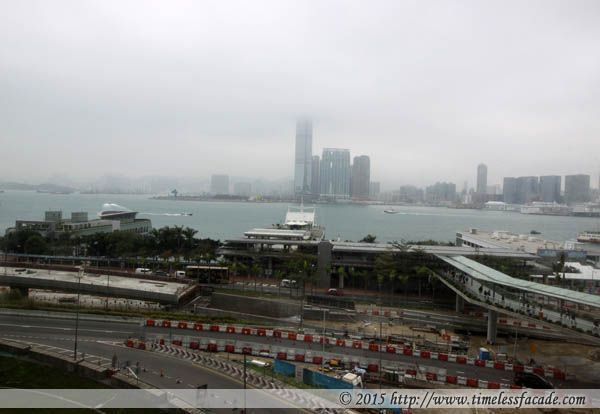 Our Table & The View
We managed to snag a much coveted window seat by virtue of making a reservation as soon as it opened up 6 months prior. Not much of a view I must say, especially with the fog and construction going on in the vicinity. But it beats staring into the restaurant or at the other tables.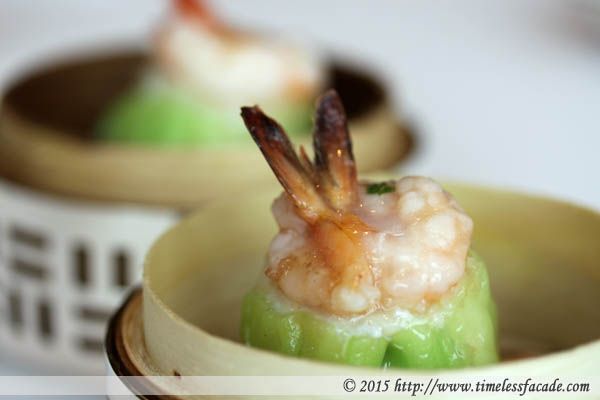 Lobster Dumpling
A singular slice of scallop sandwiched between between a prawn and generous lobster paste, deftly wrapped in a translucently thin yet elastic green skin. Sweet crustacean goodness in one full bite.


Abalone Puff
One whole abalone (albeit small but complete with shimmering gravy) sitting on a bed of savoury minced chicken, complete with a wonderfully buttery pastry shell that didn't threaten to crumble at the touch of my fork.
Wah Lok's
rendition comes close but isn't quite like the real deal (maybe its the whole abalone vs diced abalone issue).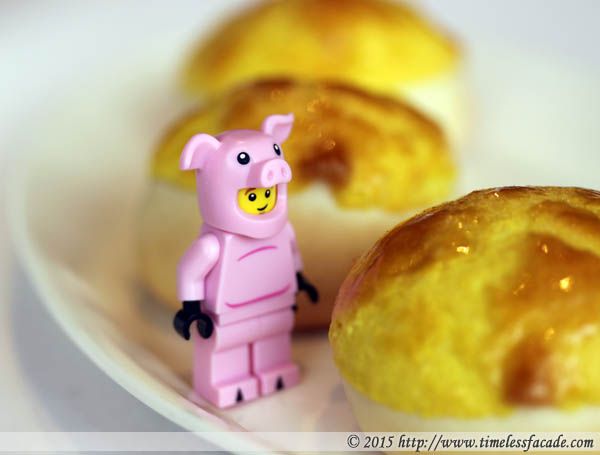 BBQ Pork Bun
I
once mentioned
that LKH's BBQ pork buns (
叉燒菠蘿包)
are even better than that of
Tim Ho Wan's
and I firmly stick by my judgement. Pillowy soft with a crusty, sweet top. Filled with a joyous concoction of gooey, mildly sweet BBQ pork and pine nuts, with the latter providing a subtle crunch and a hint of buttery nuttiness.
(It was so delicious that even Piggy Guy couldn't resist jumping in on the action)
Lung King Heen Roast Chicken
The eponymous chicken dish that had us salivating for more in two of our previous visits (
here
and
here
) still boasted crackling crisp skin coupled with moist, juicy meat that carried a salty slant. However, the chicken did seem a wee bit on the fatty side this time round (or maybe as I grow older I tend to be more health conscious?) and I had to resort to removing the yellow bits of fat beneath the skin before consumption. Still a very good eat nonetheless and thumbs up to the crisp lotus root chips served alongside as well.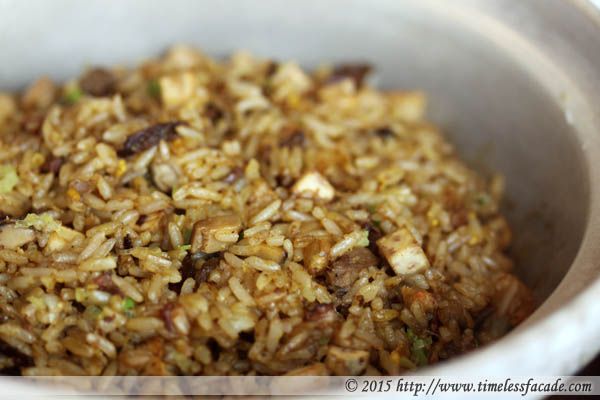 Fried Rice with Roasted Goose, Barbecued Pork, Shrimp, Taro and Preserved Vegetables
We would usually go with the namesake lobster fried rice but decided to try something different this time round. And we settled for this "all in one" pot of fried rice after spotting a recommended sign on the menu. Well fried with a mild wok hei and evenly coated in black sauce, the rice boasted a bevy of ingredients (roasted goose, BBQ pork, shrimp, taro and preserved vegetables) and tasted like a more refined and flavourful version of the humble yam rice that is sometimes available at braised duck stalls in Singapore. Bits of taro imbued a slightly mushy texture whilst the preserved vegetables offered a salty side. Bite sized chunks of BBQ pork and roasted goose provided the necessary protein. Pretty good but only if you do not dislike yam.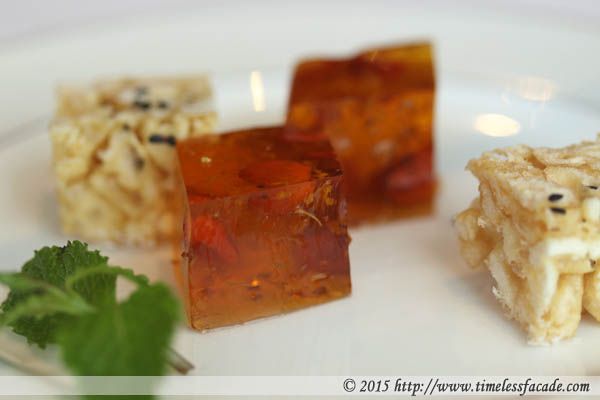 Petit Fours
And ending off with their "signature" petit fours; wolfberry (aka goji berry) jelly and a rice cracker, both of which we had on my
very first visit
Bill
Lunch was a comparatively cheaper affair than
our previous visit
, just shy of 1000 HKD (~ SGD 175). And it was enjoyable, even though the whole jet lag thing did mar the experience a little; we were constantly yawning and staring into space. Looking forward to a return trip and a window seat!
Final Verdict:
Ambience: 7.5/10
Service: 7.5/10
Food: 8/10 (9/10 for the BBQ pork buns)
Value for money: 7/10
Overall: 7.5/10
Address: 4th Floor, Four Seasons Hotel Hong Kong
Contact: (852) 3196-8880
Opening Hours:
Lunch
Sundays and public holidays
11:30 am – 3:00 pm
Monday to Saturday
12:00 noon – 2:30 pm
Dinner
Daily 6:00 pm – 10:30 pm
Website: http://www.fourseasons.com/hongkong/dining/lung_king_heen
And our reason for the jet lag; the beautiful beaches and the sea. Oh and the survivor style dinner we had on a quiet part of our resort's beach with the company of nocturnal crabs.