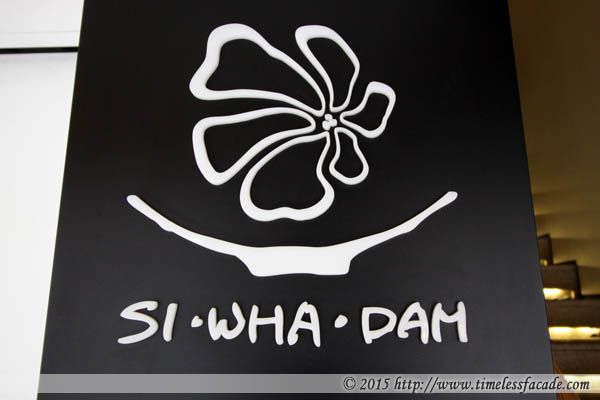 We were in Seoul with a couple of friends for the long weekend and decided to try out some of the "finer" cuisine Seoul had to offer. And the name Si Wha Dam (시화담) seemed to pop up quite frequently so Si Wha Dam it was. It definitely helped that pricing was relatively affordable.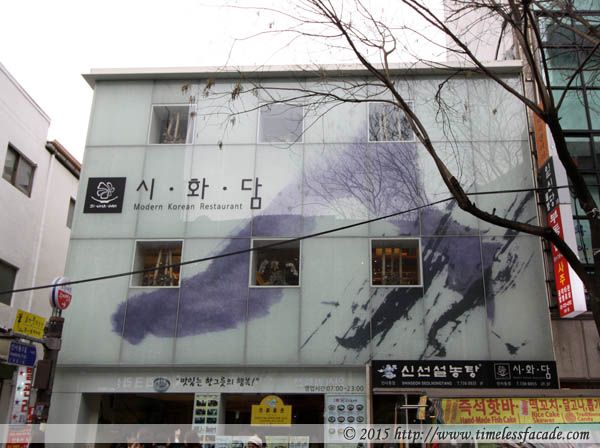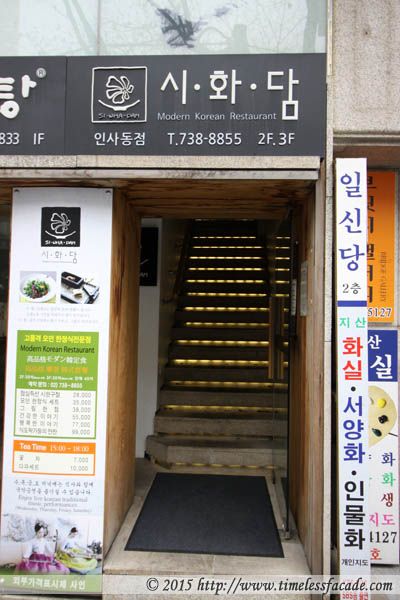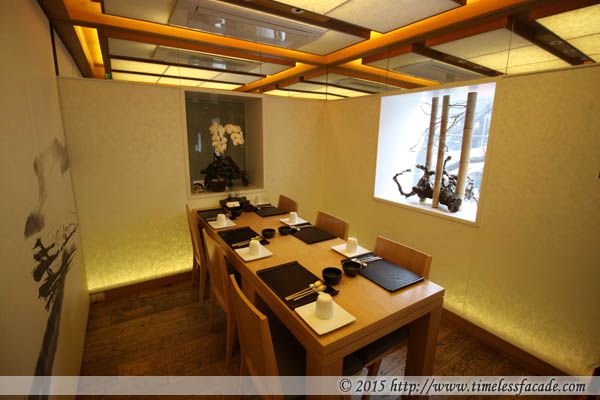 The Place
Google map doesn't quite bring you to the right place if you do a search for Si Wha Dam so trust the address on Tripadvisor. Located along a rather busy street and just opposite the Insadong outlet of Sulbing (설빙 - which serves awesome bingsu), Si Wha Dam doesn't look like much from the outside. But tread up the staircase to the second floor and be welcomed by a modernistic, zen like decor that strangely reminded me of .... Japan.
Lotus Root Porridge That Cured Scholar Yul-gok
Scholar Yul-gok was a prominent Korean Confucian scholar of the Joseon Dynasty but I'm not sure if there's any real history behind this dish. What I'm pretty sure of is that this was nothing spectacular; rather sticky with a crisp lotus root and a tiny sprinkling of chopped beef.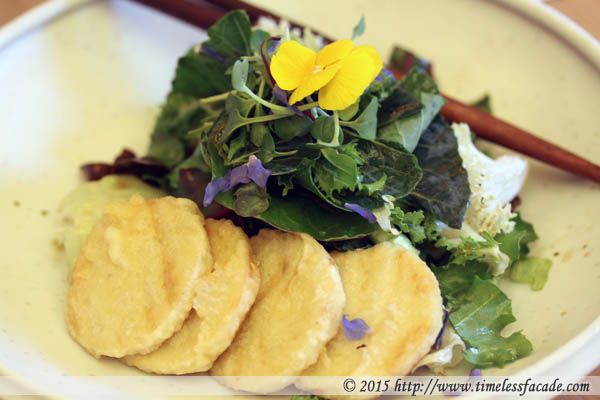 Wild Greens Salad with Tofu and Wild Potatoes
This was rather light with the deep fried tofu coming across as smooth with a rather strong bean taste. Pretty nice but I'm biased towards all things bean.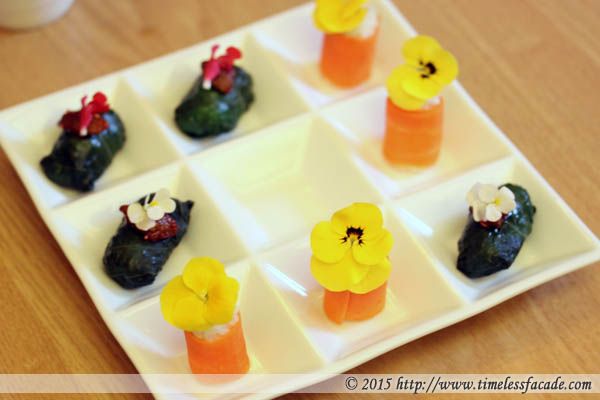 Carrot Flower Wrap and Sesame Leaf Wrap with Pickled Plum
Each of us was entitled to 2 beautiful pieces of artwork; carrot flower wrap and sesame leaf wrap with pickled plum. The former was, as it's name suggests, rice wrapped in carrot and topped with a flower. Hardly impressive. The latter fared slightly better, with chopped beef daintily wrapped up in a sesame leaf and topped with a pickled plum and a flower. However the sharp sweetness of the pickled plum overwhelmed any taste of the beef; a shame if you ask me.


Buckwheat Crepe Wrap with Spring Herbs
The various vegetables were cooked in different ways and had to be manually wrapped up in a flimsy buckwheat crepe. And it was surprisingly refreshing from the crunchiness of the vegetables and the varied flavours.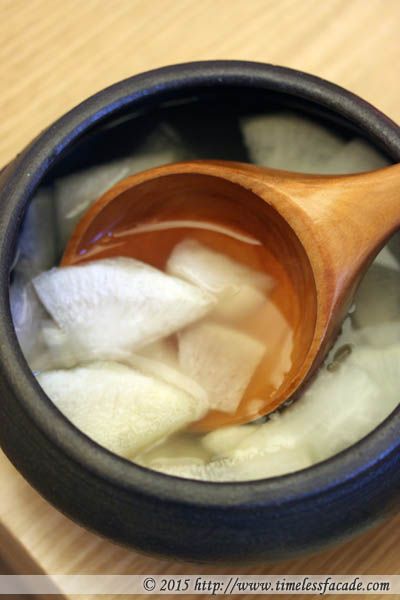 My Mother's Jar of Dongchimi
Served up in a ceramic bowl with a wooden ladle, the dongchimi (white radish kimchi with a clear broth) came across as tart and not exactly my cup of tea. But then again, I'm no fan of kimchi.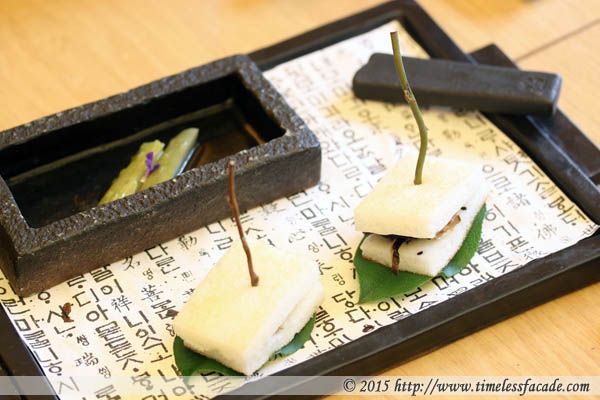 Korean Lunch Box
Speared with a thin branch, the Korean rice cake sandwich was soft and chewy (I had expected it to be fluffy like a normal sandwich, so surprise surprise) with a mild sweetness that went very well with the bulgogi sandwiched between; very interesting and rather delicious.


When Kimchi Meets Pasta
A surprisingly good east meets west dish; the kimchi imparted a light tartness and spiciness to the al dente squid ink pasta, providing a perfect counterpoint to the mild creaminess of the gravy. Definitely the pièce de résistance of the entire meal.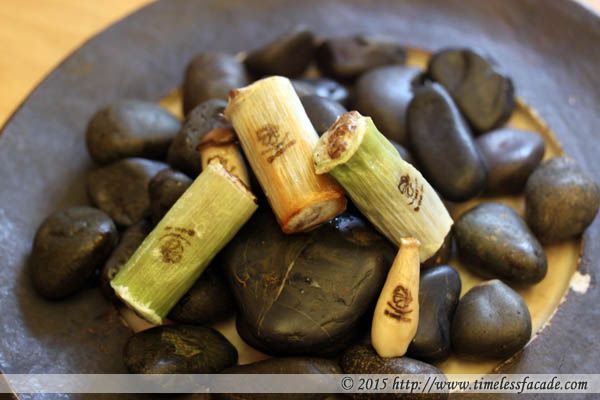 Scallions Grown in an Underground Cellar Dumpling
Now this was interesting, presentation wise at least. Minced beef wrapped in scallion and served on hot stones to keep them warm. The scallions had the insignia of the restaurant imprinted on it. Ditto the mushrooms that came alongside. Now that's branding! Taste wise, nothing too out of the ordinary though.


Deep Fried Breaded Crab
For those who don't take beef, the deep fried breaded crab is an alternative to the minced beef and scallion dish. The crab is essentially deshelled above the legs and coated with batter before deep frying. The result? Crisp and sweet flesh without coming across as oily. Pretty delicious.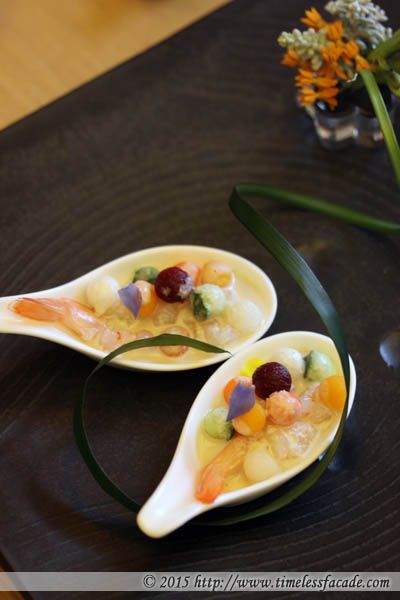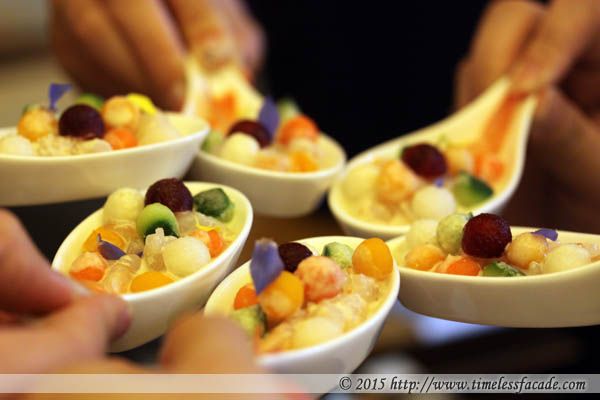 Bowls of Blowing Wind from Salt Ponds, the Flower of Salt
As poetry like as the name of this dish may sound, it wasn't exactly poetry to our tastebuds. Prawn chunks, vegetable balls came ladled up in a spoon, amuse-bouche style. There were no distinct flavours and the whole concoction seemed a little mundane to say the least.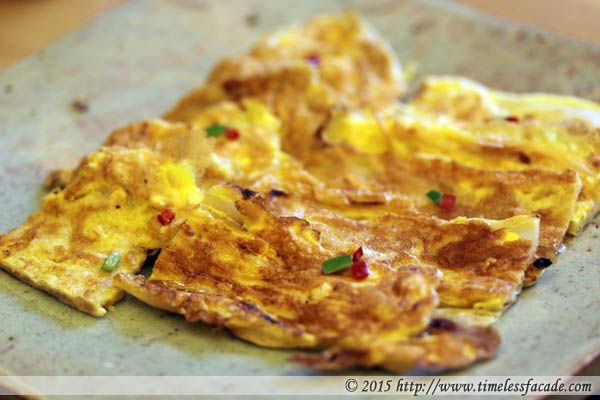 Pork & Kimchi Pancakes
This was very similar to oyster omelette except that there was no oyster, just pork or kimchi (2 seperate pieces). I personally preferred the pork variant over the kimchi as the former came across as more comforting and fulfilling whilst the latter was sourish (which usually has a negative connotation). However, kudos to both pancakes for not being excessively oily.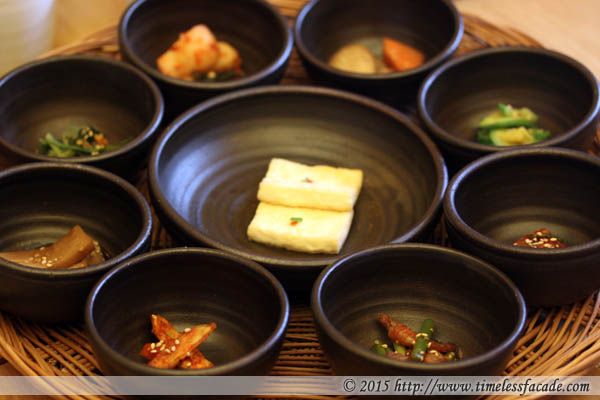 The Old Day's Wild Field Meal
The banchan (반찬) consisted of various small dishes served with steamed rice. Pretty comprehensive with kimchi, beancurd, long bean, bamboo shoots etc and I personally loved the crispy shrimp shells; very much like crustacean crackers.


A Piece of Spring on the Apricot Branch
And finally, desserts. The apricot jelly was a tad too sour and limp for my liking. Accompanied by a glass of sweet yet tart plum liqueur.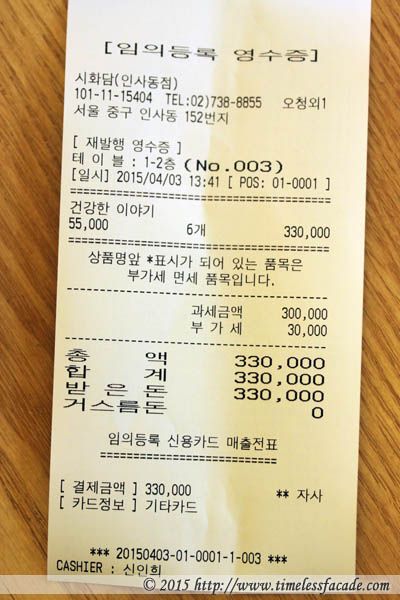 Bill
We had the ₩55,000 (~ SGD70) menu and although presentation was top notch, the quality of food, though decent, didn't quite wow any of us (save for the kimchi pasta). A classic case of form over factor but probably still worth a try, just not a revisit in my humble opinion.
Final Verdict:
Ambience: 7/10
Service: 6.5/10
Food: 6.5/10 (
7.5/10
for the kimchi pasta)
Value for money: 6/10
Overall: 6.5/10
Address: 13, Insadong-gil, Jongno-gu, Seoul (종로구 인사동길 13)
Contact: +82 2-738-8855

Opening Hours:
Lunch - 1130hrs ~ 2200hrs
Tea - 1400hrs ~ 1800hrs
Website: http://www.siwhadam.com/