It was yet another red eye flight for us as we wanted to maximise our short weekend stay in Tokyo as well as make it in time for lunch at Sazanka Teppanyaki (さざんか). On hindsight, that probably wasn't a great decision as I only managed about two hours of sleep on the plane (damn the somewhat restrictive foot cubby in 1F!) and a 30 minute nap at
our hotel
. Well, but at least it turned out slightly better than our
previous red eye flight experience
.
The Place & Menu
Perched on the 11th floor (3F of the South Wing come September 2015) of the once luxurious but now dated looking Hotel Okura (it has hosted every US president since Richard Nixon), Sazanka used to have 1 Michelin star to its name but now only the outlet in Amsterdam has it.
The place is divided into several partitions and we were led into one with two huge teppanyaki tables for about 10 guests each and full length windows to allow for lots of natural light. Comfortably cosy. The menu provides an English translation and most of the staff are able to communicate in English as well so no worries if you don't speak or read any Japanese.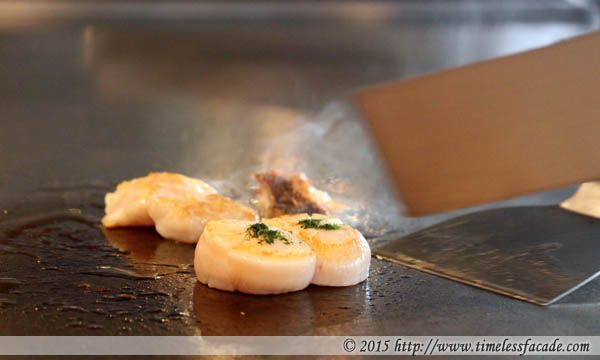 Umi Set
The wife had the umi set lunch (¥ 5,500 + tax), which comprised a singular piece of prawn, two pieces of scallops, two morsels of fish and two snow crab legs. And of course the obligatory vegetables; mushroom, onion, eggplant and cherry tomatoes. The flurry of dicing and slicing showcased our teppanyaki chef's deft knife skills and it proved rather hypnotising to watch. Everything tasted very fresh and the scallops were amongst one of the best I've had in a long while; naturally sweet with a light searing on the surface and a slight chewiness on the inside. And the prawn heads (not in the picture) were lovely as well, very crisp and succulent with a sweet crustacean finish. For the price, you get a lovely bowl of steamed rice and miso soup as well but strangely enough, these come at the very end of the meal. Oh and dessert too.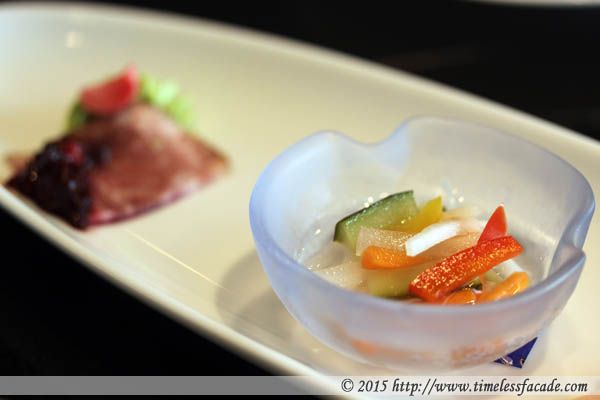 Sazanka Chef Salad & Appetiser
This was part of my Prime Kobe Beef Menu (¥23,000 + tax). The salad had fresh julienne vegetables topped with crunchy jellyfish; mild saltiness belying a smooth sesame taste.
The appetiser was rather forgettable in my humble opinion, consisting of pickled vegetables, a slice of meat served with lingonberry jam and a slice of smoked fish (no clue what fish though).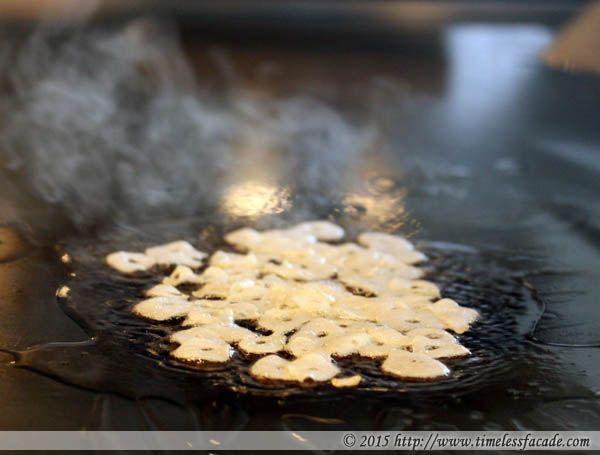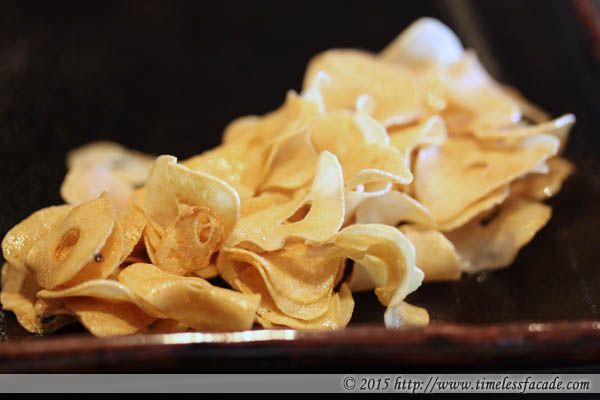 Garlic Chips
These were outright addictive. Thin and crisp with a touch of salt and a strong garlic taste that dissipated soon after. I really couldn't stop chomping down on them! Now if they only sold these in packets on the shelves.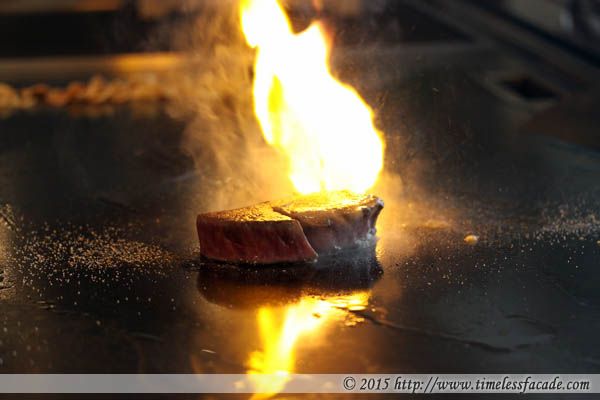 Prime Kobe Beef Fillet
A loud sizzle, a quick sprinkle of salt, a dash of liquor and the roar of bursting flames; quickly quieting down to a mere whimper. And there you have it, the pièce de résistance, a perfectly done piece (150g) of prime Kobe beef, sliced up into equal portions. Each piece a delightful symphony in the mouth; tender and succulent with a robust bovine sweetness and a tinge of saltiness. The lightly charred exterior also helps provide a nice texture contrast. As with the piece of Kobe I had at
Mon Cher Ton Ton
in Tokyo a few years back, this was nothing short of excellent! I would have had seconds if not for the rather prohibitive ala carte pricing (¥ 18,75+ or ~ SGD 210+ for 150g).
Mixed Vegetables
And of course the usual suspect, vegetables. It's predominantly beansprouts but vegetables are always welcome. Crunchy without coming across as oily. Best eaten with rice. Oh but wait, the rice doesn't come till later so eat it while its still hot.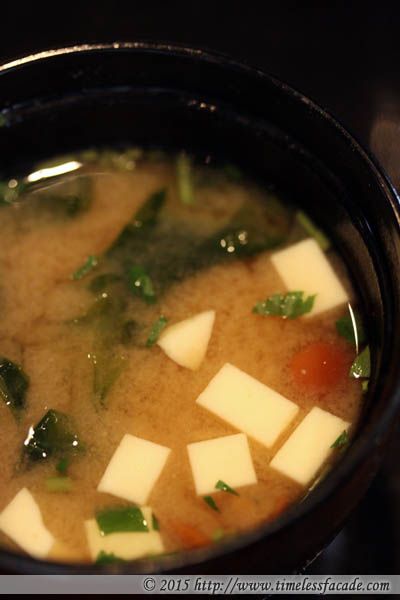 Garlic Rice & Miso Soup
Finishing off with garlic fried rice and miso soup, both pretty good in their own right. The former sported preserved radish, chopped garlic, egg and came across as nice and light whilst the latter carried a smokiness to it without being overly salty.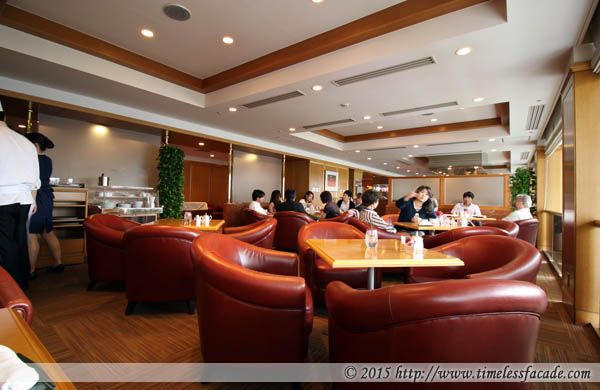 Lychee Sorbet
Desserts were taken in the adjourning dining area featuring plush leather sofas. Our lychee sorbet provided the perfect sweet ending to our lunch; smooth with no ice chips and tasting like real lychee. Chocolates and tea/coffee followed, marking an end to our meal proper.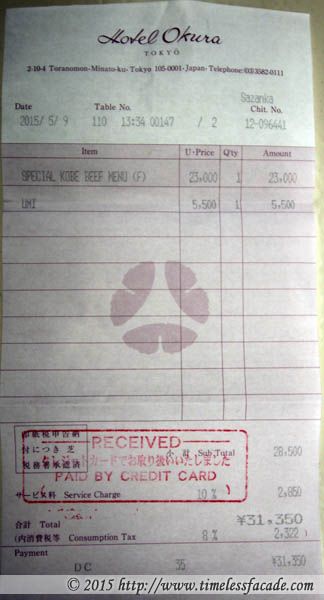 Bill
We were sufficiently full after the meal and it cost the two of us to the tune of ¥31,350 (~ SGD 350. Thank god for the favourable exchange rate!), which is actually pretty expensive by most standards. However, to be fair, the bulk of the cost came from the Kobe beef and that is something I'm willing to splurge on. The set lunches are much more affordable (vis a vis dinner) so that might be the way to go if you aren't willing to break the bank just to dine here. Coupled with excellent service that the Japanese are known for, I'm inclined to return, though it would be a really tough choice between Sazanka and
Mon Cher Ton Ton
.
Final Verdict:
Ambience: 7.5/10
Service: 8/10
Food: 8/10 (9/10 for the kobe beef)
Value for money: 7.5/10
Overall: 7.75/10
Address: 2-10-4 Toranomon, Minato-ku, Tokyo 105-0001 (〒105-0001 東京都港区虎ノ門2-10-4)
Contact: +81-3-3505-6071

Opening Hours:
11:30 a.m.~2:30 p.m.

5:30 p.m.~9:30 p.m.

Website: http://www.hotelokura.co.jp/tokyo/en/restaurant/list/sazanka/