Back in 2009, we were contemplating between dining at Joël Robuchon (currently the chef with the most Michelin stars to his name - 25 stars) or
Guy Savoy
in Paris and ended up choosing the latter. 6 years on, we finally stepped foot into Joël Robuchon's first foray into Singapore, the eponymous Joël Robuchon Restaurant (opened in April 2011), for lunch. Gosh, what a long time coming.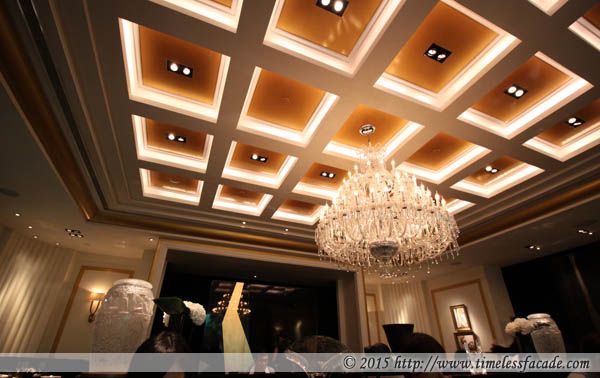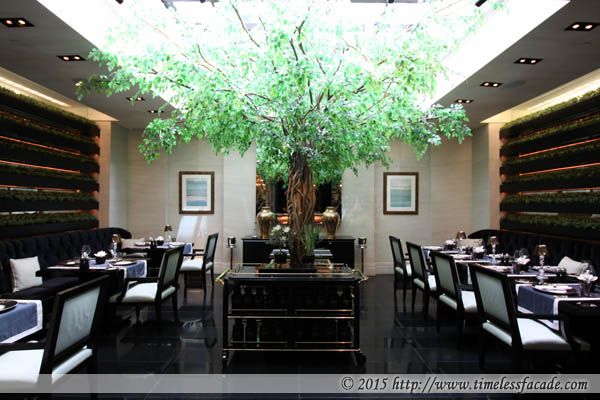 The Place & Menu
If you enter by the main entrance, turning right after the door will bring you to Joël Robuchon Restaurant (left brings you to L'Atelier de Joël Robuchon, the more casual outfit). The main dining area strikes one as posh and sombre, with a beautiful chandelier as the centerpiece. The adjourning indoor winter garden strikes a stark contrast with a classy yet cheery appeal, sporting a glass roof to allow plenty of natural light in.
There is a smart elegant dress code but I guess it's not strictly enforced (I spotted some guys wearing t shirts and shorts).
Amuse Bouche
A calamansi jelly flavoured with vanilla, topped with anisette cream; a little too tart for my liking.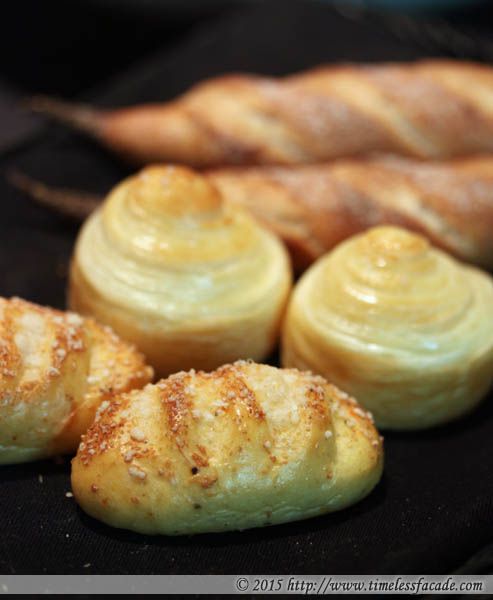 Complimentary Homemade Bread
All the bread is homemade and pretty good in my humble opinion, especially the viennoiserie; buttery yet light rolls that reminded me of croissant sans the flakiness. The baguette came across as crusty and went very well with the smooth butter. We were so enamoured with the bread that we jumped at the chance for a second helping. And thankfully we did.
Le King Crabe
Seasoned king crab meat, avocado and crunchy vegetables on tomato coulis. A very well thought out dish with the avocado providing a nice smoothness to the crunchy vegetables and the lightly tart tomato coulis and green apple cubes playing counterpoint to the delightful crustacean sweetness of the king crab. Excellent!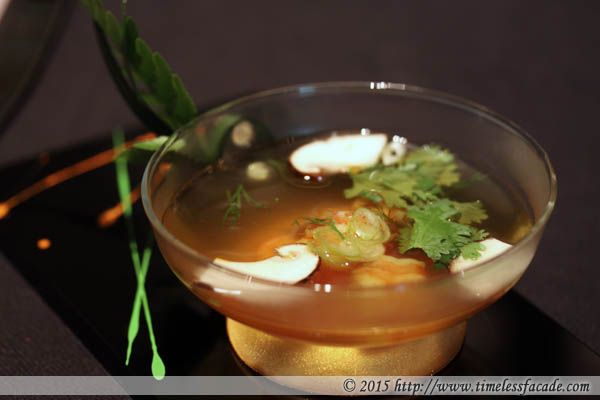 Le Thé de Crevette
"Botan" shrimp in fresh coriander and turmeric infusion. I'm usually adverse to turmeric (or any plant in the ginger family for that matter) but this soup was surprisingly light, mildly sweet yet spicy at the same time and accentuated the sweetness of the crunchy botan shrimp chunks.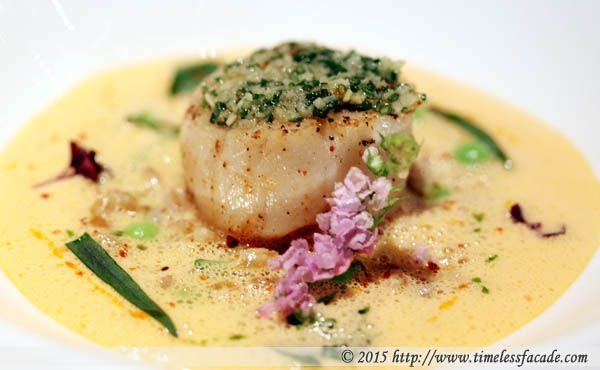 La Noix de Saint-Jacques
Pan-fried Hokkaido scallop with spelt risotto and coral emulsion. Undoubtedly the pièce de résistance of the afternoon; a lightly spicy, savoury, creamy sauce base coupled with al dente spelt and a huge, perfectly cooked scallop that was oh so sweet. A pity portion sizes were oh so small.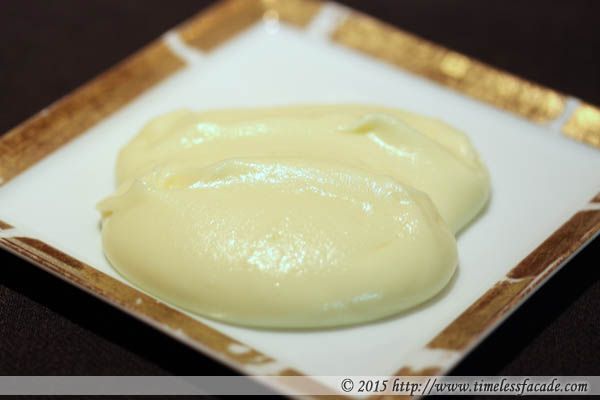 Le Boeuf "Wagyu"
Wagyu beef hanging tender grilled with medley of aromates and shallots marmalade. Done to a perfect medium rare - tender and juicy. Topped with caramalised shallots for a rather strong sweetness. Good but portions are really small and I personally prefer huge slabs of steak of the salted variant. Served with JR's famous mashed potatoes. Incredibly delicious; silky smooth without coming across as overly dry or moist and with a buttery aftertaste to boot. One of the best "traditional" mashed potatoes I've eaten to date.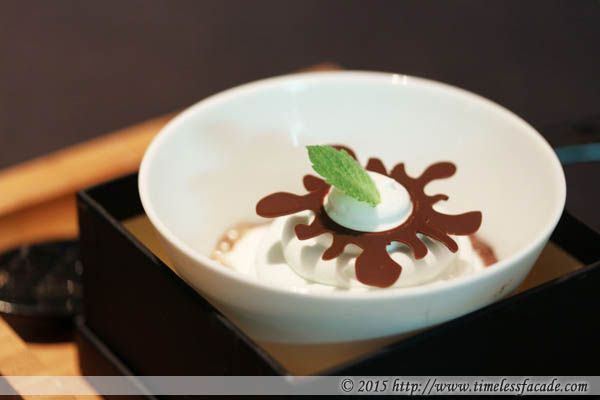 Le Minty
And on to desserts. Flowing chocolate Araguani with icy mint sorbet. First impression, it looked more like a layer of cream twirl decorated with a chocolate ring than a molten chocolate cake. But looks can be deceiving because dig beneath that layer of cream to find a scoop of light mint sorbet and a layer of chocolate fondant, complete with a mildly crisp shell and oozing chocolate. Although I don't quite fancy mint but this was quite a treat!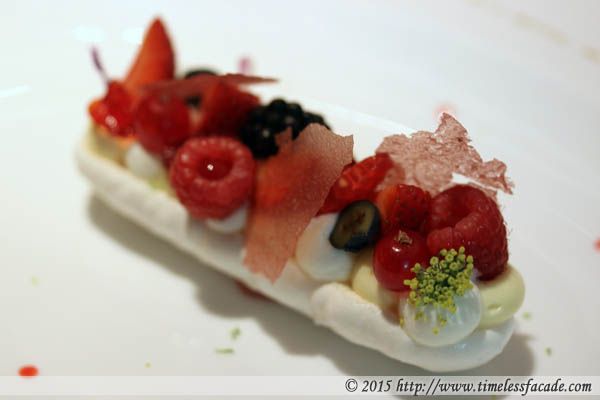 La Pavlova
Lychee lightness, lemongrass mousseline and "Mara de Bois" strawberry. The pavlova was crisp on the outside yet soft and gooey on the inside (like a marshmallow) and carried a pleasantly light lychee flavour and sweetness. Generously adorned with an assortment of berries, including the "Mara de Bois" strawberry (apparently very highly sought after for its flavour and fragrance) to juxtapose the sweetness of the meringue. Very good.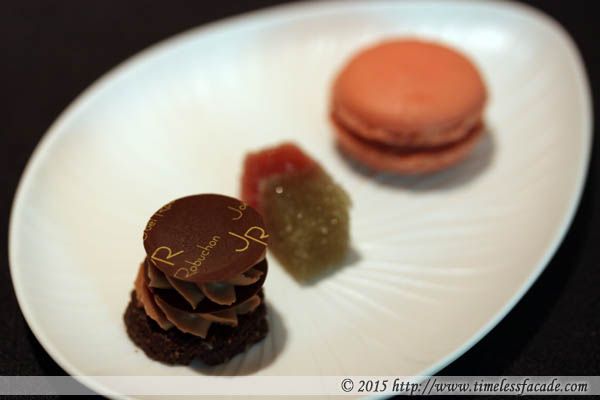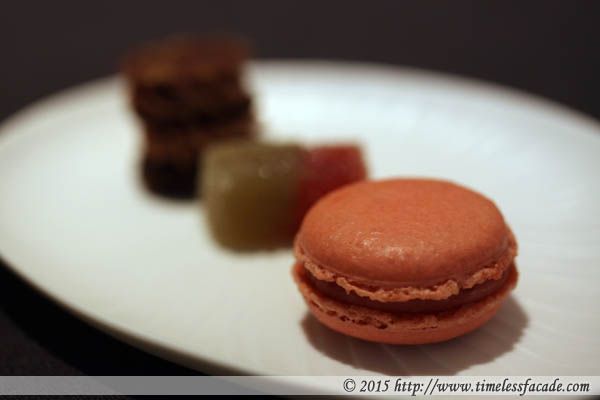 Petit Fours
We ended off with petit fours, which provided an additional sweet ending to our meal. Nothing was memorable here and I did find the raspberry macaron a little lacking in tartness and its shell a wee bit too moist.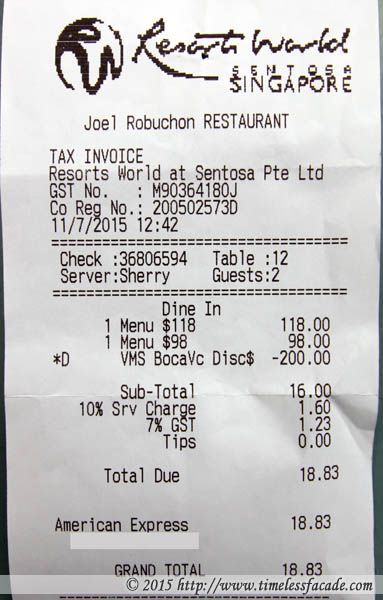 Bill
Our wonderful lunch for two cost ~ $254 which is definitely at the higher end of the pricing spectrum. However food quality is undeniable and we enjoyed it quite a bit. Service could be a little more personable though.
Remember the mention about being thankful for the second serving of bread earlier on? I kid you not but we had to rely on the bread to fill our tummies because of the tiny portions (my set had an appetiser, a soup, two mains and a dessert by the way). French
haute
cuisine indeed but very unlike my experience at
Guy Savoy Paris
. However, having said that, we have already made plans for a return trip in the coming weeks ;)
Final Verdict:
Ambience: 8.5/10
Service: 7/10
Food: 8/10
Value for money: 7.5/10
Overall: 7.75/10
Address: Hotel Michael, Level 1, Resorts World Sentosa
Contact: 6577 6688 or 6577 7888
Opening Hours:
Lunch:
12pm - 2.30pm (Every Sat)
Dinner:
6pm – 11pm (Tue – Sat)
Closed on every Sun and Mon
Website: http://www.joel-robuchon.com/en/restaurants-singapour-joelrobuchon.php