We were at Orchard Road running some errands one weekend morning and decided to drop by Nassim Hill Bakery Bistro Bar for brunch since it was in the vicinity.
The Place
Nestled within Tanglin Post Office and just behind Swiss Butchery, Nassim Hill's parking is sorely limited. There is the option of "free" parking (< 10 lots) right in front of the eatery but it's park at your own risk (so scramble if you see a warden) or the tiny carpark at the basement of the building (~10 lots) that leaves you stranded on a steep slope should the barrier refuse to lift when the carpark is full. So take public transport if you can, or park somewhere else.
Once you sort out the transportation issues, getting a seat is relatively easy as there are plenty of tables around. The vibe is rather cafe-ish and the abundance of natural light streaming through the full length windows lent the place a certain cheerfulness.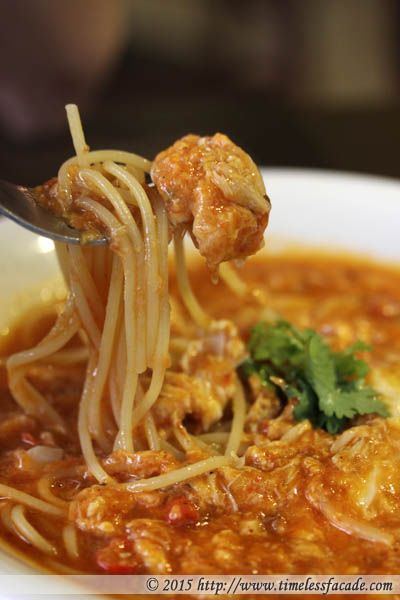 Chilli Crab Pasta
The chilli crab pasta came in 2 portion sizes; half or full. We opted for the former as the plan was to have waffles (lots of carbohydrates!) as well. And I'm glad we did as the half portion was big enough to feed an average eater. Al dente spaghetti coupled with a relatively rich yet mildly sweet and spicy sauce that featured chunks of crab meat and garlic for that additional kick. Very decent in my humble opinion.
Nassim Hill Double Decker Burger
Nassim Hill's namesake burger wasn't impressive to say the least. Although it featured a double patty, both patties lacked a firm texture, a discernible beefy taste and relied on the seasoning and herbs to give it flavour (onion rings added a mild sweetness as well). The bread, all soft and slathered in mayonnaise, could do with time on the griddle whilst the accompanying shoestring fries were a tad hard but pretty decent. Average at best.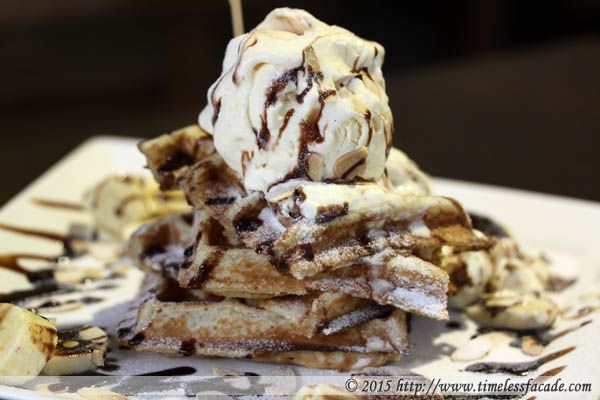 Banana Chocolate Waffles
This was meant to be dessert but somehow got served together with our burger and pasta with no offer to take it back and re-serve it later. A bit of a boo boo I must say but seeing that most of the wait staff seemed to be rather green (mostly students I assume), I guess I don't really blame them. But it did prove to be rather annoying as the ice cream was melting rapidly and we had to alternate between mouthfuls of sweet cold dessert and warm burger/pasta at an accelerated pace (we certainly didn't want the waffles swimming in an ice cream puddle).

Grievances aside, I personally liked the waffles quite a fair bit. Lightly crisp along the edges with a rather chewy center and topped with banana slices, sweet chocolate sauce and a huge scoop of real vanilla bean ice cream (as evidenced by the black spots). It's rather pricey at $18+ though, especially with only four small waffle rectangles to show for it.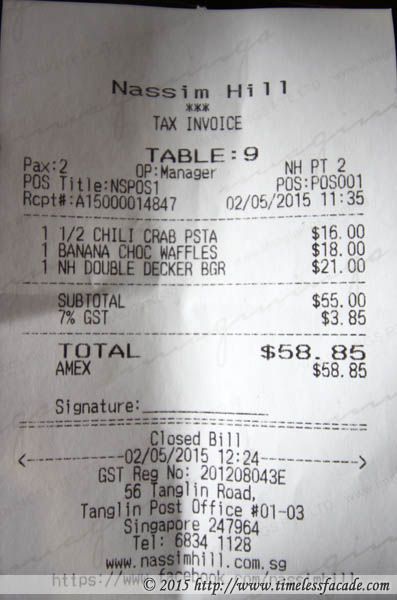 Bill
A somewhat decent brunch for the both of us cost almost $59, which is still somewhat acceptable considering the overall quality of food and location of the eatery. Service needs a little polishing and I'll probably drop by again if I'm in the vicinity to try out some other items on the menu.


Final Verdict:

Ambience: 6.5/10
Service: 6/10
Food: 6.5/10 (6/10 for the burger)
Value for money: 6/10
Overall: 6.25/10

Address: 56 Tanglin Road, Tanglin Post Office #01-03

Contact: 68351128

Opening Hours:

Tuesdays to Saturdays: 8am to 11pm

Sundays: 8am to 10pm

Mondays: Closed

Website: http://www.nassimhill.com.sg/