We were on a burger eating binge and ended up at Omakase Burger one weekend morning. Apparently OM serves up one of the best burgers in Singapore, as evidenced from the frequent citations in various media sources.
The Place
The place works (and looks) very much like a cafe. Prices are displayed overhead as well as at the counter where you place your order and make payment. Your food will be delivered to your seat. The interior is rather chirpy through the use of bright colours and bright lights (part of the lighting comes from the mall).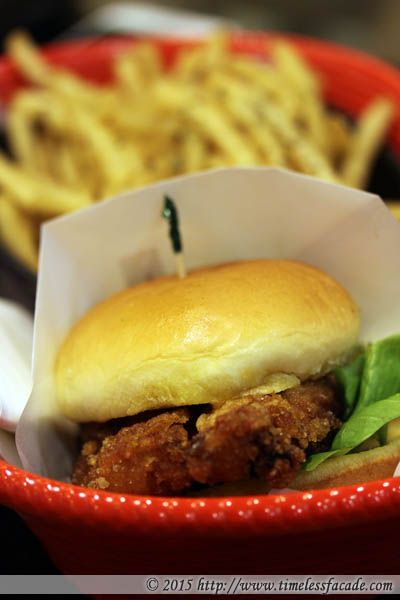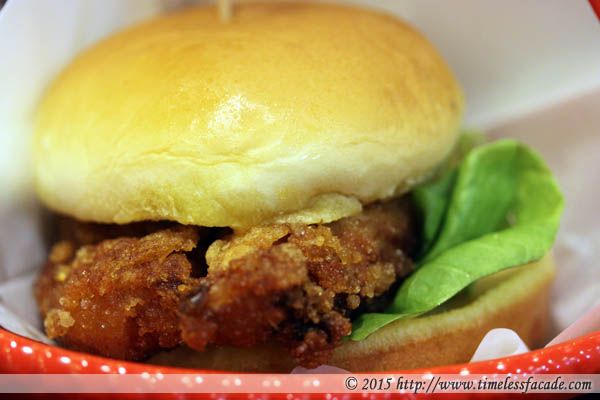 Omakase Chicken Sandwich Combo
We had the truffle fries with our chicken sandwich and it was unevenly splashed in truffle oil, which meant some portions of the fries bucket were dry whilst others were glistening with oil. Real classy.

And we thought that perhaps the chicken burger would do wonders. But we overestimated its potential. The chicken fillet was deep fried to a crisp but could do with a little more moisture (not oil) and seasoning to bring out the flavours. Read. Bland and oily. And I never thought I would ever say this but the batter was way too crispy for my liking and it unceremoniously left a few puncture wounds in my mouth. Almost fifteen bucks for the sandwich alone, seriously? Did I mention that the sandwich was small? Think the golden arches' fillet o fish size, maybe a whisker larger.


Applewood Smoked Bacon Cheeseburger Combo
And in continuing the tradition of small burgers, the bacon cheeseburger was, well, small, by many accounts. However it did taste much better than it's friend, the chicken burger. The patty was done to medium but came across as more oily than juicy whilst the bun, though soft, was bland. The highlight of the burger was definitely the applewood smoked bacon; crisp without coming across as too dry, imbued with a nice smokiness and saltiness.
Available only on weekends, the signature beef tallow fries were pretty good; golden brown exterior with a lingering bovine aftertaste. Think McD's fries on a good day. The fries could do with a little more moisture though.


Bill
Both our burger combos came up to almost $53 which was quite pricey considering the size and quality of the burgers. In short, Omakase Burger was a let down and is nowhere near
Suprette's offering
, neither in size nor in taste.
Final Verdict:
Ambience: 6.5/10
Service: NA
Food: 5.5/10 (7/10 for the beef burger & 4/10 for the chicken burger)
Value for money: 6/10
Overall: 6/10
Address: Wisma Atria #01-02/03/37 (Other outlet @ 200 Turf Club Road #01-05)
Contact: 6737 3218
Opening Hours:
Mon to Thurs - 10:00 AM – 10:00 PM (Full menu served from 11:00 AM – 3:00 PM, 5:00 PM – 9:30 PM; all other hours: desserts and drinks only)
Fri to Sun - 10:00 AM – 10:00 PM (Full menu served from 11:00 PM – 9:30 PM; all other hours: desserts and drinks only)
Website: http://www.omakaseburger.com/