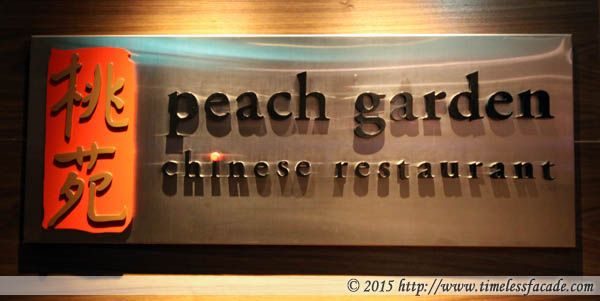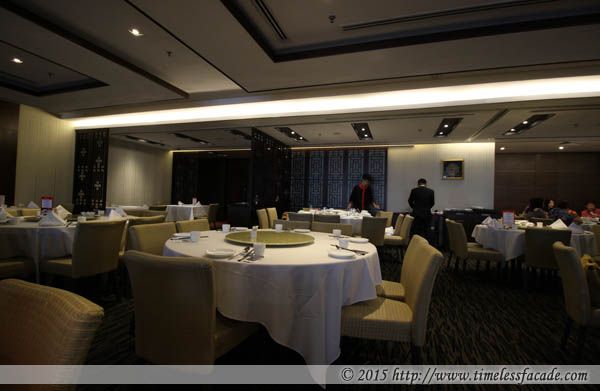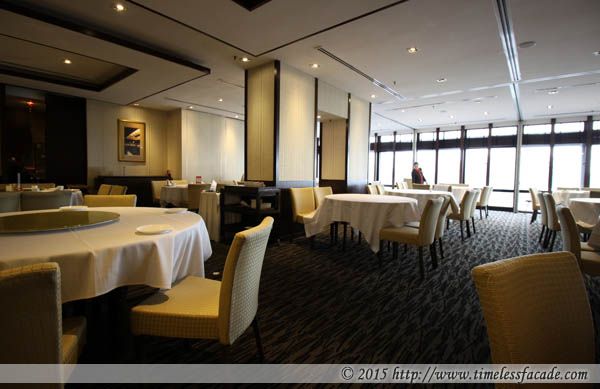 The Place
Carpeted floors, plush fabric seats and wooden paneling; classic decor of a slightly more upmarket Chinese restaurant. Comfortable but nothing out of the ordinary. Window seats are of course much sought after but those need to be booked a little in advance, something which we failed to do.


Seafood Soup in Melon
The old cucumber soup (老黄瓜汤) was nicely presented in a tall cucumber with its center carved out. Though filled up with bits of chicken, mushrooms, fish maw, prawns and dried scallops, the soup was rather bland and could do with more time on the stove. Lacking the punch the
Imperial Treasure's rendition
offers.
Jellyfish with Spicy Sauce
Nicely crunchy with a rather strong spicy kick. Great as an appetiser.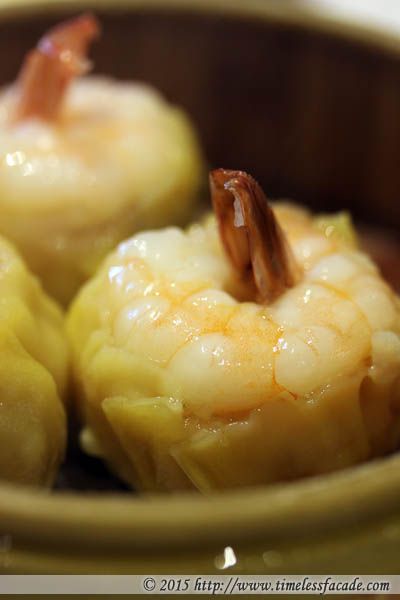 Siew Mai with Phoenix Prawn
Featuring a crunchy, whole prawn atop a not overly fatty meat and prawn mixture, the siew mai was pretty nice without coming across as too oily.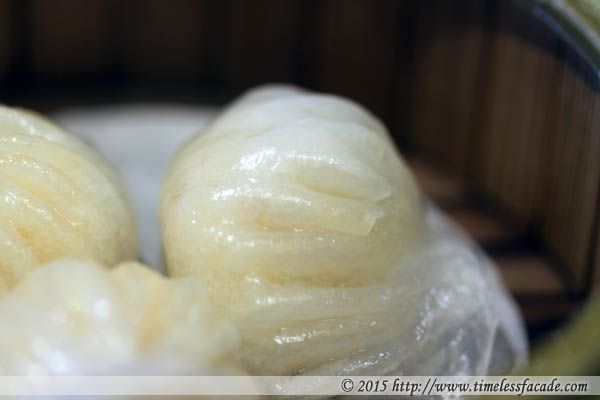 Prawn Dumpling
Crunchy prawns amidst a lightly elastic but a tad thick, translucent skin. Palatable.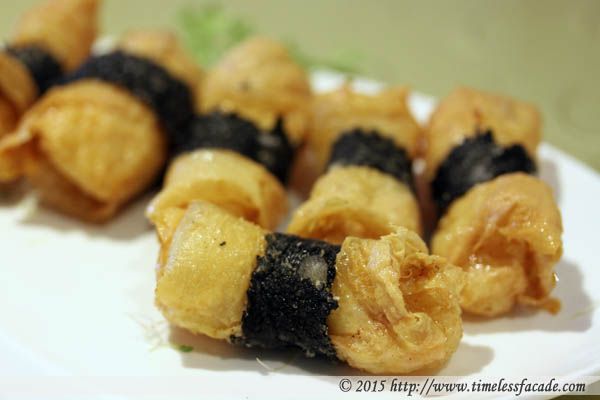 Beancurd Skin Roll with Seaweed
Visually, this somewhat reminded me of CP's seaweed chicken roll but tasted alot better in my humble opinion. A crisp layer of beancurd skin enveloping prawns and bounded by a ring of fresh tasting seaweed for that faint taste of the ocean. Dipping one in the accompanying worcester sauce imbued it with a nice sourish hint.
Rice Roll with Prawn
Crunchy prawns missing a silky cheong fun skin. What a mismatch.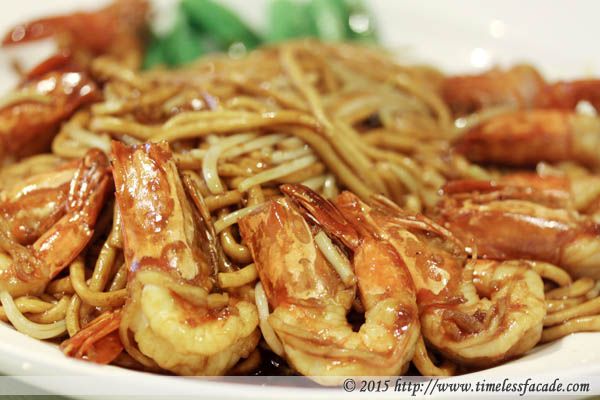 Fish Noodles with Live Prawns
In retrospect, this was probably the best dish of the afternoon. Delightfully chewy fish noodles stir fried in black sauce for a mildly salty and sweet taste and served with fresh prawns of varying sizes.
Custard Bun
Peach Garden's hallowed custard bun; the untouchable #1 on my custard bun list. Now rocking the bottom of the barrel with it's flat bun, sourish dough and awfully sweet filling. Where's the saltiness and the coarse texture of the egg yolk sediment? Probably one of the worst custard buns I've eaten to date. And I kid you not.
Spare Rib with Spicy Sauce
The spare rib used to be one of Peach Garden's highlights and was what drew us here (we would specifically drop by PG from time to time to take away their spare ribs). But even after waiting for close to 25 mins for this dish (after all the dishes had been cleared), it turned out to be one of the worst disappointments, alongside the custard bun. The spare rib had way too much fat and came across as dry, salty and spicy (due to a blot of chilli oily atop) with a lingering ginger taste from the grated ginger in the meat. The only consolation was the stalk of broccoli by the side and the mildly sweet onion below. Apparently the restaurant was experimenting with a new recipe. Gosh.
Pancake with Red Bean
After a slew of disappointments, the red bean paste pancake ended the meal off on a relatively good note; crisp on the surface, not too oily, topped with lots of sesame seeds and stuffed with not overly sweet red bean paste.

Bill
Lunch was a rather disappointing affair and cost ~ $417 for the 6 of us (after a 10% credit card discount). Hardly cheap, especially for the quality of food and the ridiculously long wait time (for the pork rib). Service in general was okay but that's hardly going to entice me to return.


Final Verdict:

Ambience: 7/10 (high rise dining establishments are a dime a dozen nowadays)
Service: 6/10
Food: 6/10 (3/10 for the custard bun and the spare rib)
Value for money: 5/10

Overall: 6/10

Address: #33-01 OCBC Centre, 65 Chulia Street

Contact: 6535 7833

Opening Hours

Mon - Sat: 1130am - 230pm & 6pm - 10pm

Sundays & PH: 10.30am - 3pm & 6pm - 10pm

Website: http://www.peachgarden.com.sg/ocbc-centre#