As promised in one of my previous posts on
The Haven
in Hong Kong, this post will provide a brief update on the food during dinner service @ Singapore Airline's The Private Room @ Changi Airport Terminal 3. Accessible only by passengers flying on First or Suite class on SQ, The Private Room is located within the First class section of the Silverkris lounge and is literally a lounge within a lounge. For more pictures of The Private Room, see my first post
here
.
Cream of Mushroom & Green Lentil Soup
Creamy with a bits of mushroom and lentil but a tad runny. Served with a slice of toast and a pretty decent way to start off dinner.
Assorted Satay
We decided to give the satay another shot after a hiatus of ~ 2 years (it was so bad
the first time round
that we skipped it altogether on subsequent visits) and was pleasantly surprised when it turned out palatable this time round; well grilled chunks of chicken meat, only lacking a robust marinate. Still some way to go to match the inflight satay I must say.
Capellini with Wild Mushroom Ragout and Truffle Oil
The capellini sported a very soft texture but I liked the earthiness of the mushroom ragout and truffle oil as well as the slices of cheese for that added cheesiness. Reminiscent of a fragrant and more upmarket version of mee sua.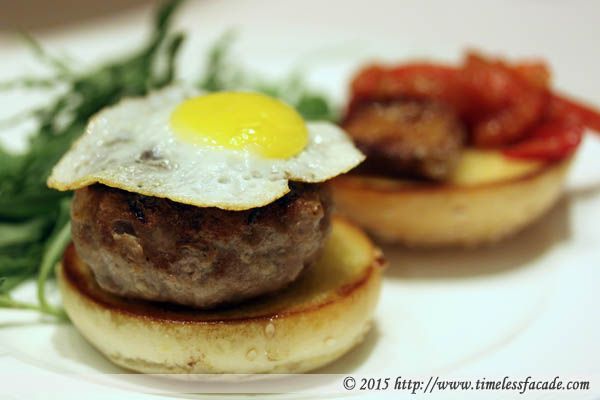 US Prime Beef Burger with Foie Gras, Rocket Leaf and Fried Quail Egg
As with the satay, the beef burger saw improvement over the previous occasion. Though cooked to almost well done, the patty still managed to remain relatively moist and tender but rather heavy on the salt. Served on a bun slathered with butter and put on the pan till crisp. The accompanying piece foie gras was meh though; crisp on the outside but small and lack silkiness.


Chocolate Truffle Cake
There was a choice of Häagen-Dazs ice cream or the chocolate truffle cake and naturally I went for the latter (personally prefer B&J ice cream). Though nothing too spectacular, it was still a pretty decent ending to our meal; moist, chocolatey and served chilled with fresh strawberries and lots of chocolate flakes.


Final Verdict:

Ambience: 8/10
Service: 8/10
Food: 6.5/10
Value for money: NA

Overall: 7.5/10

Address: Singapore Changi Airport Terminal 3, Silver Kris Lounge

Contact: NA

Opening Hours: 0530hrs - 0200hrs daily